» Home
Specialty Shops
» Christmas Shop
» Thomas Kinkade Shop
» Jeweled Box Shop
» Music Box Shop
» The Vase Shop

Shop By Category
» Angels
» Betty Boop
» Boyds Bear
» Charming Tails
» Disney
» Elvis Presley
» Fairy / Fairies
» Gary Patterson
» Jasmine Becket-Griffith
» Lena Liu
» Lenox
» Gone With The Wind
» Jim Shore
» Marilyn Monroe
» Peanuts & Snoopy
» Precious Moments
» Really Woolly
» Tinker Bell
» Teddy Bears
» Wizard Of Oz

Shop By Animal or
Nature Theme
» Bear - All
» Bird
» Bunny / Rabbit
» Butterfly / Butterflies
» Cat
» Chipmunk
» Cow
» Deer
» Dog
» Dolphin
» Dragonfly
» Duck
» Eagle
» Elephant
» Flamingo
» Frog
» Giraffe
» Horse
» Hummingbird
» Ladybug
» Leopard
» Lion
» Kangaroo
» Moose
» Owl
» Panda Bear
» Peacock
» Penguin
» Pig
» Polar Bear
» Seal
» Squirrel
» Sunflower
» Tiger
» Toucan
» Turtle
» Wolf
» Zebra

More Collectibles & Decor
» Collectible Eggs
» Drink Coasters
» Perfume Bottles
» Suncatchers
» Candles
» Collectible Banks


Bird Shop - Apparel, Pajamas, Figurines, Decor, T-Shirts, Checks,
Jewelry, Plush Toys, Music Boxes & Merchandise
Select from a variety of Bird Collectibles, Decor & Gifts
Bird fans will enjoy this great selection of Bird merchandise including apparel, pajamas, figurines, decor, t-shirts, personal checks, jewelry, plush & stuffed Bird toys, music boxes, shirts, address labels, slippers, calendars, collectibles and more.
We found 981 products for Bird >>
The Birds Long Sleeve T-shirt Movie Distressed Logo Silver Tee Shirt
$24.99
The Birds T-shirt Movie Distressed Logo Long Sleeve Silver Tee Shirt features movie title The Birds in original poster black lettering with menacing black crow shrieking across a silhouette of the moon. This t shirts casual fit makes a fantastic gift or memento for any fan capturing the essence of the 1963 suspense horror film The Birds directed by Alfred Hitchcock and based on 1952 story "The Birds" by Daphne du Maurier where Tippi Hedren made her film debut and in 1964 received a Golden Globe Award for Most Promising Female Newcomer tied with actresses Elke Sommer and Ursula Andress. Available in Small, Medium, Large, XL, 2XL Officially Licensed View our complete line of The Birds Shirts
Brand: A & E Designs
$49.95
Attract sweet bluebirds to your backyard! Even though this entrance looks wide, it's the perfect size for attracting bluebirds and deterring House Sparrows. Enjoy watching your bluebirds fledge this year! Features two wooden dowel perches on either side of the entrance to provide your bluebirds with a predator lookout. Mount against any flat surface. Durable tan and green recycled plastic. 5 x 5 x 10 inches. 1-1/2 inch slotted entry hole Attract bluebirds to nest in your backyard Features slotted entrance to deter House Sparrows Loosen the eye hook for easy cleanout Made in the USA
Brand: Duncraft
Wild Republic Bird Robin 5" with sound
$6.98
All of our products are made by top manufacturers who care about toy safety, quality and value. Your order will ship factory-fresh directly from our warehouse to your door. We carefully inspect and beautifully package every order before shipment to ensure that you receive high quality products that are delivered accurately every time you order.
Brand: Wild Republic
$49.95
Convenient perch hoods to shelter birds while they feedThe Perky-Pet Seed Bunker Wild Bird Feeder features an all metal tube, perches, perch hood, and lid which provides maximum durability against squirrels. This robust and long-lasting feeder can withstand most weather elements and can be used all year round. The feeder can hold 1-1/2 lbs of seed and features four feeding ports. Dimensions 6-1/2 x 16-1/4 inches.
Brand: Duncraft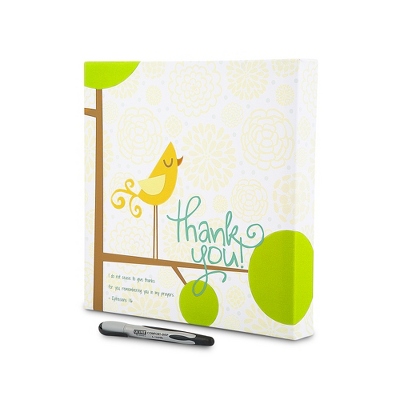 $38.99
The perfect personalized thank you gift for everyone, this 12" x 12" canvas art can be customized with their name and the date. Say thanks in a fun way when you personalize this signature canvas art. It even comes with a marker so you can add your signature to this thoughtful gift-Makes a thoughtful gift for friends, family and coworkers-A personalized way to recognize employees!
Bird-Safe ® Birds of Prey Window Strike Decals
$8.95
Save birds from colliding with your window! Millions of birds die each year when they fly into the reflection of sky, clouds and trees they see in our windows. You can save your share by applying our translucent ultraviolet decals to the outside of your windows. They act like a stop signâ€"birds see the blue shape and veer off to the side, while your view stays clear and unobstructed. The UV coating wears off with repeated sun exposure, so replace your decals each year. You receive three birds of prey window decals. 8-1/2 inch diameter. Bird-Safe ® birds of prey decals, set of 3 Save your birds' lives with ultraviolet window decals Features translucent design, so you can still see out your window Easy to reposition or remove, without any residue
Brand: Duncraft
The Birds Slim Fit T-shirt Movie Birds On A Wire Adult Cream Shirt
$19.99
Available in Small, Medium, Large, XL, 2XLOfficially Licensed View our complete line of The Birds Shirts
Brand: A & E Designs
Adjustable Quad Bird Feeder Hanger
$79.95
Attract birds with one of our bestselling poles! At Duncraft, we're proud to bring you this super stable pole. Attract more birds by hanging four feeders! Adjust this two-piece sectional pole from 41 to 73 inches tall with a turn of the center wing nut. It's easy to fill your feeders before returning them to a height other animals can't reach. Includes 10 inch step-in foot stake with four footings for stability. 12 inch arm outreach, feeders sold separately. Made from solid 7/16 inch square wrought iron with black rust-resistant finish. Four-arm hanger with 10 lb. capacity per arm Attract more birds to one place with the four hangers Features adjustable pole height from 41 to 73 inches tall Easy to assemble the bottom with a screwdriver
Brand: Duncraft
$1,467.99
""This is an original interpretation of the engraved mate gourds, a traditional Andean handicraft," León Dextre says. He depicts a bevy of gourd birds that come to life before the viewer's eyes. "I interpret them pictorially with harmonious interplay of forms and colors. By managing the light, atmosphere and perspective, I achieve an emotional impact. The undulating movement creates life." Titled "Aves" in Spanish.
Brand: Novica
Luyo 5" Hand-Crafted Ceramic Oval Bird Vase
$19.95 $9.95
Inspired by nature, hand-crafted by Design Toscano's skilled artisans, this fine sculptural vase with pair of nesting sparrows pays homage to spring. Hand-crafted of ceramic and hand-glazed in glossy white, this five-inch icon of freedom will be at home nestling on any tabletop or shelf. Fill your space with beauty by adding the pair of these sweet birds and combining them with their other feathered friends from the "Luyo" ceramic line from Design Toscano. 9"Wx6"Dx51/2"H. 2 lbs.
Brand: Design Toscano
Mohena wood and leather folding table, 'Andean Birds' (Peru)
$156.99
With its novel folding shape, this accent table is beautiful and original. Abel Rios skillfully combines form and function, creating an unusual, handcrafted piece of furniture. The tabletop of polychrome leather is hand-tooled with elegant bird motifs. It is mounted on a frame of mohena wood, a fine Andean hardwood similar in grain to mahogany.
Brand: Novica
Cotton wall hanging, 'Bird Fancy' (Thailand)
$106.98
An exotic bird nests contentedly in a stylized setting suggesting plants and perhaps a rainy sky. Her elegant crest and long tail feathers distinguish her from smaller birds in this original and colorful wall hanging. Alaya Cholprasertsuk designs the fanciful scene in batik. As each piece is individually dyed, colors may vary slightly, making each wall hanging a unique work of art.
Brand: Novica
$6.95 $4.95
Designed to easily fill large and small feeders. Use as a scoop for filling large feeders. Open the damper with the flip of a thumb and the hollow handle converts to a funnel for small feeders. Easy to use-allows you to scoop and fill with just one hand.
Brand: Duncraft
Wood walking stick, 'Sankofa Bird' (Ghana)
$87.99 $79.19
Crowning a hand-carved walking stick by Frank Obiri-Ntow is a beloved adinkra symbol. These West African symbols communicate sayings and concepts through images. The sankofa depicts a bird that turns to look over its shoulder. It literally means to "go back and get it," also translated as "back to my roots." Sankofa symbolizes one taking from the past what is good and bringing it into the present.
Brand: Novica
Birds & Blossoms Single Checks
$11.99
Perfect for birdwatchers and songbird lovers, this charming set features 4 different bird illustrations in botanical settings for a classic look. Who can resist a bluebird, cardinal, chickadee, or goldfinch? 4-design set of personalized checks is top-tear and available in 125 singles or 100 duplicates that produce a copy of the check for easy record keeping. Both check styles are standard size 2 3/4" x 6", and both check sets include a register. We utilize state-of-the-art technology to exceed all American Bankers' Association specifications, as well as guidelines set by banks and credit unions. Checks are standard, secure, and are accepted by all financial institutions. Please allow 5 business days for order processing and verification, in addition to the shipping time. Want your checks faster? Select 2nd Day or Next Day shipping options during checkout.
$7.95
This heavy-duty brush will make cleaning as easy as can be. It features an easy-grip handle and extra stiff bristles that will last for years. Great for cleaning concrete bird baths.
Brand: Duncraft
$89.95
Create a beautiful hanging birding station anywhere you want! The Yard Tree creates an useful feeding station that can also be incredibly visually appealing. Bird feeders, bird houses, bird baths, planters, chimes-all that and more can be hung from the hanger at any height and in any orientation. The slip-on, gravity-locked hooks and rings that come individually packaged enable the hanger to be endlessly customizedâ€"-that way, you can find the exact configuration that works best for you. It's designed for both indoor and outdoor use, and can be placed poolside or on patios and decks. With a sturdy all-steel construction and a dazzling silver vein finish, this hanging station will last for a long time. The base, which is designed to be anti-tip, measures 23-1/2 inches in diameter. The highest possible height of a hook placed at the very top of the hanger is 83 inches high, and the hooks extend 12 inches from the 7/8 inch diameter pole.2 Day Express Shipping is not available for this item.
Brand: Duncraft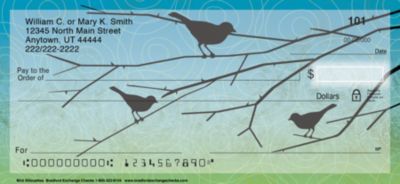 Bird Silhouettes Personal Checks
$35.90
Colorful Bird Checks are Chirping with Delight! - Step outdoors and admire nature's beloved avian animals perched in the treetops when you use these bird silhouette checks from Bradford Exchange Checks(R). Four different colorful designs feature bird silhouettes and tree images, along with vibrant gradient backgrounds. What a wonderful way to spread your wings and take flight with the beautiful style of nature! Plus, you'll find these bird silhouette personal checks are just as practical as they are colorful. Brought to you exclusively by Bradford Exchange Checks, they're expertly re-created with premium-quality check printing. Don't let this opportunity fly away - get your bird silhouette art checks as soon as possible! Order now! Pricing shown is for 2 boxes of Singles.
Brand: Bradford Exchange Checks
---