» Home
Specialty Shops
» Christmas Shop
» Thomas Kinkade Shop
» Jeweled Box Shop
» Music Box Shop
» The Vase Shop

Shop By Category
» Angels
» Betty Boop
» Boyds Bear
» Charming Tails
» Disney
» Elvis Presley
» Fairy / Fairies
» Gary Patterson
» Jasmine Becket-Griffith
» Lena Liu
» Lenox
» Gone With The Wind
» Jim Shore
» Marilyn Monroe
» Peanuts & Snoopy
» Precious Moments
» Really Woolly
» Tinker Bell
» Teddy Bears
» Wizard Of Oz

Shop By Animal or
Nature Theme
» Bear - All
» Bird
» Bunny / Rabbit
» Butterfly / Butterflies
» Cat
» Chipmunk
» Cow
» Deer
» Dog
» Dolphin
» Dragonfly
» Duck
» Eagle
» Elephant
» Flamingo
» Frog
» Giraffe
» Horse
» Hummingbird
» Ladybug
» Leopard
» Lion
» Kangaroo
» Moose
» Owl
» Panda Bear
» Peacock
» Penguin
» Pig
» Polar Bear
» Seal
» Squirrel
» Sunflower
» Tiger
» Toucan
» Turtle
» Wolf
» Zebra

More Collectibles & Decor
» Collectible Eggs
» Drink Coasters
» Perfume Bottles
» Suncatchers
» Candles
» Collectible Banks


Butterfly Shop - Apparel, Pajamas, Figurines, Decor, T-Shirts, Checks,
Jewelry, Plush Toys, Music Boxes & Merchandise
Select from a variety of Butterfly Collectibles, Decor & Gifts
Butterfly fans will enjoy this great selection of Butterfly merchandise including apparel, pajamas, figurines, decor, t-shirts, personal checks, jewelry, plush & stuffed Butterfly toys, music boxes, shirts, address labels, slippers, calendars, collectibles and more.
We found 956 products for Butterfly >>
Long necklace, 'Gossamer Butterfly' (Brazil)
$84.99 $76.49
Artisans of Minas Gerais celebrate summer with this exquisite handcrafted necklace. Fashioning the wings with shining gauze bathed in rhodium, they display the pendant on a very long chain with squared links.
Brand: Novica
Sterling silver pendant necklace, 'Summer Butterfly' (Thailand)
$39.99
A beautiful summer butterfly is the centerpiece of this design by Thailand's Jantana. Cut by hand from a sheet of silver, the gossamer creature receives a brushed finish. Jantana displays the pendant on a sterling chain. .925 Sterling silver
Brand: Novica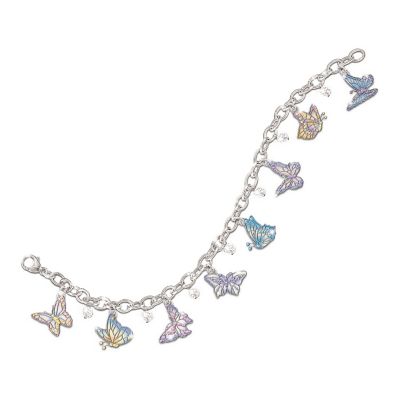 On Graceful Wings Engraved Butterfly Charm Bracelet: Inspirational Jewelry Gift
$129.00
Experience the beauty of nature flying free with this exquisite butterfly charm bracelet, a fine jewelry design exclusive from Lena Liu and The Bradford Exchange! Based on Ms. Liu's award-winning artwork, this stunning engraved bracelet jewelry gift features 8 sterling silver-plated butterfly charms interspersed with sparkling crystal briolettes. Each charm sparkles with genuine Swarovski® crystals and colored enamel accents, and the reverse side of each charm is elegantly engraved with a word of encouragement, creating a butterfly jewelry gift that's sure to delight. Beautiful to behold, the elusive butterfly adds romance and grace to the garden, and now this lovely inspirational jewelry gift can do the same for any outfit and any occasion. Don't wait - intense demand is expected. Order now!
Brand: The Bradford Exchange
Amethyst pendant necklace, 'Island Butterfly' (Indonesia)
$65.99
This exquisite necklace pays tribute to Indonesian ancestral design. Hand-crafted of sterling silver, a butterfly is surrounded with luxurious tendrils. Buana centers the pendant with faceted amethyst, and adds a long hook at the back so it can also be worn as a clip with scarves or shawls. .925 Sterling silver
Brand: Novica
Sterling silver charm bracelet, 'Andean Butterfly' (Peru)
$44.99 $40.49
Silver becomes gleaming butterflies that dance on a sterling chain. Carol Noriega creates a bracelet inspired by butterflies in sunny Andean meadows. .925 Sterling silver
Brand: Novica
Mate gourd jewelry set, 'Butterfly Blossom' (Peru)
$102.99 $92.69
Posing on a flower, a butterfly is artfully carved into a dried mate gourd. Shading is achieved by passing the carved gourd over small flames. It centers sterling silver medallions in a necklace and earrings by Peru's Fabiana Quispe. .925 Sterling silver
Brand: Novica
Amethyst and blue topaz cocktail ring, 'Butterfly Queen' (Indonesia)
$58.49
Gemstone guardians take the form of beautiful butterflies with blue topaz bodies. They flank faceted amethyst and citrine stones in this extravagant design. Crafted by hand, the sterling silver ring radiates modern Balinese artistry as Buana demonstrates his talent. The gemstones total 3.3 carats. .925 Sterling silver
Brand: Novica
Leather mirror, 'Bronze Butterflies' (Peru)
$361.49
Gilded butterflies with coppery wings seem to hover around a silver pool. The rich art legacy of the Inca inspires Manolo and Lucho for this elegant design. They craft a beautiful wall mirror frame with finely tooled leather.
Brand: Novica
Butterfly Blooms Side Tear Checks - 1 box - Singles
$4.95
From monarchs to swallowtails, the graceful spirit of the butterfly is captured in these beautiful illustrations. Click here for Butterfly Blooms wallet style checks. Greg & Company, LLC, 2007. All Rights Reserved.
Brand: Artistic Checks
Blue Butterfly Cutwork Table Runner
$19.99 $14.99
Stunning springtime runner features shaped, machine finished edges and a richly intricate embroidered design in blues and soft greens. Although this handcut runner looks like an heirloom, it provides the easy care of 100% polyester, with durable machine-finished edges. Machine wash/dry; imported. 13" x 72".
Bird-Safe ® Butterfly Window Strike Decals
$8.95
Save more birds wherever you are! Millions of birds die each year from window strikes. You can save the birds because the blue ultraviolet light in our window decals breaks up the reflection of sky, clouds and treesâ€"so birds can veer off in time. One more bird, saved! Place on the outside of your window; one decal per three square feet. The decals are barely visible to you, while birds see a solid blue shape, set of six. 4-1/2 inch diameter. Bird-Safe ® butterfly decals, set of 6 Protect the birds with lifesaving window decals Features easy to use static cling with ultraviolet light Easy to reposition on your window
Brand: Duncraft
Butterfly Swirls Checks by Lorrie Weber
$18.99
Butterfly Swirls Personal Checks by Lorrie Weber with a beautiful butterfly on a green background and quotes to remind us that "Life is Beautiful" and we should "Delight in Life". Now you can enjoy her artwork each time you use your checks. As always, these checks are available at our everyday low prices.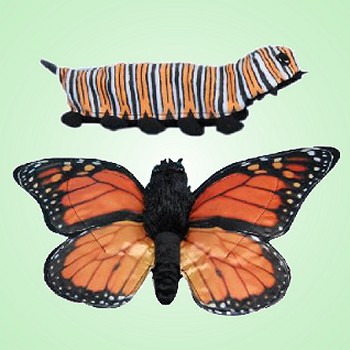 $23.50
Zippered compartments let you turn the orange black and white striped caterpillar into a lovely monarch butterfly. Vibrant colors silk screened on both sides. 15 Inches Wide.
Brand: Sunny
Cultured pearl charm bracelet, 'Baby Butterfly' (Indonesia)
$57.99
Exquisitely crafted by hand, this beautiful bracelet by Ngurah Gede depicts shining baby butterflies. They mingle with white cultured pearls. .925 Sterling silver
Brand: Novica
Butterflies Leather Checkbook Cover
$13.97
Complement your Check Gallery check order with our Butterflies Leather Checkbook Cover. This high-quality personal checkbook cover will accommodate your favorite checks with pockets for your check register ID photos and more. The Check Gallery proudly supports Lupus Foundation of America.
Brand: Check Gallery
Large Rolling Duffel Tote Bag-Butterfly
$22.99
Personalized Gift: Large Rolling Duffel Tote Bag-Butterfly. Large Rolling Duffel Tote Bag-Butterfly
Brand: Personal Creations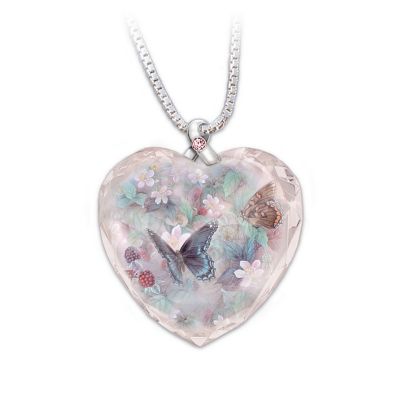 Lena Liu Breast Cancer Support Crystal Pendant Necklace: Butterflies Of Hope
$79.00
Breast cancer touches those dearest to us - our mothers, daughters, sisters and friends. But the hope for a cure brings us peace. Now you can help in the fight with this stunning breast cancer support crystal pendant necklace. A fine jewelry design from The Bradford Exchange, a portion of the proceeds from this pendant will be donated to the fight against breast cancer. This inspiring butterfly art jewelry from Lena Liu is handcrafted in crystal and features one of the artist's most prized butterfly and floral garden images within a heart-shaped pendant. A sterling silver bail shaped like the breast cancer awareness ribbon showcases a pink Swarovski crystal. For the perfect finishing, this treasure is engraved on the reverse with a pair of butterflies and the word, "Hope" and is suspended from a solid sterling silver chain. Strong demand is expected. Order now!
Brand: The Bradford Exchange
Butterflies Checks - 1 box - Duplicates
$5.95
Set your heart a-flutter with these lovely Butterfly designs. This series includes checks, address labels, a contact card and a matching leather checkbook cover. The Check Gallery proudly supports Lupus Foundation of America.
Brand: Check Gallery
Opal dangle earrings, 'Abstract Butterflies' (Peru)
$97.99 $78.39
Shimmering butterfly wings of sterling silver become earrings of beauty and splendor. Patricia Jara designs these handcrafted earrings where hammered textures frame glistening dyed opals
Brand: Novica
$21.95
Attract butterflies to brighten your day! You can help your bird-friendly backyard thrive by attracting butterflies! Butterflies are important because they cross-fertilize the flowers needed to make the fruit your birds eat. This fun butterfly feeder features several fruit trays with a nectar basin and dozens of mini nectar feeding ports - perfect for watching many butterflies feed on nectar at once. Hang or pole-mount this butterfly feeder in your garden; pole sold separately. This two-piece feeder is made from high-impact yellow and clear plastic for greater durability. 8-1/2 x 7-3/4 inches. 12 oz. capacity with 3 feeding trays Attract butterflies with this easy to use fruit feeder Features bee-proof feeding ports with built-in ant moat Dishwasher safe for easy cleaning
Brand: Duncraft
---