» Home
Specialty Shops
» Christmas Shop
» Thomas Kinkade Shop
» Jeweled Box Shop
» Music Box Shop
» The Vase Shop

Shop By Category
» Angels
» Betty Boop
» Boyds Bear
» Charming Tails
» Disney
» Elvis Presley
» Fairy / Fairies
» Gary Patterson
» Jasmine Becket-Griffith
» Lena Liu
» Lenox
» Gone With The Wind
» Jim Shore
» Marilyn Monroe
» Peanuts & Snoopy
» Precious Moments
» Really Woolly
» Tinker Bell
» Teddy Bears
» Wizard Of Oz

Shop By Animal or
Nature Theme
» Bear - All
» Bird
» Bunny / Rabbit
» Butterfly / Butterflies
» Cat
» Chipmunk
» Cow
» Deer
» Dog
» Dolphin
» Dragonfly
» Duck
» Eagle
» Elephant
» Flamingo
» Frog
» Giraffe
» Horse
» Hummingbird
» Ladybug
» Leopard
» Lion
» Kangaroo
» Moose
» Owl
» Panda Bear
» Peacock
» Penguin
» Pig
» Polar Bear
» Seal
» Squirrel
» Sunflower
» Tiger
» Toucan
» Turtle
» Wolf
» Zebra

More Collectibles & Decor
» Collectible Eggs
» Drink Coasters
» Perfume Bottles
» Suncatchers
» Candles
» Collectible Banks


Dolphin Shop - Apparel, Pajamas, Figurines, Decor, T-Shirts, Checks,
Jewelry, Plush Toys, Music Boxes & Merchandise
Select from a variety of Dolphin Collectibles, Decor & Gifts
Dolphin fans will enjoy this great selection of Dolphin merchandise including apparel, pajamas, figurines, decor, t-shirts, personal checks, jewelry, plush & stuffed Dolphin toys, music boxes, shirts, address labels, slippers, calendars, collectibles and more.
We found 251 products for Dolphin >>
Mask U.S. Happy Dolphin Mascot Costume
$995.00
All of our products are made by top manufacturers who care about toy safety, quality and value. Your order will ship factory-fresh directly from our warehouse to your door. We carefully inspect and beautifully package every order before shipment to ensure that you receive high quality products that are delivered accurately every time you order. A note about product sizes: The product sizes listed are provided by the manufacturers. It is customary in the plush industry to measure stuffed animals stretched from head to foot (or nose to tail, depending on the creature). So, no matter how the item is posed in the picture, the size given indicates the overall length of the item. We understand that product descriptions are very valuable when purchasing items online and we hope this helps. We want you to be completely satisfied with your order. We stand behind every product we sell with a money back guarantee.
Brand: Mask U.s.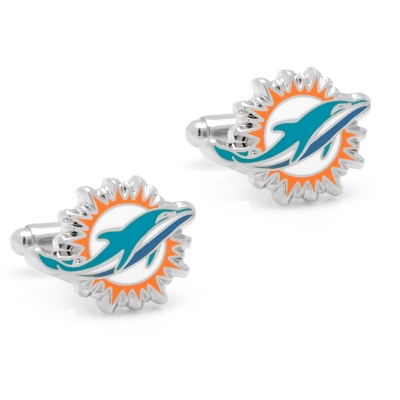 Miami Dolphins Cuff Links, In Silver, Silver / Enamel, By Things Remembered
$62.00
What's a guy to wear on a formal weekend event? Choose his favorite football team cuff links, and it will be a little easier to convince him to button up that shirt. A fun way to add a little team pride to a dressy outfit. All 32 NFL teams cuff links are available-Perfect for holidays or birthdays-A great gift for groomsmen-Make this gift extra special by personalizing the included men's valet box with the cuff links.
Miami Dolphins #1 Fan Commemorative Baby Doll Collection
$39.98
When the Miami Dolphins play, it's hard to tell if it's the weather or their skills that bring the heat! Now, show off your team spirit alongside the cutest fans around with the first-ever Miami Dolphins #1 Fan Commemorative Baby Doll Collection, available exclusively from The Ashton-Drake Galleries. Posed on his own Dolphins blanket, your doll collection begins with Issue One, Is It Sunday Yet?®. Soon, your collection continues with Issue Two, Touchdown Dolphins, Issue Three, Halftime Snacktime, and additional Miami Dolphins fan dolls, each a separate issue to follow.‡Officially licensed by NFL Properties LLC, each Miami Dolphins baby in this collection is designed by Master Doll Artist Sherry Rawn. Fully sculpted and handcrafted in artist's resin right down to the most adorable realistic detail, these little fan dolls come with baby-styled Dolphins gear like caps, blankets, miniature footballs and more, featuring the distinctive Dolphins team logo and team colors. They even wear fabric diapers! Give these Miami Dolphins collectible baby dolls as a unique fan gift, or add them to your own Dolphins memorabilia. High demand is expected, so don't delay. Order now!
Brand: The Ashton-Drake Galleries
$99.00
Nothing beats the exceptional look and quality of our Dolphin Bracelet. Among the finest made, you will be provided with great satisfaction and long lasting enjoyment. Why not pamper yourself or give a loved one a Dolphin gift to show them how much you care. The Dolphin Bracelet will make the perfect gift for any Dolphin lover. Shop with confidence, because all products come with a 100% customer satisfaction guarantee. Click over now to see the big selection of Dolphin gifts we offer.
$26.95
This is one gift that will keep on giving forever with your divine Dolphin Trivet. There won't be a long face in the house when you showcase this beautiful 8 x 8 inch Trivet made with Soft Non Slip Cushions and a Pinewood Frame made right here in the USA. Heat Resistant for use as a Hot Plate, the Dolphin Trivet also includes a Pre-Drilled Hole for Hanging. This sweet trivet makes the ultimate gift for any fan of this one of a kind beautiful creature.
Dolphin Cove Glass-Topped Sculptural Table
$169.00
A pair of playful dolphins splash in the ocean waves that rise to form a distinctive, quality designer resin table base. We love the hand-painting that highlights the sparkling blue water, warm gray skin and upturned tails of our favorite animal statue. This Design Toscano exclusive is topped with a 18" diameter, " thick, pencil-edged round glass top that makes it perfect poolside or to celebrate your seaside or coastal-themed decor. 151/2"Wx131/2"Dx21"H. 18 lbs.
Brand: Design Toscano
$19.99
Dolphin Tale is inspired by the amazing true story of a brave dolphin and the compassionate strangers who banded together to save her life.
Brand: Beverly hills teddy bear company
Dolphins Leather Checkbook Cover
$19.95 $13.97
Stay organized and safeguard your checks with the Dolphins Leather Checkbook Cover designed to complement your Styles checks. This designer checkbook cover includes inside pockets to hold your checks, check register and receipts in addition to multiple slots for your ID credit cards and photos. Steve Sundram
Brand: Styles Checks
Mens Dolphin Shirt Big Dolphin Face Pigment Dyed Tee T-Shirt
$17.99
Mens Dolphin Shirt Big Dolphin Face Pigment Dyed Tee T-Shirt100% cottonAvailable in Small, Medium, Large, XL, 2XL, 3XL & 4XLAlso available in colors Blue Moon, Coal, Denim Blue, Dijon, Neon Blue, Neon Green, Neon Orange, Neon Pink, Neon Yellow, Redrock, Safari, Taupe, and Vintage Plum
Brand: Mens Pigment Dyed Shirt - Big Dolphin Face
Mens Dolphin Shirt Big Dolphin Face Tie Dye T-shirt
$18.99
Mens Dolphin Shirt Big Dolphin Face Tie Dye T-shirt100% cottonEach t-shirt is hand dyed individually meaning no two are alike; Enjoy each t-shirt for its own uniquenessAvailable in Small, Medium, Large, XL, 2XL, & 3XLAlso available in colors Blaze, Blue Jerry, Camo, Eternity, Fluorescent Swirl, Kingston, Mardi Gras, Neon Rainbow, Reactive Rainbow, Saturn, Spiral Blue Yellow, Spiral Lavender Blue, Spiral Pink, Spiral Yellow Orange, Spiral Purple, and Tour Bus
Brand: Mens Tie Dye Shirt - Big Dolphin Face
Mens Dolphin Shirt Big Dolphin Face Moisture Wicking Tee T-Shirt
$17.99
Mens Dolphin Shirt Big Dolphin Face Moisture Wicking Tee T-Shirt100% polyesterAvailable in Small, Medium, Large, XL, 2XL, 3XL & 4XLAlso available in colors Black, Cardinal, Carolina Blue, Deep Orange, Forest, Gold, Kelly, Light Pink, Lime, Maroon, Navy, Purple, Red, Royal, Sand, Silver, Tropic Blue, Vegas Gold, and White
Brand: Mens Moisture Wicking Shirt - Big Dolphin Face
Mens Dolphin Shirt Big Dolphin Face Muscle Tee T-Shirt
$15.99
Mens Dolphin Shirt Big Dolphin Face Muscle Tee T-Shirt100% cottonSports grey is a cotton/poly blendAvailable in Small, Medium, Large, XL & 2XLAlso available in colors Black, Navy, Red, Royal, Sports Grey, and White
Brand: Mens Muscle Shirt - Big Dolphin Face
Mens Dolphin Shirt Big Dolphin Face Patriotic Tie Dye Tee T-shirt
$18.99
Mens Dolphin Shirt Big Dolphin Face Patriotic Tie Dye Tee T-shirt100% cottonEach t-shirt is hand dyed individually meaning no two are alike; Enjoy each t-shirt for its own uniquenessAvailable in Small, Medium, Large, XL, 2XL, & 3XLAlso available in colors Independence, Spiral Red Blue, Union Jack, and US Flag
Brand: Mens Patriotic Tie Dye Shirt - Big Dolphin Face
Mens Dolphin Shirt Big Dolphin Face Tri Blend V-neck Tee T-Shirt
$17.99
Mens Dolphin Shirt Big Dolphin Face Tri Blend V-neck Tee T-ShirtA cotton/poly/rayon blendAvailable in Small, Medium, Large, XL & 2XLAlso available in colors Aqua, Athletic Grey, Blue, Brown, Charcoal Black, Clay, Green, Grey, Maroon, Navy, Oatmeal, Orange, Red, Royal, Teal, and White
Brand: Mens Tri Blend V-Neck Shirt - Big Dolphin Face
Mens Dolphin Shirt Big Dolphin Face Burnout T-Shirt
$24.99
Mens Dolphin Shirt Big Dolphin Face Burnout T-ShirtA cotton/poly blendAvailable in Small, Medium, Large, XL & 2XLAlso available in colors Black, Dark Grey, and White
Brand: Mens Burnout Shirt - Big Dolphin Face
Ladies Dolphin Shirt Big Dolphin Face Tee T-Shirt
$15.99
Ladies Dolphin Shirt Big Dolphin Face Tee T-Shirt100% cottonAsh an athletic heather are a cotton/poly blendAvailable in Ladies Small, Ladies Medium, Ladies Large, Ladies XL, Ladies 2XL, Ladies 3XL & Ladies 4XLAlso available in colors Aquatic Blue, Ash, Athletic Heather, Black, Candy Pink, Cardinal, Charcoal, Chocolate, Daffodil Yellow, Dark Green, Kelly, Light Blue, Lime, Natural, Navy, Orange, Pale Pink, Purple, Red, Royal, Sangria, and Stonewashed Blue
Brand: Ladies Shirt - Big Dolphin Face
Ladies Dolphin Shirt Big Dolphin Face Organic T-Shirt
$17.99
Ladies Dolphin Shirt Big Dolphin Face Organic T-Shirt100% cottonAvailable in Ladies Small, Ladies Medium, Ladies Large, Ladies XL, Ladies 2XL & Ladies 3XLAlso available in colors Black, Charcoal, Daffodil Yellow, Light Blue, Lime, Medium Grey, Natural, Navy, Red, Royal, and White
Brand: Ladies Organic Shirt - Big Dolphin Face
Mens Dolphin Shirt Big Dolphin Face Sleeveless Tee T-Shirt
$17.99
Mens Dolphin Shirt Big Dolphin Face Sleeveless Tee T-Shirt100% polyesterAthletic heather is a cotton/poly blendAvailable in Small, Medium, Large, XL & 2XLAlso available in colors Black, Carolina Blue, Charcoal, Navy, Red, Royal, Safety Green, and White
Brand: Mens Sleeveless Shirt - Big Dolphin Face
---