» Home
Specialty Shops
» Christmas Shop
» Thomas Kinkade Shop
» Jeweled Box Shop
» Music Box Shop
» The Vase Shop

Shop By Category
» Angels
» Betty Boop
» Boyds Bear
» Charming Tails
» Disney
» Elvis Presley
» Fairy / Fairies
» Gary Patterson
» Jasmine Becket-Griffith
» Lena Liu
» Lenox
» Gone With The Wind
» Jim Shore
» Marilyn Monroe
» Peanuts & Snoopy
» Precious Moments
» Really Woolly
» Tinker Bell
» Teddy Bears
» Wizard Of Oz

Shop By Animal or
Nature Theme
» Bear - All
» Bird
» Bunny / Rabbit
» Butterfly / Butterflies
» Cat
» Chipmunk
» Cow
» Deer
» Dog
» Dolphin
» Dragonfly
» Duck
» Eagle
» Elephant
» Flamingo
» Frog
» Giraffe
» Horse
» Hummingbird
» Ladybug
» Leopard
» Lion
» Kangaroo
» Moose
» Owl
» Panda Bear
» Peacock
» Penguin
» Pig
» Polar Bear
» Seal
» Squirrel
» Sunflower
» Tiger
» Toucan
» Turtle
» Wolf
» Zebra

More Collectibles & Decor
» Collectible Eggs
» Drink Coasters
» Perfume Bottles
» Suncatchers
» Candles
» Collectible Banks


Dragonfly Shop - Apparel, Pajamas, Figurines, Decor, T-Shirts, Checks,
Jewelry, Plush Toys, Music Boxes & Merchandise
Select from a variety of Dragonfly Collectibles, Decor & Gifts
Dragonfly fans will enjoy this great selection of Dragonfly merchandise including apparel, pajamas, figurines, decor, t-shirts, personal checks, jewelry, plush & stuffed Dragonfly toys, music boxes, shirts, address labels, slippers, calendars, collectibles and more.
We found 208 products for Dragonfly >>
'Lotus and Dragonfly' (Thailand)
$139.99
Radiant in the sunlight, lotus blossoms are Buddha's preferred offering. Noppadon Kamkong works in mixed media to depict three stately flowers. Applications of golden foil create a luminous effect, and a tiny dragonfly hovers in the clear blue sky.
Brand: Novica
Sterling silver button earrings, 'Dark Filigree Dragonfly' (Peru)
$39.99
Vibrant yet petite, dragonflies come to life in sterling silver. The creatures are a recurring motif on Inca pottery and are thought to symbolize the soul. Nancy Quispe crafts these delightful button earrings of sterling filigree and gives the wings a darkened finish.
Brand: Novica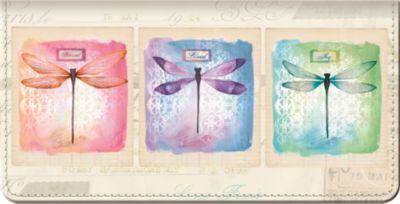 $19.99
Dance with the Joyful Colors of This Dragonfly Fabric Checkbook Cover! - Feel carefree again with this pastel dragonfly checkbook cover. Custom designed to coordinate with your Dragonflies personal check designs, this fabric checkbook cover features vibrant watercolor images of dragonflies on a lacey beige background, by artist Christine Adolph. For an extra touch of fluttering love, the back of the cover has even more beautiful dragonfly imagery. This exclusive pastel dragonfly checkbook cover is handcrafted of a soft, supple fabric. High-quality features include premium nylon thread stitching, fabric lining, a clear duplicate check divider, slip-in personal check pocket, and a second pocket to hold cash or receipts. Don't wait to show off your colorful sense of style - get your dragonfly checkbook cover from Bradford Exchange Checks(R)! Order now!
Brand: Bradford Exchange Checks

Dragonflies Return Address Label
$7.99
Fly on the Wings of Love with Every Labeling Project When You Use These Dragonfly Labels - Make every labeling project seem like a dancing rainbow of color with these pastel dragonfly address labels from Bradford Exchange Checks(R)! Each beautiful label design pairs your personal information with vibrant watercolor images of dragonflies showcased in four colorful designs, by artist Christine Adolph. Plus, you'll find these pastel dragonfly art mail labels are amazingly practical too, arriving in a set of conveniently self-sticking labels. They're perfect for hundreds of jobs, so don't wait! Celebrate these joyful creatures of the sky every time you use these dragonfly mail label designs. Order now!
Brand: Bradford Exchange Checks
$12.95 $9.07
Dragonflies Contact Cards offer a handy way for family, friends, classmates and coworkers to stay in touch with you. With up to six lines for your personal information, Contact Cards are sold in sets of 150 and measure 3.5" x 2". Greg & Company, LLC. All Rights Reserved.
Brand: Check Gallery
Sterling silver pendant necklace, 'Tropical Dragonfly' (Mexico)
$59.99
Depicted in silhouette, a dragonfly hovers on gossamer wings. Annabel Humber celebrates its beauty, handcrafting this elegant necklace of silver, mined in Taxco. .925 Sterling silver
Brand: Novica
Delightful Dragonfly: Louis Comfort Tiffany-Style Stained Glass Peacock Figurine
$49.98
As colorful as a peacock's feathery plumes, the stained-glass artistry of legendary 19th century designer Louis Comfort Tiffany still captivates us today and is prized by collectors the world over. Now, the artist's most popular motif inspires the Delightful Dragonfly Figurine, a Louis Comfort Tiffany-style limited edition exclusively from The Hamilton Collection. This lovely peacock figurine is exquisitely handcrafted and hand-painted in the rich blue, green and purple tones found in the celebrated dragonfly design. The peacock sparkles with amethyst-colored faux gems, adding a jewel-like twinkle to this long believed symbol of strength and renewal. A glossy finish is carefully hand-applied to this beautiful collectible peacock figurine to help retain its stunning look for generations. Strong demand is expected. Order now!
Brand: The Hamilton Collection
Gold accented amethyst cuff bracelet, 'Dragonfly Den in Purple' (Indonesia)
$93.49
Two stones of amethyst totaling over four carats rest on the ends of this cuff bracelet, which is handcrafted from sterling silver with dragonfly motifs and 18k gold plated accents. It is designed by Indonesia's Wayan Neri, who is proud to present her own designs in this beautiful bracelet.
Brand: Novica
Sterling silver and marcasite stud earrings, 'Petite Dragonflies' (Thailand)
$32.99
Petite dragonflies become earrings of grand elegance from Thailand's Wadarat Supasirisuk. Crafted of sterling silver, the stud earrings glisten with marcasite details. .925 Sterling silver
Brand: Novica
Ceramic jar, 'Balinese Dragonfly' (Indonesia)
$49.99
Delicate and graceful dragonflies carelessly align the ceramic surface of this petite canister or kitchen jar, their presence an enchanting motif. From Putu Oka Mahendra, the bowl is crafted by hand of high-fired ceramic.
Brand: Novica
Amethyst pendant necklace, 'Bali Dragonfly' (Indonesia)
$59.99
A decadent dragonfly is crafted from sterling silver, featuring elegant wings with Balinese spiral motifs. Indonesia's Putu Putri celebrates the beauty of her country's jewelry, presenting this pendant necklace on a braided leather cord. A single stone of amethyst rests within the body of the dragonfly.
Brand: Novica
Garnet brooch pin, 'Scarlet Dragonfly' (Indonesia)
$55.99
Ever so graceful, this charming dragonfly brooch from Wayan Asmana exemplifies Balinese charm. Filigree wings are studded with traditional silver granules and the dragonfly comes alive with a heart of faceted garnet that totals 1 carat. .925 Sterling silver
Brand: Novica
---