» Home
Specialty Shops
» Christmas Shop
» Thomas Kinkade Shop
» Jeweled Box Shop
» Music Box Shop
» The Vase Shop

Shop By Category
» Angels
» Betty Boop
» Boyds Bear
» Charming Tails
» Disney
» Elvis Presley
» Fairy / Fairies
» Gary Patterson
» Jasmine Becket-Griffith
» Lena Liu
» Lenox
» Gone With The Wind
» Jim Shore
» Marilyn Monroe
» Peanuts & Snoopy
» Precious Moments
» Really Woolly
» Tinker Bell
» Teddy Bears
» Wizard Of Oz

Shop By Animal or
Nature Theme
» Bear - All
» Bird
» Bunny / Rabbit
» Butterfly / Butterflies
» Cat
» Chipmunk
» Cow
» Deer
» Dog
» Dolphin
» Dragonfly
» Duck
» Eagle
» Elephant
» Flamingo
» Frog
» Giraffe
» Horse
» Hummingbird
» Ladybug
» Leopard
» Lion
» Kangaroo
» Moose
» Owl
» Panda Bear
» Peacock
» Penguin
» Pig
» Polar Bear
» Seal
» Squirrel
» Sunflower
» Tiger
» Toucan
» Turtle
» Wolf
» Zebra

More Collectibles & Decor
» Collectible Eggs
» Drink Coasters
» Perfume Bottles
» Suncatchers
» Candles
» Collectible Banks


Elephant Shop - Apparel, Pajamas, Figurines, Decor, T-Shirts, Checks,
Jewelry, Plush Toys, Music Boxes & Merchandise
Select from a variety of Elephant Collectibles, Decor & Gifts
Elephant fans will enjoy this great selection of Elephant merchandise including apparel, pajamas, figurines, decor, t-shirts, personal checks, jewelry, plush & stuffed Elephant toys, music boxes, shirts, address labels, slippers, calendars, collectibles and more.
We found 873 products for Elephant >>
Men's amethyst ring, 'Balinese Elephant' (Indonesia)
$49.99 $44.99
Crafted by hand with Balinese styling, an elephant encircles the finger with an ornate trunk. Nyoman Rena sculpts the pachyderm in handsome detail, crowning it with an amethyst. Sterling silver lends its gleam to this very original ring. .925 Sterling silver
Brand: Novica
Soapstone jewelry box, 'Elephant Procession' (India)
$49.99 $44.99
Indian elephants parade through a leafy forest. Gulam Rasool depicts them in a regal jewelry box. A master at traditional jali or openwork carving, he works in natural soapstone.
Brand: Novica
Enormous African Elephant Statue
$12,999.00
Attract crowds by creating an African savanna of your very own with our life-sized, almost 8 foot tall replica of the world's largest living terrestrial animal! Our savanna elephant is authentically sculpted from its large, ruffled ears that fan the breeze to its stabilizing trunk that trumpets a grand entrance in the wild. Cast in quality designer resin by skilled artisans who've captured the texture of both hide and tusk, our animal statue hand-painted in naturalistic hues. This Toscano-exclusive, display-quality sculpture transforms any home, garden, or restaurant into something truely magnificent! Design Toscano features a Special Order service; this item will be made to order for you. Please contact Customer Service so we can arrange delivery service. 147"Wx77"Dx951/2"H. 506 lbs.
Brand: Design Toscano
$7.99
Snuggle Safari are cute bright colored animals with embroidered eyes perfect for baby! These cute animals will sure to make anyone smile.
Brand: Beverly Hills Teddy Bear
Sterling silver cuff bracelet, 'Elephant Greeting' (Thailand)
$236.99
Long trunks lifted in greeting, silver elephants meet in a floral jungle. Ploy Intha designs this charming cuff bracelet in dazzling detail. Elephants hold a revered place in Thai society and appear in many proverbs and sayings. March 13 is designated as Thai Elephant Day. .925 Sterling silver
Brand: Novica
Celadon ceramic figurines, 'Elephant Play Time' (pair) (Thailand)
$39.99 $35.99
Portly and powerful, elephants are an important part of Thai culture. They have been a symbol of both power and peace. From Kanda, two playful figurines are crafted by hand in the tradition of celadon ceramic arts, renowned for its subtly crackled glaze.
Brand: Novica
Sterling silver cuff bracelet, 'Siamese Elephant' (Thailand)
$153.99
Frolicking in the jungle, an elephant is a symbol of old Siam. Achara handcrafts this exquisite design in sterling silver. Lavish leaves and flowers cover the graceful cuff bracelet. .925 Sterling silver
Brand: Novica
Sterling silver pendant necklace, 'Elephant Lovers' (Thailand)
$52.49
By Jantana, this charming necklace depicts a loving elephant couple enclosed in a rectangle. It is crafted by hand, and the modern pachyderms are cut from a sterling sheet. Elephants are a symbol of Thailand, where March 13 is designated as Thai Elephant Day. .925 Sterling silver
Brand: Novica
$62.00
All of our products are made by top manufacturers who care about toy safety, quality and value. Your order will ship factory-fresh directly from our warehouse to your door. We carefully inspect and beautifully package every order before shipment to ensure that you receive high quality products that are delivered accurately every time you order.
Brand: Hansa
Sterling silver cuff bracelet, 'Elephant Secrets' (India)
$499.99 $424.99
Strong and regal, elephants guard forest secrets. They appear on a cuff bracelet designed by India's Neeru Goel that is crafted with sterling silver, featuring burnished contrasts. .925 Sterling silver
Brand: Novica
Silk and cotton shoulder bag, 'Gold Elephant Parade' (Thailand)
$26.49
Woven into golden ribbons, elephants parade across a black and gold shoulder tote. Anchalika Chamnan presents a beautiful and versatile handbag. Yellow cords with beads of rain tree wood adorn the straps, the center panel is shirred, and an inner pocket zips closed. The purse closes with a coconut shell button.
Brand: Novica
Cotton handbag, 'Elephant Blues' (Thailand)
$29.99 $26.99
A symbol of old Siam, elephants are a favorite in Thailand. Silver pachyderms parade across a blue cotton sling tote. By Jiap Rojjana, the bag is fully lined and an inner pocket with zipper keeps small items handy. Golden cords and rain tree wood beads adorn the strap. The shoulder bag is lined with cotton. It features an inner pocket that zips closed, and fastens with a coconut shell button.
Brand: Novica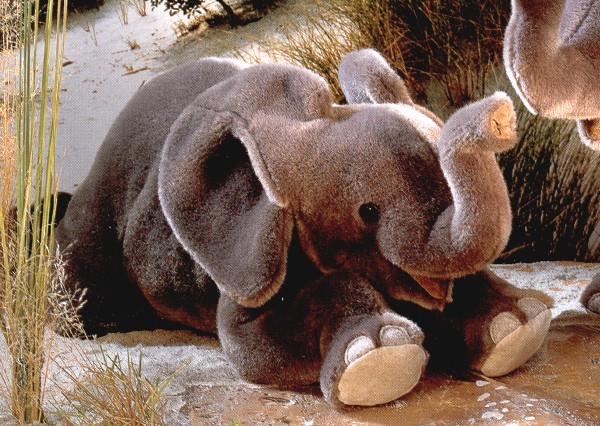 $176.95
Traditional craftsmanship, attention to detail, and a sense for what is important. Handmade in Germany by Kosen using the finest materials. 14 Inches Long
Brand: Kosen
Celadon ceramic figurines, 'Emerald Elephant' (pair) (Thailand)
$31.49
Kneeling, proud elephants await their master's command. Duangkamol depicts the reclining pachyderms in fine celadon ceramic. Ornate silks cover the heads and backs, the unglazed areas revealing the natural color of the clay. A symbol of old Siam, the elephant is much respected in modern Thailand.
Brand: Novica
Sterling silver cuff bracelet, 'Elephant Jungle' (Thailand)
$157.99 $142.19
From Achara, this bracelet depicts proud Thai elephants in the tropical rain forest. The cuff exemplifies the traditional artistry of Thailand's hill tribe silversmiths. .925 Sterling silver
Brand: Novica
$129.99 $116.99
Wearing scarlet silks, a rare white elephant is an imposing image. Gold rings adorn his tusks and his ankles are encircled with bracelets. Pale skin takes on a golden glow as Parinya Nanjai paints a beautiful image symbolic of power in Thailand. The signed work is framed in rain tree wood, bamboo and rattan.
Brand: Novica
Ernest the Lounging Elephant Sitting Statue
$29.95 $24.95
We're sure Hemingway never came across an elephant quite like this one during his travels! Happy to lounge wherever you choose to place him, Ernest is the epitome of calm and relaxation. Cast in quality designer resin, our exotic, faux bronze-finished elephant lends his tranquil presence to any bookshelf, window ledge or gallery shelf. 8"Wx31/2"Dx5"H. 2 lbs
Brand: Design Toscano
---