» Home
Specialty Shops
» Christmas Shop
» Thomas Kinkade Shop
» Jeweled Box Shop
» Music Box Shop
» The Vase Shop

Shop By Category
» Angels
» Betty Boop
» Boyds Bear
» Charming Tails
» Disney
» Elvis Presley
» Fairy / Fairies
» Gary Patterson
» Jasmine Becket-Griffith
» Lena Liu
» Lenox
» Gone With The Wind
» Jim Shore
» Marilyn Monroe
» Peanuts & Snoopy
» Precious Moments
» Really Woolly
» Tinker Bell
» Teddy Bears
» Wizard Of Oz

Shop By Animal or
Nature Theme
» Bear - All
» Bird
» Bunny / Rabbit
» Butterfly / Butterflies
» Cat
» Chipmunk
» Cow
» Deer
» Dog
» Dolphin
» Dragonfly
» Duck
» Eagle
» Elephant
» Flamingo
» Frog
» Giraffe
» Horse
» Hummingbird
» Ladybug
» Leopard
» Lion
» Kangaroo
» Moose
» Owl
» Panda Bear
» Peacock
» Penguin
» Pig
» Polar Bear
» Seal
» Squirrel
» Sunflower
» Tiger
» Toucan
» Turtle
» Wolf
» Zebra

More Collectibles & Decor
» Collectible Eggs
» Drink Coasters
» Perfume Bottles
» Suncatchers
» Candles
» Collectible Banks


Hummingbird Shop - Apparel, Pajamas, Figurines, Decor, T-Shirts, Checks,
Jewelry, Plush Toys, Music Boxes & Merchandise
Select from a variety of Hummingbird Collectibles, Decor & Gifts
Hummingbird fans will enjoy this great selection of Hummingbird merchandise including apparel, pajamas, figurines, decor, t-shirts, personal checks, jewelry, plush & stuffed Hummingbird toys, music boxes, shirts, address labels, slippers, calendars, collectibles and more.
We found 276 products for Hummingbird >>
Copper Trio Hummingbird Feeder
$49.95
Watch these ruby red feeders attract hummingbirds! Now you can relax while watching your â€aflying jewels,†since this group of three nectar feeders encourages friendly hummingbird feeding. Features ruby red lids with decorative clear plastic dishes, which you can lift out of the bracket for easy cleaning. Includes sturdy copper hanging bracket with a red heart-shaped accent. Holds 9 oz. of nectar total. This trio of single hummingbird feeders measures 8 x 8 x 9 inches. 3 oz. capacity with 1 feeding port each, set of 3 Watch hummingbirds feed beautifully together Remove the lids for greater bird variety year-round Easy to clean & refill dish feeders Made in the USA
Brand: Duncraft
$14.95
Yes! A swing for hummingbirds! Hummingbirds are territorial and will use this swing as a perch to watch over their food source. Simply place this swing near hummer feeders and enjoy watching them sit and swing. Red glass bead dangler attracts birds. Copper finish, 5-1/2 x 1/4 x 7 inches tall.
Brand: Duncraft
Wood and leather jewelry box, 'Happy Hummingbird' (Peru)
$133.49
A hummingbird hovers amid flowers to feast on their sweet nectar. Portrayed in burnished tooled leather, the graceful images adorn a diminutive chest of drawers for keepsakes and treasures. Oscar Pastor crafts the jewelry box from wood and covers it in polychrome leather with an antique finish. The drawers open with wrought iron pulls, and a mirror is set inside the lid.
Brand: Novica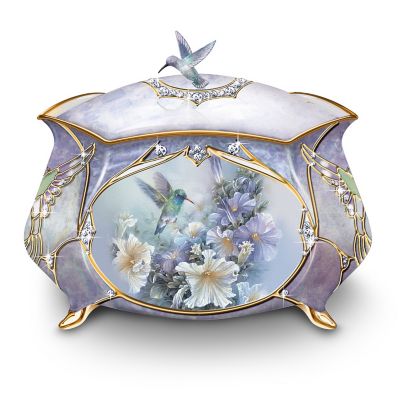 Lena Liu Precious Treasure Hummingbird Music Box
$59.99
Set your spirit free with a celebration of nature's jewels! This extraordinary collectible music box features the breathtaking hummingbird art of award-winning artist Lena Liu. Her magical hummingbirds and floral art come to life in elaborate frames surrounded by raised-relief hummingbirds and lavished with 22K gold, Swarovski crystals, and faux jewels. A hand-painted sculptural hummingbird topper and pav rhinestones complete this delicate work of art. This exclusive, limited-edition Ardleigh Elliott collectible music box is crafted of Heirloom Porcelain®, features a thoughtful sentiment under the lid in elegant golden script, and plays the lovely melody "On the Wings of Love." Yours to treasure or give as an exquisite hummingbird gift, the perfect present for anyone who is a beloved "jewel" in your life - order now!
Brand: Ardleigh Elliott
$19.95
Give your hummingbirds the royal treatment! Experience the joy of feeding hummingbirds! Fill ant moat on top with water to prevent crawling insects from accessing the nectar. Monitor nectar levels through fluted, clear glass reservoir. Includes S-hook for hanging from a tree branch or hanging bracket. Made from bright red plastic with yellow plastic, flower-shaped feeding ports. 6 x 11 inches. 31 oz. capacity & 4 feeding stations Insect-free, leak-resistant hummingbird feeder Built-in ant moat & removable perch for convenience Easy to clean & refill with wide mouth opening
Brand: Duncraft
$19.95
Reliable feeding for your hungry, hungry hummingbirdsThe simplicity of this feeder makes hummer feeding easy! Best of all, this feeder doesn't spill or leak when the wind blows. Watch hummingbirds rest a bit longer on the circular perches! Hang from a tree branch or hanging bracket. Red plastic base with bee repellant yellow plastic feeding ports. Base snaps apart for easy cleaning. 6 x 7-1/2 inches. 30 oz. capacity & 3 feeding stations Built-in bee guards protect the clean nectar supply Monitor nectar levels through clear plastic reservoir Easy to clean & refill with wide mouth opening
Brand: Duncraft
$29.95
Reminiscent of a colorful antique bottleEnjoy the look of yesteryear and feed the hummingbirds with this old-fashioned looking red bottle feeder. Hummingbirds are attracted to the rich red color on both the bottle and flower-shaped feeding ports. Sturdy glass reservoir with metal and plastic base, which disassembles for easy cleaning. 5-1/2 x 10-1/2 inches. 16 oz. capacity & 4 feeding ports Antique-looking hummingbird feeder won't drip Built-in bee-resistant feeding ports Comes ready to hang with built-in hanger
Brand: Duncraft
Best-1 Hummingbird Feeder 32 oz.
$19.95
Find out how many hummingbirds visited today! Attract a charm of hummingbirds with room for them to perch, where you can admire their iridescent feathers. Instantly find out how many hummingbirds came to visit today by using the easy to read measuring gauge printed on the side of the feeder. Includes metal hanging wire. Features bee- and wasp-resistant feeding ports, so your nectar stays clean and your hummingbirds stay healthy. Clear glass bottle with high-impact red plastic base and wraparound perch. 6 x 12 inches. 32 oz. capacity with 8 feeding stations Measure how many hummingbirds came to call Monitor nectar levels through clear glass reservoir Features two-piece base for easy cleaning
Brand: Duncraft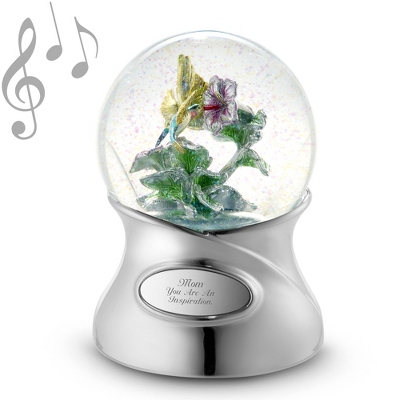 Shimmering Brilliance Hummingbird Musical Snow Globe - Home Decor - Her Gifts - Personalized At Things Remembered
$50.00 $39.99
Handcrafted creation and your message make this engraved snow globe special. Plays "The Flower Song" We handcrafted the hand-painted hummingbirds in intricate detail. Your message on the silver-plated base adds the final, and most important, detail. Rotates and plays "The Flower Song"-Makes a charming gift for Mom, sisters or friend's birthdays-Hummingbirds are symbols of peace, love and happiness, making this a great gift to tell her you love her, or she's in your thoughts -Not intended for children 12 years of age and under.
Bird-Safe ® Hummingbird Window Decals
$8.95
Save birds from colliding with your window! Millions of birds die each year when they fly into the reflection of sky, clouds and trees they see in our windows. You can save your share by applying our translucent ultraviolet decals to the outside of your windows. They act like a stop signâ€"birds see the blue shape and veer off to the side, while your view stays clear and unobstructed. The UV coating wears off with repeated sun exposure, so replace your decals each year. You receive six hummingbird window decals. 4-1/2 inch diameter. Bird-Safe ® hummingbird decals, set of 6 Save your birds' lives with ultraviolet window decals Features translucent design, so you can still see out your window Easy to reposition or remove, without any residue
Brand: Duncraft
$29.95
Hang a unique "antique" for hummingbirdsAttract beautiful hummingbirds and enjoy watching them at this gorgeous vintage-styled bottle feeder. Looks like expensive, vintage green pattern glass and it's created with affordable, eco-friendly recycled glass. Two-piece metal and plastic base comes apart for easy cleaning, so you can spend more time enjoying your hummingbirds! 5-1/4 x 10 inches. 10 oz. capacity & 4 feeding ports Satisfy several hungry hummingbirds at once Monitor nectar levels through sea green glass reservoir Features bee- and wasp-resistant feeding ports Ready to hang with attached hanger
Brand: Duncraft

Hummingbirds Return Address Label
$7.99
Hummingbirds Address Labels Share the Beauty of Nature - Want to add a bit of color to every labeling project? Use nature's color palate with these breathtaking hummingbird address labels! Each hummingbird mail label design pairs your personal information with a portrait of a hummingbird feeding from vibrant flowers in bloom. Delight in nature's shades of red, blue, pink, yellow and more. Plus, you'll find these hummingbird labels are amazingly practical too, arriving in a set of conveniently self-sticking labels. They're perfect for hundreds of jobs, so don't wait! Make every labeling project a colorful expression of nature's beauty with these hummingbird label designs - order now!
Brand: Bradford Exchange Checks
Steel statuette, 'Happy Hummingbird' (Peru)
$119.99
Marco Florindez depicts a hummingbird, a protected species in Peru's Amazon region. With wings extended, the delightful bird seems to hover in mid air. "I think there is nothing more comforting for the soul than to watch these magnificent creatures fly free," Florindez confides. He works with steel and cotton fabric.
Brand: Novica
Best-1 Hummingbird Nectar, Set of 2
$7.95
Irresistible and easy to make hummingbird nectar! Hummingbirds love this food made from 100% pure and natural sugar. The clear choice to fill your feeders with fresh, color-free nectar for healthy hummingbirds. So easy to mix with water, too. Refrigerate any leftover nectar for quick, easy refills throughout hummingbird feeding season. You receive the set of two 14 oz. bottles. Each bottle makes 56 oz. of clear hummingbird nectar. Clear hummingbird powdered nectar, set of 2 Attract hummingbirds with 100% natural nectar Contains no coloring or preservatives for healthy hummingbirds Instant nectar mixes easily with hot water Made in the USA
Brand: Duncraft
Best-1 Hummingbird Feeder 32 oz. Gift Pack Kit
$32.95
A fun way to share the joy of hummingbirds! Start attracting hummingbirds with this complete hummingbird feeding kit, perfect for kids of all ages. Features an easy to read measuring gauge printed on the side of the feeder, so you can quickly tell how many hummingbirds came to call. Easily monitor the nectar levels through the clear glass bottle, so you know when to refill. Features high-impact red plastic base with bee- and wasp-resistant feeding ports and wraparound perch, where hummingbirds can rest and feed. Includes metal hanging wire and clear plastic ant moat, which you can fill with water to keep ants away for clean nectar and healthy hummingbirds. Feeder measures 6 x 12 inches. 32 oz. capacity with 8 feeding stations Attract hummingbirds with this all-inclusive kit Includes feeder, ant moat, nectar & feeding port brush Features two-piece base for easy cleaning
Brand: Duncraft
Droll Yankees Easy View Hummingbird Feeder
$24.95
Our saucer-style feeder gives you a clear view of your hummers Hummingbirds sit right on top of this feeder so you can get amazing, unobstructed views of these little jewelsâ€"right at your window! Attaches to your window with one strong suction cup. The saucer base can't leak and the pretty, red cover is embossed with flowers. Includes Nectar Guard Tips to keep out insects and even a brush to keep the feeding ports clean. Holds 6 oz. of nectar. Feeder has two feeding ports and is 5-3/4 inches in diameter.
Brand: Duncraft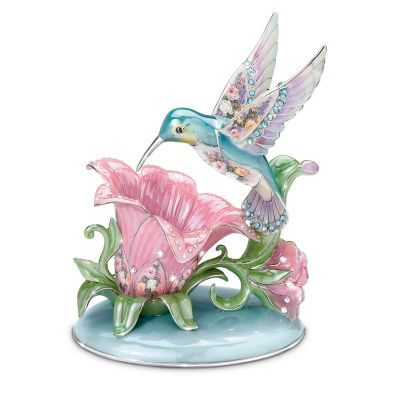 Lena Liu Porcelain Hummingbird Accent Lamp: Radiant Gardens
$119.96
Every work of art that Lena Liu creates brings us to the edge of lush gardens, allowing us to marvel at jewel-toned hummingbirds and lush blossoms. Now this first-ever Lena Liu porcelain hummingbird accent lamp brings the acclaimed artist's exquisite imagery to life in a masterwork of shimmering light, artistry, and craftsmanship. A Bradford Exchange exclusive, this fine limited-edition lamp is individually handcrafted of lustrous Heirloom Porcelain® enhanced with custom pearlescent-toned paints, elegantly recreating Lena Liu's signature watercolor-on-silk floral art in fully sculpted detail. You're sure to be captivated by this ethereal vision of a hummingbird hovering almost magically above a glorious blossom. Light radiates from a hidden bulb inside (yours FREE with the lamp) and sets the entire sculpture aglow with the flip of a switch. Lena Liu floral art, faithfully reproduced in rich color, adorns the hummingbird's wings and breast, as well as the petals of the flower beneath. Over 130 sparkling simulated jewels shimmer like delicate dew drops, while swirling bands of genuine platinum add even more beauty and value. No two of these exquisite art treasures is alike and intense demand is expected, so do not delay. Order now!
Brand: The Bradford Exchange
Hummingbird Earrings True to Life
$16.95
Nothing beats the exceptional look and quality of our Hummingbird Earrings. Among the finest made, you will be provided with great satisfaction and long lasting enjoyment. Why not pamper yourself or give a loved one a Hummingbird gift to show them how much you care. The Hummingbird Earrings will make the perfect gift for any Dog lover. Shop with confidence, because all products come with a 100% customer satisfaction guarantee. Click over now to see the big selection of Hummingbird gifts we offer.
Steel wall sculpture, 'Ruby Breasted Hummingbird' (Mexico)
$42.99
Crafted by hand, this dazzling hummingbird features cutout motifs to define its lovely plumage. J. Blas works in steel to create the wall sculpture, adding inlays of glass on the breast. In Mexico, when someone sees a hummingbird in flight, he or she makes a wish.
Brand: Novica
---