» Home
Specialty Shops
» Christmas Shop
» Thomas Kinkade Shop
» Jeweled Box Shop
» Music Box Shop
» The Vase Shop

Shop By Category
» Angels
» Betty Boop
» Boyds Bear
» Charming Tails
» Disney
» Elvis Presley
» Fairy / Fairies
» Gary Patterson
» Jasmine Becket-Griffith
» Lena Liu
» Lenox
» Gone With The Wind
» Jim Shore
» Marilyn Monroe
» Peanuts & Snoopy
» Precious Moments
» Really Woolly
» Tinker Bell
» Teddy Bears
» Wizard Of Oz

Shop By Animal or
Nature Theme
» Bear - All
» Bird
» Bunny / Rabbit
» Butterfly / Butterflies
» Cat
» Chipmunk
» Cow
» Deer
» Dog
» Dolphin
» Dragonfly
» Duck
» Eagle
» Elephant
» Flamingo
» Frog
» Giraffe
» Horse
» Hummingbird
» Ladybug
» Leopard
» Lion
» Kangaroo
» Moose
» Owl
» Panda Bear
» Peacock
» Penguin
» Pig
» Polar Bear
» Seal
» Squirrel
» Sunflower
» Tiger
» Toucan
» Turtle
» Wolf
» Zebra

More Collectibles & Decor
» Collectible Eggs
» Drink Coasters
» Perfume Bottles
» Suncatchers
» Candles
» Collectible Banks


Lion Shop - Apparel, Pajamas, Figurines, Decor, T-Shirts, Checks,
Jewelry, Plush Toys, Music Boxes & Merchandise
Select from a variety of Lion Collectibles, Decor & Gifts
Lion fans will enjoy this great selection of Lion merchandise including apparel, pajamas, figurines, decor, t-shirts, personal checks, jewelry, plush & stuffed Lion toys, music boxes, shirts, address labels, slippers, calendars, collectibles and more.
We found 427 products for Lion >>
Snuggle Safari Lion 10" Blanket
$7.99
Snuggle Safari blankets are made of two favorite materials-soft on one side, silky on the other. Each blankie measures 10" x 10" with the animal's head centered in the middle. These cozy friends feature embroidered eyes and will provide comfort for babies and toddlers!
Brand: Beverly Hills Teddy Bear
$19.95
Our gorgeous Lion Bookmark will be met with joyous approval when it arrives on your doorstep. This unique Lion Bookmark has a sleek and well fitting Shepherd's hook which makes it especially portable and fits both paperback and hardback books. The Lion Bookmark features a 5 inch long chain made up of alternating exquisite Swarovski Crystals and elegant Czech Glass Beads. You will be proud to be seen using this lovingly handmade in the USA Lion Bookmark. Beautifully presented in a sheer Organza pocket with lace ties, it will make the perfect gift for the Book enthusiast.
$47.00
Nothing beats the exceptional look and quality of our Lion Puppet. Among the finest made, you will be provided with great satisfaction and long lasting enjoyment. Why not pamper yourself or give a loved one a Lion gift to show them how much you care. The Lion Puppet will make the perfect gift for any Lion lover. Shop with confidence, because all products come with a 100% customer satisfaction guarantee. Click over now to see the big selection of Lion gifts we offer.
$29.95
Crafted in Toledo, Spain, this exclusive pewter and gold-finished hanger shows off swords in historic style, while keeping them out of scabbards where moisture can pit the blades. We've found other uses as well: to display firearms, restrain draperies, hold bath towels, or hang any variety of period collectibles. Two per set Approx. 2"Wx2"Dx3"H. 1 lb.
Brand: Design Toscano
Detroit Lions Personalized Baby's First Christmas Ornament
$29.99
If you do it right, your little cub will grow up to be as big of a Detroit Lions fan as you are! Introducing a first-of-its-kind Detroit Lions baby Christmas ornament celebrating your child's very first season. This adorable Detroit Lions baby's first Christmas ornament even includes a FREE do-it-yourself personalization kit, so that your baby's name is displayed as part of the entire fan-tastic presentation. Officially licensed by NFL Properties LLC, this unique Detroit Lions baby ornament is available from The Bradford Exchange, and features a tiny newborn dressed like a true Lions fan, and nestled in a football helmet. Masterfully handcrafted of artist's resin and hand-painted in Lions colors, this Detroit Lions Christmas ornament creates the perfect way to cheer for your favorite team and your newest addition. Strong demand is expected, so don't wait. Order now!
Brand: The Bradford Exchange
The Lord Raffles Lion Throne Chair
$2,250.00 $1,999.00
You've come to expect the unexpected from Design Toscano, and so we've purposely outdone ourselves by combing the Gothic castles of Europe to bring you this exquisite Medieval antique replica throne chair! Originally created for Lord Thomas Stamford Raffles, who founded the British colony of Singapore, it features deep, large-scale solid mahogany hand-carvings of royal court symbols and massive growling lion heads that require over a week of work by a single artisan. The comfortable seats and deeply cushioned backs are hand-upholstered and double piped on both sides in a heraldic jacquard of aristocratic gold, burgundy, and navy. Our regal Gothic throne is topped by an ornate hand-carved mahogany coat of arms as an investment in fine European styling. Impressive paired or individually. 36"Wx37"Dx68"H. 86 lbs.
Brand: Design Toscano
Caesar's Royal Lions Hand-Carved Throne Chair
$899.00 $650.00
""Hail Caesar!" All heads will turn as guests admire the resplendent beauty of this solid hardwood throne chair! Our master carvers recaptured every attention-demanding detail of the original antique, from its stylized lions armrests to its gilded paw feet and field of stars. Hand-painted in faux gold leaf and ebony with golden scrollwork-embellished jacquard upholstery, this substantial throne chair requires 4 days to hand-carve. Our exclusive investment in furniture art is nothing short of amazing! See alternate views for upholstery color swatch. Call for free fabric swatches at 1-800-525-5141. 28"Wx24"Dx39.5"H. 52 lbs.
Brand: Design Toscano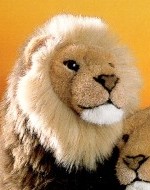 $209.95
Traditional craftsmanship, attention to detail, and a sense for what is important. Handmade in Germany by Kosen using the finest materials. 15 Inches Long.
Brand: Kosen
$21.99
Rasta Lion SweatshirtAvailable in Small, Medium, Large, XL, 2XL, 3XL & 4XLAlso available in colors Ash, Athletic Heather, Gold, Kelly Green, Pale Pink, Red, Royal, and White
Brand: Rasta Lion Sweatshirt
$11.95
Beautifully hand painted, this delightful Female Lion Bottle stopper will be the talk of the party at your next get together. At approximately 1 ½" to 2" tall, our intricate Female Lion Bottle stopper looks just right sitting atop just about any bottle. Weather a gift for a dear friend or family member or simply a new decoration for your home, all Lion lovers will surely enjoy this gorgeous stopper.
Cotton handbag, 'Lion Guardian' (Thailand)
$74.99 $67.49
Beautifully embroidered by hand, Singha the lion glows on a rich brown background. In Thailand the singh or singha have long been considered temple guardians but their highest mission is protecting the sacred Buddhist teachings. Jakkarin Yakhet and his wife depict the traditional image on a cotton handbag with a convenient inner pocket.
Brand: Novica
Noah's Friends 10" Lion Blanket
$7.99
Noah's Friends blankets are made of two favorite materials-soft on one side, silky on the other. Each blankie measures 10" x 10" with the animal's head centered in the middle. These cozy friends feature embroidered eyes and will provide comfort for babies and toddlers!
Brand: Beverly Hills Teddy Bear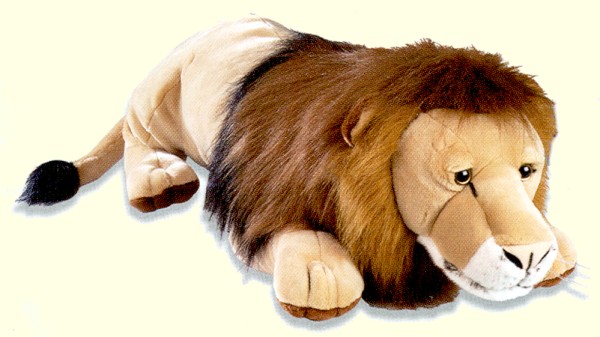 $63.95
A BIG Soft Lion from the Wild Republic Cuddlekins Collection. 30 Inches Long.
Brand: Wild Republic
Rasta Lion Ladies Thermal Shirt
$16.99
Rasta Lion Ladies Thermal ShirtAvailable in Ladies Small, Ladies Medium, Ladies Large & Ladies XLAlso available in colors Ivory, Light Pink, Teal, Warm Grey, and White
Brand: Rasta Lion Ladies Thermal
$17.99
Rasta Lion Pigment Dyed ShirtThis fabulous rasta design floats atop a magnificently soft pigment dyed adult unisex teeAvailable in Small, Medium, Large, XL, 2XL, 3XL & 4XLAlso available in colors Blue Moon, Cinnamon, Dijon, Dove Grey, Neon Blue, Neon Green, Redrock, Safari, and Taupe
Brand: Rasta Lion Shirt
Rasta Lion Kids Shirt Long Sleeve Shirt
$17.99
Rasta Lion Kids Shirt Long Sleeve ShirtAvailable in Youth Small, Youth Medium, Youth Large & Youth XLAlso available in colors Ash, Athletic Heather, Gold, Lime Green, Royal, White, and Yellow
Brand: Rasta Lion Kids Long Sleeve Shirt
Casa Del Lago Lion Head Wall Niche Sculptural Fountain
$129.00 $99.95
Inspired by the fountain of Casa Del Lago, our self-contained lion head wall fountain epitomizes the grandness of Florentine architectural landscaping. Its' majestic lion head and gently cascading stream of water will imbue your humble kingdom with nobility and the lyrical sound of water music. Easily hung from a wall, it can be placed indoors or out and constantly recycles water from the basin reservoir. Cast in quality designer resin and hand-finished for Design Toscano, this investment in garden art features an integrated, UL-listed, indoor/outdoor pump. 151/2"Wx91/2"Dx25"H. 16 lbs.
Brand: Design Toscano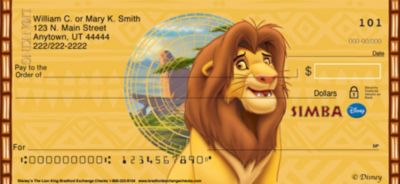 $37.90
The Lion King Checks Celebrate This Disney Classic with Simba and Friends - There's no denying that when Simba becomes king, he'll be a savannah sensation! Join Simba, Timon, Pumba and more in celebrating this beloved Disney classic with these exciting checks from Bradford Exchange Checks(R)! Four dynamic designs capture the life of the story with portraits of Simba, Pumba, Timon, Nala and Rifiki, vibrant borders, and colorful backgrounds. Plus, you'll find these check designs are just as practical as they are playful. Brought to you by Bradford Exchange Checks, they're expertly re-created with premium-quality check printing. Don't miss this terrific chance to celebrate our furry friends from Africa - get your The Lion King checks as soon as possible! Order now! Pricing shown is for 2 boxes of Singles.
Brand: Bradford Exchange Checks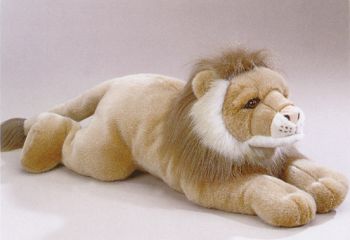 $53.95
A BIG soft stuffed lion from the Aurora Super Flopsies Collection. 28 Inches Long.
Brand: Aurora
---