» Home
Specialty Shops
» Christmas Shop
» Thomas Kinkade Shop
» Jeweled Box Shop
» Music Box Shop
» The Vase Shop

Shop By Category
» Angels
» Betty Boop
» Boyds Bear
» Charming Tails
» Disney
» Elvis Presley
» Fairy / Fairies
» Gary Patterson
» Jasmine Becket-Griffith
» Lena Liu
» Lenox
» Gone With The Wind
» Jim Shore
» Marilyn Monroe
» Peanuts & Snoopy
» Precious Moments
» Really Woolly
» Tinker Bell
» Teddy Bears
» Wizard Of Oz

Shop By Animal or
Nature Theme
» Bear - All
» Bird
» Bunny / Rabbit
» Butterfly / Butterflies
» Cat
» Chipmunk
» Cow
» Deer
» Dog
» Dolphin
» Dragonfly
» Duck
» Eagle
» Elephant
» Flamingo
» Frog
» Giraffe
» Horse
» Hummingbird
» Ladybug
» Leopard
» Lion
» Kangaroo
» Moose
» Owl
» Panda Bear
» Peacock
» Penguin
» Pig
» Polar Bear
» Seal
» Squirrel
» Sunflower
» Tiger
» Toucan
» Turtle
» Wolf
» Zebra

More Collectibles & Decor
» Collectible Eggs
» Drink Coasters
» Perfume Bottles
» Suncatchers
» Candles
» Collectible Banks


Seal Shop - Apparel, Pajamas, Figurines, Decor, T-Shirts, Checks,
Jewelry, Plush Toys, Music Boxes & Merchandise
Select from a variety of Seal Collectibles, Decor & Gifts
Seal fans will enjoy this great selection of Seal merchandise including apparel, pajamas, figurines, decor, t-shirts, personal checks, jewelry, plush & stuffed Seal toys, music boxes, shirts, address labels, slippers, calendars, collectibles and more.
We found 437 products for Seal >>
$749.00 $599.00
Found in chilly northern waters, bull Fur Seals establish territories and gather harems of up to 40 females, battling their rivals to establish dominance. Our Bull Fur Seal sculpture is less aggressive and tends to be home along side a pool or pond. This nearly-five-foot-long, almost-life-size Bull Seal statue is sculpted in amazing detail, then cast in quality fiberglass reinforced designer resin and hand-painted from its pert whiskers to its generous flippers. This Design Toscano large-scale, display-quality animal sculpture transforms any home, garden, restaurant or hotel into something truly magnificent! 59"Wx58"Dx44"H. 58 lbs.
Brand: Design Toscano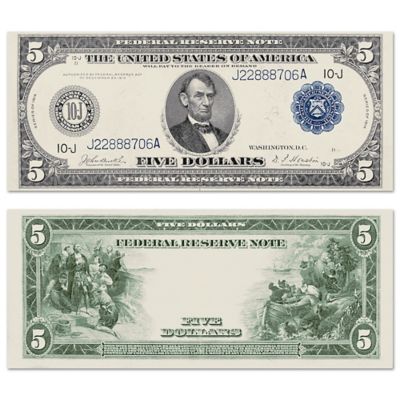 The New World Discovered 1914 $5 Federal Reserve Blue Seal Note
$199.00
Collect some BIG money with The New World Discovered 1914 $5 Federal Reserve Note, available from The Bradford Exchange Mint. This 1914 $5 Series Federal Reserve Note with a blue seal was known as a "horseblanket" due to its generous size. U.S. currency was some 40% larger than today's currency until 1928, when it was downsized to reduce expenses, and now you can make this impressive New World Discovered 1914 $5 note an impressive focal point in your currency collection. This $5 note's obverse features the familiar portrait of Abraham Lincoln, while the reverse showcases detailed engravings of Charles Schussele's paintings of the exploration of the New World: "Columbus' Discovery of Land" and "Landing of the Pilgrims." Due to the fragile nature of paper money, these obsolete notes are scarce; your century-old note arrives in Very Good Collector's Condition in a crystal-clear currency sleeve. Strong demand is expected so don't wait. Order now!
Brand: Bradford Authenticated
---