$14.95 $12.95
The best seed for attracting birds to your feeders! Black oil sunflower seeds are our top pick for all-purpose feeding! More oil and kernel, with softer shells than larger sunflower seeds. Black oil sunflower seeds attract a wide variety of birds. Regular visitors may include common species such as Chickadees, Tree Sparrows, Northern Cardinals, American Goldfinches, Tufted Titmice, Mourning Doves, Nuthatches, Downy, Hairy and Red-bellied Woodpeckers, Carolina Wrens and House Finches. Irregular visitors such as Evening Grosbeaks, Purple Finches, Pine Siskins, Redpolls and Crossbills also enjoy black oil sunflower seeds. 5 lb. bag. 2 Day Express Shipping Service is not available for this item.
Brand: Duncraft
Peanut Bits & Sunflower Hearts
$19.95
Economical because they're 100% edible! There's absolutely no waste when you feed nutritious peanut and sunflower bits. Your birds get all the essential fats and oils they need and never have to crack a shell! Birds love this easy-to-eat combination and you'll love the clean-feeding. There are never hulls or shells to clean up because the birds eat every bit. And peanut and sunflower bits can't sprout, so they're good for your lawn and garden. Treat your birds to this peanutty, year-round favorite! 5 lb. bag. 2 Day Express Shipping Service is not available for this item.
Brand: Duncraft
Serious Sunflowers Personal Checks
$6.99
Make every day of the year sunflower season with this cheery personal check series dedicated to these beautiful flowers! Matching address labels and coordinating checkbook covers are available.
$17.98
Glittering "gems" in oranges and reds add a warm-hearted spark of color to a crafty coppertone candle cage. Your favorite votive candle at the center transforms this artistic sunflower-motif lantern into a dazzling sunset display! Makes a winsome suncatcher when hung in any window. Candle not included. Glass, iron and acrylic. 4 3/4" diameter x 8 3/4" high.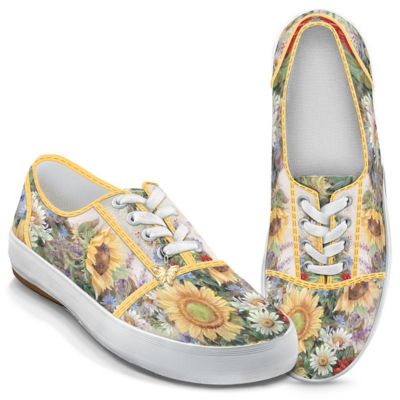 Lena Liu Artistically Designed Canvas Sneakers: Sunflower Splendor
$69.95
How would you like to take a pleasant garden walk wherever you go? Now you can when you step into these artistic design shoes featuring acclaimed artist Lena Liu's glorious sunflower art. Beauty and comfort come together in these durable canvas sneakers - fine artistic apparel First available only from The Bradford Exchange. With a vibrant flash of yellow and sunflower splendor, these exclusive Lena Liu shoes feature a stitched canvas upper bearing the beloved artist's colorful floral images. Rubber soles and a foam insole promise petal-soft comfort that will put a spring in your step every day. There is even a sculpted golden butterfly charm attached to the lace of each shoe, adding a unique touch to a sunny artistic design. Don't miss your chance to step in style with Lena Liu. Order now!
Brand: The Bradford Exchange
Sterling silver chandelier earrings, 'Sunflower Paradise' (Thailand)
$39.99
Sunflowers reveal their dazzling beauty in a pair of earrings by Achara. Crafted of sterling silver, the earrings glisten with the verdant light of faceted glass beads. .925 Sterling silver
Brand: Novica
Statue: The Sunflower Fairy Statue by Design Toscano
$89.95
What sweeter offering than nature's own? Our charming fairy, crowned with a wreath of flowers and a petal skirt, lifts her sunflower bowl in this exquisitely detailed collectible fairy statue created exclusively for Toscano. The artist cast her imaginative work in quality designer resin with an enchanting two-tone finish for home or garden gallery. 13"Wx20"Dx191/2"H. 10 lbs.
Brand: Design Toscano
Peridot flower necklace, 'Sunflower Green' (India)
$77.99 $70.19
Radiant with green intrigue, a necklace takes the form of a sunflower. In this original design by Neeru Goel, the pendant features sterling silver settings, embellished with 10 carats of peridot gems, which represent August s birthstone. .925 Sterling silver
Brand: Novica
$13.99
Sculpted sunflowers and lacework leaves sway on graceful branches, dressing up any drab wall with fresh botanical beauty. Metalwork wall art is the essence of informal elegance! Weight 1.7 lbs. 21" x " x 27" high.
Pearl flower necklace, 'Sunflower Blue' (Indonesia)
$47.99
A radiant sunflower reveals its blue mabe pearl heart, the birthstone of June, in a stunning design from Putu Putri. The pendant is crafted with sterling silver and glistens with classic Balinese stylizations. The pendant centers a braided silk cord. .925 Sterling silver.
Brand: Novica
Decorative wood vase, 'Artful Sunflower' (Thailand)
$49.99
A lovely sunflower shares her blossoming beauty with the design of this decorative vase from Thailand's Tawee. The black vase is carved by hand from mango wood and decorated with water hyacinth rope, creating an admirable effect.
Brand: Novica
$33.90
Sunflowers Personal Checks Radiate the Warmth of Summer Any Time of Year - Let the sunshine of summer warm your heart all year round with Sunflowers personal checks from Bradford Exchange Checks(R). These charming floral art bank checks showcase four different designs by acclaimed artist Susan Winget, each featuring the cheerful beauty of bright sunflowers set against softly textured backgrounds of blue, gold, pink and green. Hints of romantic script peek from between the blossoms, creating artwork that brings to mind lazy days spent reading in the sunshine. What a wonderful way to keep your spirits bright - no matter what the weather! These special floral art bank checks are as practical as they are beautiful, and are expertly re-created with premium-quality check printing. You'll also find we've made it easy to order personal bank checks online. But don't delay - the Sunflowers personal checks are available exclusively from Bradford Exchange Checks, so order now! Pricing shown is for 2 boxes of Singles.
Brand: Bradford Exchange Checks
Sterling silver and mate gourd flower necklace, 'Sunflower Butterfly' (Peru)
$92.99
A butterfly opens its wings with a regal display of beauty, its image artfully carved into a dried mate gourd. Shading is achieved by passing the carved gourd over small flames. It centers a sterling silver sunflower medallion designed and crafted by Peru's Fabiana Quispe. The pendant centers an elegant sterling chain. .925 Sterling silver
Brand: Novica
Garnet and carnelian brooch pin, 'Sunflower' (Thailand)
$54.99
Sasina evokes a radiant sunflower in golden carnelian. Centered with glowing garnets, the elegant brooch dresses up any attire.
Brand: Novica
Leather tote bag, 'Midnight Sunflower' (Mexico)
$129.99
Crafted by hand of quality leather, this black tote is an original design by Eduardo Alcala from Mexico. A majestic sunflower covers the magnetic button on one side, while a weave adds dynamic textures to the other. The black interior has three inner pockets, one with a zipper. Antiqued zamac fixtures add to the bag's traditional elegance. The bag also features a zipper closure.
Brand: Novica
$5.99
Sunflower Fields Labels
Summer Sunflower I Single Drink Coaster
$12.48
Description: Single Absorbent Beverage Coaster. Cork-backed to protect furniture. Large surface area to catch more drips. Printed and Packaged in the USA. Each coaster measures 4.25 inches across
Wood stool, 'Nahuala Sunflower' (Guatemala)
$139.99
A beautiful sunflower blossoms on the seat of this stool from Guatemala's Nahualá Artisan Cooperative. Working with pinewood and manual tools, master carvers detail the flowers in low relief. The stool's legs can be disassembled.
Brand: Novica
Twelve Sunflowers (Detail) Van Gogh Puzzle
$14.99
Twelve Sunflowers (Detail) Van Gogh Puzzle: Executed in Arles, this painting shows a bouquet of sunflowers in a vase. Since 1901, no retrospective van Gogh exhibition voluntarily missed to include at least one sunflowers painting. UPC: 628136654296 <img src="http://www. calendars.com/img/comm
Brand: Eurographics
Silver flower earrings, 'Nazca Sunflowers' (Peru)
$44.99
Zilhi creates the illusion of antique jewelry with the design of these earrings. Inspired by the millenary Nazca lines, they create luminous spirals over burnt silver as they craft the earrings by hand. .950 Silver
Brand: Novica
'Sunflowers and Violins' (2006) (Peru)
$907.99
Guma Alvites paints a vibrant allegory of life with sunflowers that are as bright as sunshine. A man looks out from his palatial skyscraper, his window shaped like an old T.V. He sees a world of colorful fantasy where a man seems to float midair while two more sit on toadstools, one playing a violin. "The melodies that come from the violin symbolize the happiness in the soul," reveals the artist as he paints with oils and carbon pencils. Titled "Girasoles y violin" in Spanish.
Brand: Novica
Pearl bracelet, 'Radiant Sunflower' (Indonesia)
$247.99
Delicate and lovely, vines and tendrils extend outward to frame a sunflower. Two rows of petals surround a mabe pearl, the June birthstone, distinguished by their hemispherical form. By Diah Ayu, the cuff bracelet is crafted of sterling silver. .925 Sterling silver
Brand: Novica
All Three Sunflower Pillow Tops
$99.99
SUNNY SIDE UP, golden sunflower pillow tops to brighten your décor. Quickpoint kits include 16" x 16" design hand painted in color on 4.5-mesh canvas, acrylic yarn, needle and instructions. You provide backing and pillow form. Also available, T33-304, navy slub velvet backing with placketed sewn-in zipper. Kits imported from Belgium. Stitchery exclusives! SAVE All Three Sunflower Pillow Tops $99.99
Shield Sunflower Nut & Suet Feeder
$69.95
Birds will have fun eating suet and seed from this acorn feederThe shape of this feeder resembles an acorn, and provides the same vital source of nutrients for birds like carbohydrates, fats, and proteins that they rely on for energy. Feeder holds up to 3 lbs. of seed and two suet cakes. Fill with black oil sunflower seed, shelled peanuts, or whole sunflower hearts. Easy to fill hopper features 1/4 inch stainless steel mesh and 9-1/2 inch vinyl-coated hanger. Made from several shades of rich brown recycled plastic to look even more like an acorn. 4-7/8 x 6-7/8 x 8-1/2 inches. Made in the USA.
Brand: Duncraft
Statue: "Sunflower Sammy Garden Gnome" Statue by Design Toscano
$22.95
Offering up a magical forest sunflower, elfin Sammy is a vintage garden gnome sculpture with all the charm of a mythical fairytale fantasy! Our folk elf collectible pixie statue is cast in quality designer resin and hand painted with more than enough imagination for any woodland sprite. This cute and kitsch elf statue is a collectible figurine to optionally fill with garden birdseed and another friendly garden statue from Design Toscano. 6"Wx61/2"Dx111/2"H. 2 lbs.
Brand: Design Toscano
Silver filigree bracelet, 'Sunflower' (Peru)
$199.99
Filigree sunflowers of shining silver bloom in a bracelet filled with beauty and light. By Peru's Alfredo Inga, it is wonderfully delicate and feminine. .999 and .925 silver
Brand: Novica
$19.99
Sunflower locket opens to display your favorite image! Goldtone/resin; 1"L; 24" lobster-clasp chain. Matching, French-hook earrings are 1 3/4"L. USA. Gift boxed.
$27.48
Description: Set of 4 Natural Sandstone Absorbent Coasters Cork-backed to protect furniture Made In The USA 4 inches in diameter Approximate weight: 1.5 lbs. Per Set
Painted Paper Sunflowers Labels
$5.99
Painted Paper Sunflowers Labels
Painting: Sunflowers, 1888: Canvas Replica Painting: Grande by Design Toscano
$399.00
Painted for the Yellow House in Arles, this is the fourth in a series of sunflowers painted in all stages of their lives. Considered innovative for the use of the yellow spectrum, the artist himself said of this extraordinary work, "It is the kind of painting that rather changes in character, and takes on a richness the longer you look at it." The authentic stretched canvas replica painting captures the original work's texture, depth of color, and even its bold brushstrokes, which are applied by hand exclusively for Design Toscano. Our imported hardwood frame features bold, beaded detail on the borders and is highlighted in antiqued gold tones to enhance this spectacular image. Grande: 38"Wx48"H.
Brand: Design Toscano