Peanut Bits & Sunflower Hearts
$19.95
Economical because they're 100% edible! There's absolutely no waste when you feed nutritious peanut and sunflower bits. Your birds get all the essential fats and oils they need and never have to crack a shell! Birds love this easy-to-eat combination and you'll love the clean-feeding. There are never hulls or shells to clean up because the birds eat every bit. And peanut and sunflower bits can't sprout, so they're good for your lawn and garden. Treat your birds to this peanutty, year-round favorite! 5 lb. bag. 2 Day Express Shipping Service is not available for this item.
Brand: Duncraft
$14.95 $12.95
The best seed for attracting birds to your feeders! Black oil sunflower seeds are our top pick for all-purpose feeding! More oil and kernel, with softer shells than larger sunflower seeds. Black oil sunflower seeds attract a wide variety of birds. Regular visitors may include common species such as Chickadees, Tree Sparrows, Northern Cardinals, American Goldfinches, Tufted Titmice, Mourning Doves, Nuthatches, Downy, Hairy and Red-bellied Woodpeckers, Carolina Wrens and House Finches. Irregular visitors such as Evening Grosbeaks, Purple Finches, Pine Siskins, Redpolls and Crossbills also enjoy black oil sunflower seeds. 5 lb. bag. 2 Day Express Shipping Service is not available for this item.
Brand: Duncraft
Serious Sunflowers Personal Checks
$6.99
Make every day of the year sunflower season with this cheery personal check series dedicated to these beautiful flowers! Matching address labels and coordinating checkbook covers are available.
$17.98
Glittering "gems" in oranges and reds add a warm-hearted spark of color to a crafty coppertone candle cage. Your favorite votive candle at the center transforms this artistic sunflower-motif lantern into a dazzling sunset display! Makes a winsome suncatcher when hung in any window. Candle not included. Glass, iron and acrylic. 4 3/4" diameter x 8 3/4" high.
Decorative wood vase, 'Artful Sunflower' (Thailand)
$49.99 $44.99
A lovely sunflower shares her blossoming beauty with the design of this decorative vase from Thailand's Tawee. The black vase is carved by hand from mango wood and decorated with water hyacinth rope, creating an admirable effect.
Brand: Novica
$89.95
What sweeter offering than nature's own? Our charming fairy, crowned with a wreath of flowers and a petal skirt, lifts her sunflower bowl in this exquisitely detailed collectible fairy statue created exclusively for Toscano. The artist cast her imaginative work in quality designer resin with an enchanting two-tone finish for home or garden gallery. 13"Wx20"Dx191/2"H. 10 lbs.
Brand: Design Toscano
Pearl flower necklace, 'Sunflower Blue' (Indonesia)
$47.99
A radiant sunflower reveals its blue mabe pearl heart, the birthstone of June, in a stunning design from Putu Putri. The pendant is crafted with sterling silver and glistens with classic Balinese stylizations. The pendant centers a braided silk cord. .925 Sterling silver.
Brand: Novica
Men's onyx ring, 'Black Sunflower' (Indonesia)
$77.99
By Bali's Nyoman Rena, this glorious ring depicts bold sunflowers. The artisan works in silver to create the band, detailing foliage and petals with sterling textures. Polished onyx centers the original design. .925 Sterling silver
Brand: Novica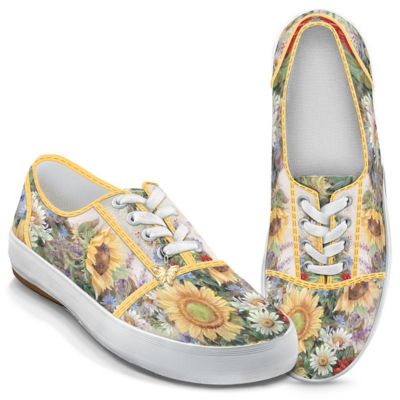 Lena Liu Artistically Designed Canvas Sneakers: Sunflower Splendor
$69.95
How would you like to take a pleasant garden walk wherever you go? Now you can when you step into these artistic design shoes featuring acclaimed artist Lena Liu's glorious sunflower art. Beauty and comfort come together in these durable canvas sneakers - fine artistic apparel First available only from The Bradford Exchange. With a vibrant flash of yellow and sunflower splendor, these exclusive Lena Liu shoes feature a stitched canvas upper bearing the beloved artist's colorful floral images. Rubber soles and a foam insole promise petal-soft comfort that will put a spring in your step every day. There is even a sculpted golden butterfly charm attached to the lace of each shoe, adding a unique touch to a sunny artistic design. Don't miss your chance to step in style with Lena Liu. Order now!
Brand: The Bradford Exchange
Peridot flower necklace, 'Sunflower Green' (India)
$74.99 $67.49
Radiant with green intrigue, a necklace takes the form of a sunflower. In this original design by Neeru Goel, the pendant features sterling silver settings, embellished with 10 carats of peridot gems, which represent August s birthstone. .925 Sterling silver
Brand: Novica
$33.90
Sunflowers Personal Checks Radiate the Warmth of Summer Any Time of Year - Let the sunshine of summer warm your heart all year round with Sunflowers personal checks from Bradford Exchange Checks(R). These charming floral art bank checks showcase four different designs by acclaimed artist Susan Winget, each featuring the cheerful beauty of bright sunflowers set against softly textured backgrounds of blue, gold, pink and green. Hints of romantic script peek from between the blossoms, creating artwork that brings to mind lazy days spent reading in the sunshine. What a wonderful way to keep your spirits bright - no matter what the weather! These special floral art bank checks are as practical as they are beautiful, and are expertly re-created with premium-quality check printing. You'll also find we've made it easy to order personal bank checks online. But don't delay - the Sunflowers personal checks are available exclusively from Bradford Exchange Checks, so order now! Pricing shown is for 2 boxes of Singles.
Brand: Bradford Exchange Checks
Sterling silver and mate gourd flower necklace, 'Sunflower Butterfly' (Peru)
$92.99 $83.69
A butterfly opens its wings with a regal display of beauty, its image artfully carved into a dried mate gourd. Shading is achieved by passing the carved gourd over small flames. It centers a sterling silver sunflower medallion designed and crafted by Peru's Fabiana Quispe. The pendant centers an elegant sterling chain. .925 Sterling silver
Brand: Novica
$13.99
Sculpted sunflowers and lacework leaves sway on graceful branches, dressing up any drab wall with fresh botanical beauty. Metalwork wall art is the essence of informal elegance! Weight 1.7 lbs. 21" x " x 27" high.
Sterling silver chandelier earrings, 'Sunflower Paradise' (Thailand)
$39.99
Sunflowers reveal their dazzling beauty in a pair of earrings by Achara. Crafted of sterling silver, the earrings glisten with the verdant light of faceted glass beads. .925 Sterling silver
Brand: Novica
$18.98
Beautiful shades of bronze add lovely warmth to candlelight, a beaded flower basking in the golden glow. An understated decoration that adds just the right touch! Weight 1 lb. Iron with glass cups. Candles not included. 7" x 4" x 12 7/8" high.

Sunflowers Return Address Label
$7.99
Let the Sunny Charm of these Sunflower Address Labels Brighten Your Day - Grace your mailing envelopes, holiday cards, file folders and more with a touch of sunshine - customize them with these Sunflowers address labels. Your personalized information is highlighted by four different floral art mailing address label designs, each showcasing the vibrant work of acclaimed artist Susan Winget. You'll love the cheerful warmth of sunflowers set against softly textured backgrounds of blue, gold, pink and green. Hints of romantic script peek from between the blossoms, bringing to mind lazy summer days spent reading in the sunshine. What a great way to brighten just about any labeling project! Plus, since these floral art mailing address labels are conveniently self-sticking, you'll find they're just as useful as they are beautiful It's easy to order address labels online, so don't wait - get your personalized Sunflowers address labels as soon as possible. Order now!
Brand: Bradford Exchange Checks
Sunflower Flip Flop Occasion Coaster
$15.98
Decorative Coasters. 4.5 inches wide x 5.25 inches. Made In China.
Summer Sunflower I Drink Coasters
$19.48
Ambiance coasters are like mini pieces of art for your table. Full color artwork "framed" by stylish border elements from black frame to antique white, distressed tile, rustic lodge, soft swirl, and elegant gold. These absortbent coasters measure 4.25" and are cork-back to protect furniture. Bottled at the Vineyard Description: Set of 4 Absorbent Coasters Cork-backed to protect furniture Large surface area (4.5 inches in diameter) to catch more drips Printed and packaged in the USA (no decals)
Amethyst dangle earrings, 'Sunflowers' (Indonesia)
$41.99
Elegant sunflower petals surround amethyst hemispheres in earrings with modern styling. By Nyoman Rena, the design is beautiful and feminine. .925 Sterling silver
Brand: Novica
$11.48
Cheerful sunflower basket adds a tiny touch of sunny color anywhere! Adorable mini sculpture is more than just a charming decoration; lift the lid to discover a stash spot for tiny keepsakes. Weight 0. 1 lb. Stone resin. 2 1/4" x 1 3/4" x 3" high.
Amethyst pendant necklace, 'Lilac Sunflower' (India)
$69.99 $62.99
Lilac petals burst into bloom, forming a violet sunflower. Set in silver and delicately suspended from a sterling rope, the necklace comes from India's Alok Jain. Amethyst represents a connection with spirituality. 0.925 Sterling silver
Brand: Novica
Sunflower 4-Piece Placemat Set
$14.99
Sunflower placemats are reversible, doubling your table d?cor instantly! USA. Decofoam(r). Wipes clean. 11" x 17". SAVE: 2 or more $13.99 each set
Joyous Sunflowers Address Labels
$5.99
Joyous Sunflowers Address Labels feature these amazing flowers native to the Central America. Sunflowers follow the path of the sun from east to west as the days progresses until they are fully mature. The sunflower was also a symbol of the solar deity of the Aztecs and Inca populations.
Citrine choker, 'Sunflower Smile' (Indonesia)
$132.99 $106.39
Priyo Salim transforms silver into a sunflower with a serenely lovely face. Surrounded by shining petals, the delicate features seem to smile. Sparkling citrine stones bring color to this exquisite choker. .925 Sterling silver
Brand: Novica
Set of Four Summer Sunflower I - Bronze Frame Drink Coasters
$23.48
Description: Set of 4 Absorbent Beverage Coasters. Cork-backed to protect furniture. Large surface area to catch more drips. Printed and packaged in the USA (no decals). Each coaster measures 4.25 inches across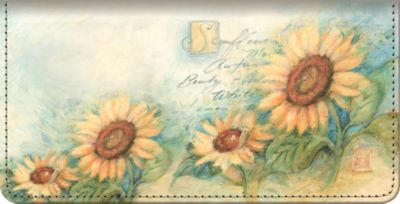 $19.99
Carry a Bit of Summer with this Sunflowers Leather Checkbook Cover - Carry the uplifting warmth of a sunny day wherever you go with this lovely Sunflowers leather checkbook cover. Custom designed to match our exclusive Sunflowers personal check designs, this floral art checkbook cover captures the lush beauty of summer in a gorgeous image by acclaimed artist Susan Winget. Bold sunflowers are set against a softly textured background of blue with hints of yellow, and accented by hints of romantic script. Now every check you write will bring a bit of sunshine into your life! The Sunflowers floral art checkbook cover is handcrafted of genuine, full-grain leather. It includes such high-quality features as premium nylon thread stitching and fabric lining. Other convenient features of this genuine leather checkbook cover include a clear duplicate check divider, a slip-in personal check pocket, and a second pocket to hold cash or receipts. Don't wait to start enjoying your Sunflowers checkbook cover. It's practical, it's beautiful, and it's only available from Bradford Exchange Checks(R). Order now!
Brand: Bradford Exchange Checks