Ceramic sculpture, 'Sunflower Catrina' (Mexico)
$99.99
Elegant Catrina strolls around the park under a wide-brimmed hat, parasol at hand. Angel Ceron conjures her flamboyant appearance inspired by the original work of Jose Guadalupe Posadas. A renowned author, journalist and political cartoonist (1852-1913), he created Catrina, (meaning "dapper") and her mate, Catrin, as caricature symbols of Mexico's politicians, implying that after all, they too die. Since then, Catrina has become an essential element of Day of the Dead celebrations but without the political underpinnings. She represents Mexico's comedic attitude towards death.
Brand: Novica
Roosters and Provencal Sunflowers Wreath
$59.00
French country style at its best, our wreath features a pair of feathered roosters nestled in a swirl of preserved sunflowers, wheat bundles, red caspia and salal leaves. Handcrafted; adorned with a red checkered ribbon. Natural twig base. 22" diam.
$17.99
What's Included Per Box: 5 Pads of Checks 20 Deposit Tickets 1 Transaction Register
$14.95 $11.95
The best seed for attracting birds to your feeders! Black oil sunflower seeds are our top pick for all-purpose feeding! More oil and kernel, with softer shells than larger sunflower seeds. Black oil sunflower seeds attract a wide variety of birds. Regular visitors may include common species such as Chickadees, Tree Sparrows, Northern Cardinals, American Goldfinches, Tufted Titmice, Mourning Doves, Nuthatches, Downy, Hairy and Red-bellied Woodpeckers, Carolina Wrens and House Finches. Irregular visitors such as Evening Grosbeaks, Purple Finches, Pine Siskins, Redpolls and Crossbills also enjoy black oil sunflower seeds. Choose 5, 10 or 20 pounds, shipped in 5 pound bags for easy handling. 2 Day Express Shipping Service is not available for this item.
Brand: Duncraft
Peanut Bits & Sunflower Hearts
$19.95
Economical because they're 100% edible! There's absolutely no waste when you feed nutritious peanut and sunflower bits. Your birds get all the essential fats and oils they need and never have to crack a shell! Birds love this easy-to-eat combination and you'll love the clean-feeding. There are never hulls or shells to clean up because the birds eat every bit. And peanut and sunflower bits can't sprout, so they're good for your lawn and garden. Treat your birds to this peanutty, year-round favorite! Choose 5, 10 or 20 pounds, shipped in 5 pound bags for easy handling. 2 Day Express Shipping Service is not available for this item.
Brand: Duncraft
$6.99
Make every day of the year sunflower season with this cheery personal check series dedicated to these beautiful flowers! Matching address labels and coordinating checkbook covers are available.
$17.98
Glittering "gems" in oranges and reds add a warm-hearted spark of color to a crafty coppertone candle cage. Your favorite votive candle at the center transforms this artistic sunflower-motif lantern into a dazzling sunset display! Makes a winsome suncatcher when hung in any window. Candle not included. Glass, iron and acrylic. 4 3/4" diameter x 8 3/4" high.
Decorative wood vase, 'Artful Sunflower' (Thailand)
$49.99 $47.49
A lovely sunflower shares her blossoming beauty with the design of this decorative vase from Thailand's Tawee. The black vase is carved by hand from mango wood and decorated with water hyacinth rope, creating an admirable effect.
Brand: Novica
Sterling silver chandelier earrings, 'Sunflower Paradise' (Thailand)
$39.99 $35.99
Sunflowers reveal their dazzling beauty in a pair of earrings by Achara. Crafted of sterling silver, the earrings glisten with the verdant light of faceted glass beads. .925 Sterling silver
Brand: Novica
$29.95 $19.95
Dimensional sunflower pumpkin wall art celebrates the season in copper-hued metal, with glass leaves. A warm and charming wall accent. Ready to hang. 13" x 14".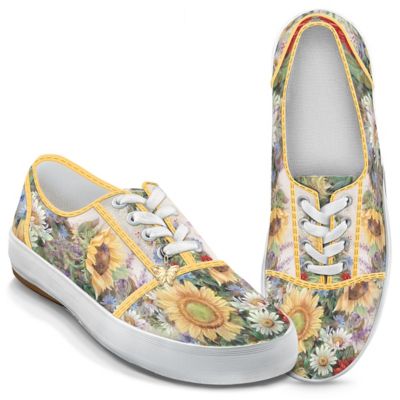 Lena Liu Artistically Designed Canvas Sneakers: Sunflower Splendor
$69.95
How would you like to take a pleasant garden walk wherever you go? Now you can when you step into these artistic design shoes featuring acclaimed artist Lena Liu's glorious sunflower art. Beauty and comfort come together in these durable canvas sneakers - fine artistic apparel First available only from The Bradford Exchange. With a vibrant flash of yellow and sunflower splendor, these exclusive Lena Liu shoes feature a stitched canvas upper bearing the beloved artist's colorful floral images. Rubber soles and a foam insole promise petal-soft comfort that will put a spring in your step every day. There is even a sculpted golden butterfly charm attached to the lace of each shoe, adding a unique touch to a sunny artistic design. Don't miss your chance to step in style with Lena Liu. Order now!
Brand: The Bradford Exchange
$20.48
Brighten your place settings with the cheerful image of golden sunflowers against a cloudless sky. A little touch of country charm that s welcome any time of day! Weight 0.4 lb. Ceramic. Hand wash only. Each is 1 1/8" cube. Pair California Prop 65 notice <-//
$33.90
Sunflowers Personal Checks Radiate the Warmth of Summer Any Time of Year - Let the sunshine of summer warm your heart all year round with Sunflowers personal checks from Bradford Exchange Checks(R). These charming floral art bank checks showcase four different designs by acclaimed artist Susan Winget, each featuring the cheerful beauty of bright sunflowers set against softly textured backgrounds of blue, gold, pink and green. Hints of romantic script peek from between the blossoms, creating artwork that brings to mind lazy days spent reading in the sunshine. What a wonderful way to keep your spirits bright - no matter what the weather! These special floral art bank checks are as practical as they are beautiful, and are expertly re-created with premium-quality check printing. You'll also find we've made it easy to order personal bank checks online. But don't delay - the Sunflowers personal checks are available exclusively from Bradford Exchange Checks, so order now! Pricing shown is for 2 boxes of Singles.
Brand: Bradford Exchange Checks
$13.99
Sculpted sunflowers and lacework leaves sway on graceful branches, dressing up any drab wall with fresh botanical beauty. Metalwork wall art is the essence of informal elegance! Weight 1.7 lbs. 21" x " x 27" high.
Sunflowers 100 Piece Cube Puzzle
$6.99
Sunflowers 100 Piece Cube Puzzle: This jigsaw in a little cube is ideal for the enthusiast who relishes a challenge! Small enough for easy transportation. Great for holidays or long weekends away! Incredibly addictive. A wide variety of unique and eye catching designs. Part of the range of Impossipu
Brand: Funtime
Leather centerpiece, 'Sunflower Magic' (Peru)
$52.99
A honey-hued sunflower casts a spell of elegant enchantment in a design by Johnny Jimenez. He tools the leather centerpiece by hand with admirable detail, and finishes it with walnut stain and lacquer. Leather straps shape the square bowl as they tie.
Brand: Novica
$12.99
This is a simpler sunflower check design that many people who prefer clean and neat checks would go for. It's got a check frame covered entirely with sunflowers and a creamy white background to make your handwriting clear and visible. Matching address labels and coordinating checkbook covers are available.
$39.95
Cheerful sunflower print is embellished with glitter ink and metallic studs. Split neck and 3/4 sleeves. 100% cotton ribknit. Machine wash. Imported. Sizes: S (6-8), M (10-12), L (14), XL (16), 2X (18), 3X (18W); S-XL, 25" long; 2X-3X, 27" long. (2X-3X) Add $5
Bouquet of Sunflowers, 1881: Canvas Replica Painting: Grande
$349.00
Once flanking the steps that led to Monet's garden in Vetheuil, these sunflowers unwittingly lent their image to a work that would be hailed by critics and hung on museum walls. Lauded in the seventh Impressionist exhibition in Paris, this is one of a series of six coveted floral still lifes by the artist. The authentic stretched canvas replica painting captures the original work's texture, depth of color, and even its bold brushstrokes, which are applied by hand exclusively for Design Toscano. Our replica European style frame is cast in quality designer resin in a deep ebony hue highlighted by a faux mat and a classic, understated border in an antique gold finish. DA-4061 13"Wx15"H. DA-4062 22½"Wx27"H. DA-4063 30"Wx36½"H. DA-4064 38"Wx46½"H.
Set of Four Summer Sunflower I - Bronze Frame Drink Coasters
$23.48
Description: Set of 4 Absorbent Beverage Coasters. Cork-backed to protect furniture. Large surface area to catch more drips. Printed and packaged in the USA (no decals). Each coaster measures 4.25 inches across
$32.99
FRESHLY HARVESTED SUNFLOWERS, swirls of radiant gold, dance amid wheat stalks to create this sunny still life by Fiona Jude. Counted cross stitch kit includes 14-count white Aida cloth, presorted cotton floss, needle, chart and directions. 9½ " x 12" without frame. A Stitchery exclusive!
Jasper and black agate wrap bracelet, 'Sunflower Mystery' (Thailand)
$64.99 $61.74
Crafted by hand with khaki cotton cords, this trendy bracelet is designed to wrap around the wrist several times. For this design Siriporn contrasts black agate with jasper beads in bright sunny shades, creating an admirable effect.
Brand: Novica
$39.95
All metal construction built to last for years Attract a variety of clinging and perching birds to your backyard with the Sunflower Screen Feeder. Feeder is easy to fill and can hold up to 6-7 lbs. of Black Oil Sunflower, Hulled Sunflower, or Sunflower Mixes. The all-metal construction is durable and is powder-coated in a beautiful weathered hammered copper finish. Feeder comes with a large hanging ring, and unique seed diverter design helps move seed to feeding areas and keeps your hungry birds happy. Attracts Cardinals, Chickadees, Nuthatches, and more. Measures, 10-1/4 x 13 inches. Image by: Lillian Stokes.
Brand: Duncraft
Citrine and peridot pendant necklace, 'Sunflower' (India)
$174.99
Surrounded by sterling petals, faceted quartz bursts into bloom. Ritu creates this dramatic necklace, evoking the warmth of a sunflower. She sets the silver medallion on a lively necklace of citrine and cool green peridot. Centering the gemstone chain, a white pearl peeks out from the pendant bail. .925 Sterling silver
Brand: Novica
Wyndham House™ Sunflower Print Blanket
$33.98
100% polyester. Fits queen or king bed. Measures 79" x 91". 100% Polyester Fits Queen or King Bed Measures 79" x 91"
$10.00
Weather-resistant nylon windspinner adds brilliant color and free wheeling fun to your lawn or garden! Stands 39" high including plastic stake.
Indoor Outdoor Sunflower Pillow
$29.95
Indoor/Outdoor sunflower pillow is always in bloom! A garden of sunflowers accent both sides. Colorfast, screenprinted design. 100% polyester; plumped with polyfill. Imported/made in USA. 18" sq.
Sterling silver flower ring, 'Majestic Sunflower' (Thailand)
$63.00
Majestic, a sunflower blossoms with detailed artistry on a curling shield. It is crafted by hand with sterling silver and proudly presented by Thailand's Achara. .925 Sterling silver
Brand: Novica
$49.95 $34.99
Dimensional sunflower wall art, as bright and cheerful as nature's own. Handcrafted of sculpted metal with layers of luminous capiz shells then handpainted for a glowing finish. Ready to hang. 15" x 22". A Potpourri Exclusive!
Gold plated floral earrings, 'Sunflowers' (Indonesia)
$37.99
Sterling silver sunflowers are captivating as earrings crafted with an antiqued finished. By Diah Arini in Bali, the earrings are centered by sunny 18k gold plated accents. .925 Sterling silver
Brand: Novica
Blooming in the Sun Sunflower Figurine by Lenox
$92.00 $25.95
As a gentle wind lifts its blossoming petals, the sunflower is as bright as the sun. Beautifully portrayed in an original sculpture of fine porcelain by Lenox. Hand painted to capture the hues and tones of nature.
Brand: Lenox
Wood relief panel, 'Balinese Sunflower' (Indonesia)
$152.99
Skillfully carving Balinese cempaka wood, Ketut Sandi elicits a riot of petals, foliage and tendrils. The joyous Balinese sunflowers are framed with foliage.
Brand: Novica
$207.99
Sadhana turns her eyes to the corner of a quiet room where sunflowers seduce all the senses. Clustered in a porcelain vase, the yellow blossoms seem freshly cut from the garden. A china bowl and teapot complete the charming still life.
Brand: Novica