» Home
Specialty Shops
» Christmas Shop
» Thomas Kinkade Shop
» Jeweled Box Shop
» Music Box Shop
» The Vase Shop

Shop By Category
» Angels
» Betty Boop
» Boyds Bear
» Charming Tails
» Disney
» Elvis Presley
» Fairy / Fairies
» Gary Patterson
» Jasmine Becket-Griffith
» Lena Liu
» Lenox
» Gone With The Wind
» Jim Shore
» Marilyn Monroe
» Peanuts & Snoopy
» Precious Moments
» Really Woolly
» Tinker Bell
» Teddy Bears
» Wizard Of Oz

Shop By Animal or
Nature Theme
» Bear - All
» Bird
» Bunny / Rabbit
» Butterfly / Butterflies
» Cat
» Chipmunk
» Cow
» Deer
» Dog
» Dolphin
» Dragonfly
» Duck
» Eagle
» Elephant
» Flamingo
» Frog
» Giraffe
» Horse
» Hummingbird
» Ladybug
» Leopard
» Lion
» Kangaroo
» Moose
» Owl
» Panda Bear
» Peacock
» Penguin
» Pig
» Polar Bear
» Seal
» Squirrel
» Sunflower
» Tiger
» Toucan
» Turtle
» Wolf
» Zebra

More Collectibles & Decor
» Collectible Eggs
» Drink Coasters
» Perfume Bottles
» Suncatchers
» Candles
» Collectible Banks


Wolf Shop - Apparel, Pajamas, Figurines, Decor, T-Shirts, Checks,
Jewelry, Plush Toys, Music Boxes & Merchandise
Select from a variety of Wolf Collectibles, Decor & Gifts
Wolf fans will enjoy this great selection of Wolf merchandise including apparel, pajamas, figurines, decor, t-shirts, personal checks, jewelry, plush & stuffed Wolf toys, music boxes, shirts, address labels, slippers, calendars, collectibles and more.
We found 385 products for Wolf >>
$12.99
Isn't time that you started your very own wolf pack? Step one, get yourself a nice Plush Wolf 9 Inch Stuffed Animal by Jaag. Measuring 9 inches in size, our stuffed wolf is extremely durable and super huggable. This plush wolf is not just cuddly, it's also authentically colored and shaped, making it great for both bedtime and playtime.
Brand: Jaag
$39.95
Adore every second whenever you gaze upon your precious Wolf Watch. Your pup will be the talk of the town on a gorgeous, Water Resistant Watch with a Lifetime Warranty and Stainless Steel Backing. So enchanting, the Wolf Watch will easily fit all your loved ones with a 1 5/16" Diameter face for Men and 7/8" face for Women. Accurate down to the second with precise Japanese Quartz Movement, bring your beautiful Wolf with you everywhere you go.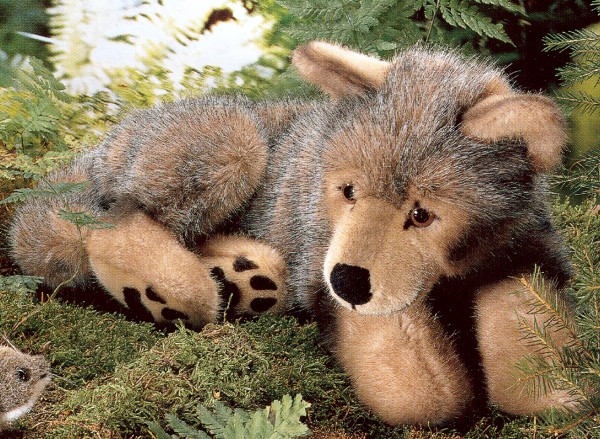 $160.95
Traditional craftsmanship, attention to detail, and a sense for what is important. Handmade in Germany by Kosen using the finest materials. 14 Inches Long.
Brand: Kosen
$23.00
Nothing beats the exceptional look and quality of our Wolf Figurine. Among the finest made, you will be provided with great satisfaction and long lasting enjoyment. Why not pamper yourself or give a loved one a Wolf gift to show them how much you care. The Wolf Figurine will make the perfect gift for any Wolf lover. Shop with confidence, because all products come with a 100% customer satisfaction guarantee. Click over now to see the big selection of Wolf gifts we offer.
Moments In The Wilderness: Women's Denim Jacket With Wolf Art
$119.00
Throughout time, wolves have fascinated us with their beauty, nobility and their unfaltering loyalty to the pack. Now you can proudly wear the awe-inspiring beauty of the wolf with this exclusive Moments in the Wilderness women's denim jacket, available only from The Bradford Exchange. With striking wolf art by acclaimed wildlife artist Eddie LePage, this women's denim jacket is truly a wearable work of art! Crafted of durable, medium-weight, stone-washed denim, this wolf art jacket is tailored in a flattering cut, with two front pockets and shiny metal buttons. A stirring portrait of a mother wolf and her pup are embroidered on both the front and back, capturing their majesty from any angle. Enthusiastic demand is expected, so don't delay. Order now!
Brand: The Bradford Exchange
Teen Wolf Womens Shirt Headphone Wolf 2 Black Tee T-Shirt
$19.99
Teen Wolf Womens Shirt Headphone Wolf 2 Black Tee T-ShirtYou will love this high quality Teen Wolf Headphone Wolf 2 Ladies Tee Shirt. Teen Wolf was a Michael J. Fox-led 1985 movie revolving around 17-year-old werewolf basketball prodigy Scott Howard.100% Cotton, Pre-Shrunk And Machine WashableOfficially LicensedAvailable in Small, Medium, Large, XL, and, 2XL
Brand: Teen Wolf Womens Shirt Headphone Wolf 2 Black Tee T-Shirt
Teen Wolf Kids Hoodie Headphone Wolf Black Youth Hoody
$39.99
Teen Wolf Kids Hoodie Headphone Wolf Black Youth HoodyYou will love this high quality Teen Wolf Headphone youth hoodie. Teen Wolf was a Michael J. Fox-led 1985 movie revolving around 17-year-old werewolf basketball prodigy Scott Howard. 100% Cotton, Pre-Shrunk And Machine WashableOfficially LicensedAvailable in Small, Medium, Large, XL
Brand: Teen Wolf Kids Hoodie Headphone Wolf Black Youth Hoody
Teen Wolf Hoodie Moon Wolf Navy Sweatshirt Hoody
$39.99
Teen Wolf Hoodie Moon Wolf Navy Sweatshirt HoodyYou will love this high quality Teen Wolf Moon Wolf hoody. Teen Wolf was a Michael J. Fox-led 1985 movie revolving around 17-year-old werewolf basketball prodigy Scott Howard.100% Cotton, Pre-Shrunk And Machine WashableOfficially LicensedAvailable in Small, Medium, Large, XL & 2XL
Brand: Teen Wolf Hoodie Moon Wolf Navy Sweatshirt Hoody
Teen Wolf Juniors Tank Top Moon Wolf Navy Tee Tanktop
$19.99
Teen Wolf Juniors Tank Top Moon Wolf Navy Tee TanktopLooking good in a juniors tank top is easy when it features Teen Wolf! Teen Wolf was a Michael J. Fox-led 1985 movie revolving around 17-year-old werewolf basketball prodigy Scott Howard. 100% Cotton, Pre-Shrunk And Machine WashableOfficially LicensedAvailable in Small, Medium, Large, XL, and, 2XL
Brand: Teen Wolf Juniors Tank Top Moon Wolf Navy Tee Tanktop
Teen Wolf Juniors Shirt Headphone Wolf 2 Black Tee T-Shirt
$19.99
Teen Wolf Juniors Shirt Headphone Wolf 2 Black Tee T-ShirtGive this awesome juniors t-shirt as a gift it features Teen Wolf. Teen Wolf was a Michael J. Fox-led 1985 movie revolving around 17-year-old werewolf basketball prodigy Scott Howard. 100% Cotton, Pre-Shrunk And Machine WashableOfficially LicensedAvailable in Small, Medium, Large, XL, 2XL
Brand: Teen Wolf Juniors Shirt Headphone Wolf 2 Black Tee T-Shirt
Teen Wolf Juniors Tank Top Headphone Wolf Black Tee Tanktop
$19.99
Teen Wolf Juniors Tank Top Headphone Wolf Black Tee TanktopLooking good in a juniors tank top is easy when it features Teen Wolf! Teen Wolf was a Michael J. Fox-led 1985 movie revolving around 17-year-old werewolf basketball prodigy Scott Howard.100% Cotton, Pre-Shrunk And Machine WashableOfficially LicensedAvailable in Small, Medium, Large, XL, and, 2XL
Brand: Teen Wolf Juniors Tank Top Headphone Wolf Black Tee Tanktop
Teen Wolf Slim Fit V-Neck Shirt Headphone Wolf Black Tee T-Shirt
$21.99
Teen Wolf Slim Fit V-Neck Shirt Headphone Wolf Black Tee T-ShirtYou will love this high quality Teen Wolf Headphone slim fit Tee Shirt. Teen Wolf was a Michael J. Fox-led 1985 movie revolving around 17-year-old werewolf basketball prodigy Scott Howard. 100% Cotton, Pre-Shrunk And Machine WashableOfficially LicensedAvailable in Small, Medium, Large, XL, 2XL
Brand: Teen Wolf Slim Fit V-Neck Shirt Headphone Wolf Black Tee T-Shirt
Teen Wolf Wolf Rays Sublimation Youth Shirt Front/Back Print
$26.99
Teen Wolf Wolf Rays Sublimation Youth Shirt Front/Back PrintEnjoy this awesome Teen Wolf Sublimation Youth shirt. Teen Wolf was a Michael J. Fox-led 1985 movie revolving around 17-year-old werewolf basketball prodigy Scott Howard.100% PolyesterOfficially LicensedAvailable in Small, Medium, Large & XLThis item is hand-printed in the USA using a dye sublimation printing process that creates slight imperfections over seams and folds
Brand: Teen Wolf Wolf Rays Sublimation Youth Shirt Front/Back Print
Teen Wolf Tank Top Headphone Wolf Black Tee Tanktop
$19.99
Teen Wolf Tank Top Headphone Wolf Black Tee TanktopShowing your love for the 1985 comedy, this Teen Wolf tank top is perfect for you. Teen Wolf was a Michael J. Fox-led 1985 movie revolving around 17-year-old werewolf basketball prodigy Scott Howard. 100% Cotton, Pre-Shrunk And Machine WashableOfficially LicensedAvailable in Small, Medium, Large, XL & 2XL
Brand: Teen Wolf Tank Top Headphone Wolf Black Tee Tanktop
Teen Wolf Long Sleeve Shirt Headphone Wolf Black Tee T-Shirt
$24.99
Teen Wolf Long Sleeve Shirt Headphone Wolf Black Tee T-Shirt Unleash the fury with this awesome Teen Wolf long sleeve T-Shirt. Teen Wolf was a Michael J. Fox-led 1985 movie revolving around 17-year-old werewolf basketball prodigy Scott Howard. 100% Cotton, Pre-Shrunk And Machine WashableOfficially LicensedAvailable in Small, Medium, Large, XL, 2XL
Brand: Teen Wolf Long Sleeve Shirt Headphone Wolf Black Tee T-Shirt
Teen Wolf Tank Top Moon Wolf Navy Tee Tanktop
$19.99
Teen Wolf Tank Top Moon Wolf Navy Tee TanktopYou will love this high quality Teen Wolf Moon Wolf tank top. Teen Wolf was a Michael J. Fox-led 1985 movie revolving around 17-year-old werewolf basketball prodigy Scott Howard.100% Cotton, Pre-Shrunk And Machine WashableOfficially LicensedAvailable in Small, Medium, Large, XL & 2XL
Brand: Teen Wolf Tank Top Moon Wolf Navy Tee Tanktop
Teen Wolf Shirt Moon Wolf Heather Navy Tee T-Shirt
$19.99
Teen Wolf Shirt Moon Wolf Heather Navy Tee T-ShirtAny fan will love this awesome t-shirt with a cool Teen Wolf graphic on a heather colored t-shirt. Teen Wolf was a Michael J. Fox-led 1985 movie revolving around 17-year-old werewolf basketball prodigy Scott Howard. 100% Cotton, Pre-Shrunk And Machine WashableOfficially LicensedAvailable in Small, Medium, Large, XL, and, 2XL
Brand: Teen Wolf Shirt Moon Wolf Heather Navy Tee T-Shirt
Teen Wolf Long Sleeve Shirt Headphone Wolf 2 Black Tee T-Shirt
$24.99
Teen Wolf Long Sleeve Shirt Headphone Wolf 2 Black Tee T-ShirtYou will love this high quality Teen Wolf Headphone Wolf 2 long sleeve tee shirt. Teen Wolf was a Michael J. Fox-led 1985 movie revolving around 17-year-old werewolf basketball prodigy Scott Howard.100% Cotton, Pre-Shrunk And Machine WashableOfficially LicensedAvailable in Small, Medium, Large, XL, 2XL
Brand: Teen Wolf Long Sleeve Shirt Headphone Wolf 2 Black Tee T-Shirt
Teen Wolf Juniors Shirt Headphone Wolf Black Tee T-Shirt
$19.99
Teen Wolf Juniors Shirt Headphone Wolf Black Tee T-ShirtYou will love this high quality Teen Wolf Headphone Tee Shirt. Teen Wolf was a Michael J. Fox-led 1985 movie revolving around 17-year-old werewolf basketball prodigy Scott Howard.100% Cotton, Pre-Shrunk And Machine WashableOfficially LicensedAvailable in Small, Medium, Large, XL, 2XL
Brand: Teen Wolf Juniors Shirt Headphone Wolf Black Tee T-Shirt
Mens Wolf Shirt Big Wolf Face Muscle Tee T-Shirt
$15.99
Mens Wolf Shirt Big Wolf Face Muscle Tee T-Shirt100% cottonSports grey is a cotton/poly blendAvailable in Small, Medium, Large, XL & 2XLAlso available in colors Black, Navy, Red, Royal, Sports Grey, and White
Brand: Mens Muscle Shirt - Big Wolf Face
---