» Home
Specialty Shops
» Christmas Shop
» Thomas Kinkade Shop
» Jeweled Box Shop
» Music Box Shop
» The Vase Shop

Shop By Category
» Angels
» Betty Boop
» Boyds Bear
» Charming Tails
» Disney
» Elvis Presley
» Fairy / Fairies
» Gary Patterson
» Jasmine Becket-Griffith
» Lena Liu
» Lenox
» Gone With The Wind
» Jim Shore
» Marilyn Monroe
» Peanuts & Snoopy
» Precious Moments
» Really Woolly
» Tinker Bell
» Teddy Bears
» Wizard Of Oz

Shop By Animal or
Nature Theme
» Bear - All
» Bird
» Bunny / Rabbit
» Butterfly / Butterflies
» Cat
» Chipmunk
» Cow
» Deer
» Dog
» Dolphin
» Dragonfly
» Duck
» Eagle
» Elephant
» Flamingo
» Frog
» Giraffe
» Horse
» Hummingbird
» Ladybug
» Leopard
» Lion
» Kangaroo
» Moose
» Owl
» Panda Bear
» Peacock
» Penguin
» Pig
» Polar Bear
» Seal
» Squirrel
» Sunflower
» Tiger
» Toucan
» Turtle
» Wolf
» Zebra

More Collectibles & Decor
» Collectible Eggs
» Drink Coasters
» Perfume Bottles
» Suncatchers
» Candles
» Collectible Banks


Bank Shop - Collectibles, Figurines & Merchandise
Select from a variety of Bank Collectibles, Decor & Gifts
Feautures Bank merchandise including t-shirts, figurines, pajamas, decor, tees, clothing, personal checks, toys, music boxes, shirts, address labels, coffee mugs, slippers, calendars,jewelry, collectibles and more.
We found 275 products for Bank >>
$24.99
A Diamond Select Toys release, save your money for a rainy day - or your next pizza craving - with this new line of TMNT banks from DST! Based on their most recent cartoon appearances, TMNT Leonardo
Brand: Diamond Comic Distributors
Noah's Ark - Silver Piggy Bank
$22.00
"Drop your coins (and dollars!) inside this charming and inspirational piggy bank and start saving! Displays sweetly in a nursury or young child's bedroom and makes a lovely, keepsake gift. Also beautifully coordinates with the Noah's Ark silver-plated photo frame, 1st year photo frame, and photo book. Product Details: Size: 4 1/2"W x 4 1/4"H Material: silver-plated metalNotched, open and close clasp underneathProduct by Roman
Brand: DaySpring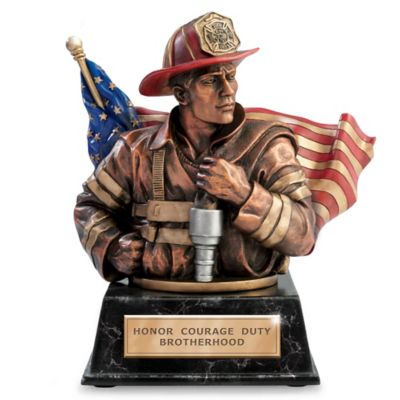 Heart Of A Hero Firefighter Cold-Cast Bronze Bank
$79.99
Standing for all that our nation holds dear, firefighters are everyday heroes. Now, you can honor their bravery and commitment with this first-of-its-kind firefighter bank, only from The Bradford Exchange. The Heart of a Hero Bank is a stirring salute to those we trust the most, showcasing a stately firefighter poised against the backdrop of a waving American flag, all captured in museum-quality cold-cast bronze. And it's a real working bank too! Masterfully handcrafted of richly burnished, cold-cast bronze, this impressive fireman bank is entirely hand-painted to highlight all of the rich, fully-dimensional details. In a noble pose, a determined firefighter stands ready to help. The traditional Maltese cross on his helmet is a meaningful accent against the vivid stars and stripes of the billowing American flag, forever preserved in a striking bronze bust. A convenient coin slot is located on the back, and the bust rests atop a handsome marbleized base with a brass-toned plaque. Strong demand is expected for this dramatic firefighter bank, but there is a strict limited edition of only 5,000 worldwide, so don't wait to get yours. Order now!
Brand: The Bradford Exchange