» Home
Specialty Shops
» Christmas Shop
» Thomas Kinkade Shop
» Jeweled Box Shop
» Music Box Shop
» The Vase Shop

Shop By Category
» Angels
» Betty Boop
» Boyds Bear
» Charming Tails
» Disney
» Elvis Presley
» Fairy / Fairies
» Gary Patterson
» Jasmine Becket-Griffith
» Lena Liu
» Lenox
» Gone With The Wind
» Jim Shore
» Marilyn Monroe
» Peanuts & Snoopy
» Precious Moments
» Really Woolly
» Tinker Bell
» Teddy Bears
» Wizard Of Oz

Shop By Animal or
Nature Theme
» Bear - All
» Bird
» Bunny / Rabbit
» Butterfly / Butterflies
» Cat
» Chipmunk
» Cow
» Deer
» Dog
» Dolphin
» Dragonfly
» Duck
» Eagle
» Elephant
» Flamingo
» Frog
» Giraffe
» Horse
» Hummingbird
» Ladybug
» Leopard
» Lion
» Kangaroo
» Moose
» Owl
» Panda Bear
» Peacock
» Penguin
» Pig
» Polar Bear
» Seal
» Squirrel
» Sunflower
» Tiger
» Toucan
» Turtle
» Wolf
» Zebra

More Collectibles & Decor
» Collectible Eggs
» Drink Coasters
» Perfume Bottles
» Suncatchers
» Candles
» Collectible Banks


Elvis Shop - Collectibles, Figurines & Merchandise
Select from a variety of Elvis Collectibles, Decor & Gifts
Feautures Elvis merchandise including t-shirts, figurines, pajamas, decor, tees, clothing, personal checks, toys, music boxes, shirts, address labels, coffee mugs, slippers, calendars,jewelry, collectibles and more.
We found 2,273 products for Elvis >>
Elvis Presley Art Cuff Watch: The King Of Rock 'N' Roll
$99.00
Performance after performance, the legendary Elvis Presley® captivated his audiences with a show-shopping style that would change the face of American music forever. Celebrate the King of Rock 'n' Roll® with this Elvis Presley art watch, a fine jewelry design available only from The Bradford Exchange. This contemporary cuff bracelet design features eight full-color portraits of Elvis® by famed artists Nate Giorgio and Bruce Emmett, perfectly capturing some of the King's beloved performances. Crafted with precision quartz movement, the face of this Elvis art watch features a portrait of Elvis's memorable 1973 "Aloha from Hawaii" performance surrounded by a golden bezel. Golden markers at 12, 3, 6 and 9 and a gleaming Swarovski® crystal help count the hours in rockin' style. Plus, the reverse side of this Elvis watch is etched with Elvis's replica signature and "The King of Rock N Roll®." Strong demand is expected, so don't wait. Order now!
Brand: The Bradford Exchange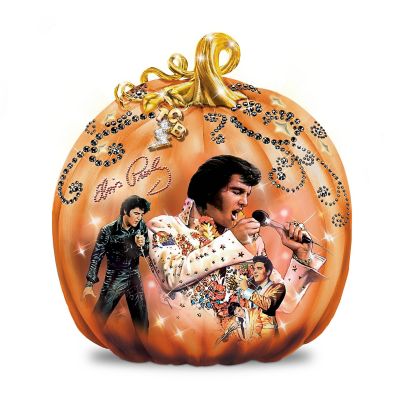 Elvis Takin' Care Of Halloween Pumpkin Sculpture
$99.99
If you want to have a rockin' Halloween, you need the ultimate Elvis Halloween decoration, and this collectible first-ever illuminated and musical Elvis Presley® jack-o-lantern sculpture is so perfect it's scary! Officially licensed by the Estate of Elvis Presley and available exclusively from The Bradford Exchange, it is specially designed to light up your Halloween with dazzling style and heart-pounding sound. This limited-edition Elvis Halloween pumpkin sculpture is an ingeniously handcrafted treat, featuring full-color reproductions of Elvis artwork from acclaimed artists Bruce Emmett and Nate Giorgio on the front, PLUS a carved-look portrait of Elvis on the back. A lustrous golden scrolling stem, black glitter scrollwork, and 50 glitzy simulated onyx jewels combine with a raised replica of Elvis's signature and a shimmering silver- and gold-toned TCB™ emblem for that "glammed out" rockstar look. LED lights from within shine through star-shaped cutouts in the top of the sculpture, while the air fills with Elvis's classic hit "All Shook Up." Elvis fans everywhere are sure to go wild for this exciting premiere and strong demand is expected, so hurry. Order now!
Brand: The Bradford Exchange
$20.99
Your personal checks will really rock with these fun checks featuring Elvis? Presley. Our Elvis checks include four designs featuring this Rock N Roll music and pop culture legend: Blue Hawaii1961 GI Blues- 1960 Elvis TV Special1968 Aloha From Hawaii1973 Elvis, Elvis Presley and King of Rock 'n' Roll are Registered Trademarks of Elvis Presley Enterprises.©1999 Elvis Presley Enterprises, Inc. www. elvis-presley.com What's Included Per Box: 5 Pads of checks 20 Deposit Tickets 1 Transaction Register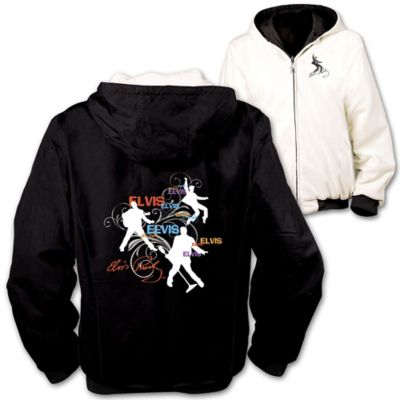 Elvis Presley Reversible Women's Jacket: On The Flip Side
$139.00
Elvis® had a timeless style, all his own. Now, you can show off your love of the King of Rock 'n' Roll®, and your own timeless style, with this Elvis Presley® reversible women's jacket! This stylish jacket is custom-crafted of soft, cream-colored fleece on one side, and reverses to a dramatic black nylon fabric. Striking imagery of Elvis in a classic pose, along with a replica of his iconic autograph is faithfully recreated in fine embroidery on the front of the jacket. Just like Elvis, this designer-style jacket has classic flair. Three eye-catching silhouettes of Elvis along with "Elvis" in vivid colors take center stage against the black background on the nylon side of the jacket. It features a drawstring hood, along with ribbed cuffs and a hip band for comfort. Silvery sculpted metal zipper pull showcases a silhouette of Elvis, for added charm. This Bradford Exchange exclusive jacket makes a stylish gift for Elvis fans. Strong demand is expected, so order now!
Brand: The Bradford Exchange
$20.99
If you have a Burnin Love for Elvis? Presley, these iconic Elvis checks will get you All Shook Up. These personal checks include four designs, with photographs by Alfred Wertheimer, of our country's most beloved Rock N Roll music and pop culture legend when he was a young, up-and-coming heart throb. ©2009 EPE, Reg. U.S. Pat & TM Off. Photo ©Alfred Wertheimer What's Included Per Box: 5 Pads of checks 20 Deposit Tickets 1 Transaction Register
$26.99
© 2010 EPE. Reg U.S. Pat & ? Off.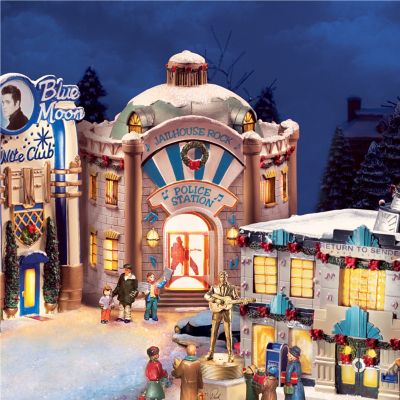 Elvis Rock And Roll Christmas Village Collection
$59.95
Slip on your blue suede shoes and stroll the sidewalks of this rockin' Christmas village! Officially authorized by the Estate of Elvis Presley, this first-ever Elvis Presley® collectible village collection lights up with a Vegas-style glow, starting with Issue One the Jail House Rock Police Station. Soon, your collection will continue with Issue Two and additional village buildings, each a separate issue to follow.‡Christmas was Elvis' favorite holiday, and this exclusive, limited-edition illuminated collectible village collection is a tribute to his everlasting gifts to us. Classic images of Elvis adorn each building, bringing back treasured memories of your favorite star. Hurry - huge demand is expected for this Collectibles Market First, and you don't want to miss this unique Christmas decoration idea! Order now!
Brand: Hawthorne Village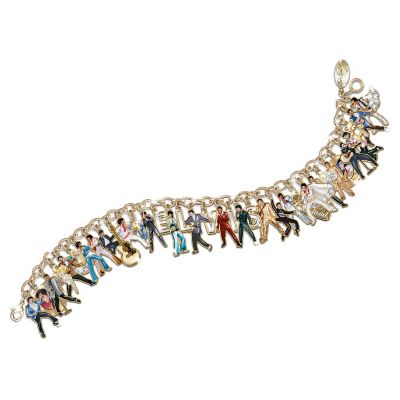 Ultimate Elvis Charm Bracelet: Elvis Presley Jewelry Gift
$199.00
The voice. The hair. The hips. From his first TV appearance to his sold-out concerts in Vegas, Elvis Presley® changed the face of popular music and captured the hearts of millions. Now, this ultimate Elvis® charm bracelet, available only from The Bradford Exchange, pays tribute to this beloved entertainer and his musical legacy. As seen on Lifetime Television's "The Balancing Act."Handcrafted with 24K gold plating and sparkling with genuine Swarovski® crystals, this enticing Elvis jewelry gift is a dazzling visual showcase for the King of Rock 'n' Roll. The 37 unique charms include enameled images of Elvis in signature poses, two-tone letter charms that spell his name, and beloved icons. Very high demand is expected for this collectible Elvis Presley memorabilia and it makes a stunning Elvis jewelry gift. Order now!
Brand: The Bradford Exchange
$10.99
Elvis, Elvis Presley and King of Rock 'n' Roll are Registered Trademarks of Elvis Presley Enterprises.© 2008 Elvis Presley Enterprises, Inc. www. elvis-presley.com
$10.99
Elvis, Elvis Presley and King of Rock 'n' Roll are Registered Trademarks of Elvis Presley Enterprises.© 2008 Elvis Presley Enterprises, Inc. www. elvis-presley.com
Elvis T-shirt - Sun Records Elvis Full Sun Label - Cream Color
$19.99
This Sun Records Elvis Full Sun Label adult cream Elvis? t-shirt stunningly features Elvis? Sun Label black and yellow record circled with music notes topped with rooster waking us up to the King?s raw talent as he is centered belting out one of his many hits which were recorded at the Sun Studio in Memphis between 1953 and 1955, 20 in total, the first of which being a belated birthday gift to his mom. This tee shirt gloriously displays the Sun Records Label and the excitement of the King of Rock and Roll. This t shirt makes an incredible gift for any Elvis fan and a classic emblem of where the King?s music all began. Available in Small, Medium, Large, XL and 2XL View our complete line of Elvis T-Shirts
Brand: Elvis Presley Shirt
Elvis T-shirt - That 70s Elvis Classic - Green
$19.99
This That 70s Elvis Classic adult green Elvis' t-shirt features an image of Elvis in performance stance singing strongly into his mic wearing Hawaiian Shirt with the title song being sung Are You Lonesome Tonight appearing in script on his side and Elvis? named guitar in the backdrop. This tee shirt is a great reminder of Elvis? great sense of humor during live performances of this song in which he would randomly change lyrics to give them humorous connotations. This t shirt reflects the memory of Elvis? warmth, humor and strong connection with his audience through laughter. This shirt is an incredible gift for any Elvis Fan. Available in Small, Medium, Large, XL and 2XL View our complete line of Elvis T-Shirts
Brand: Elvis Presley Shirt
Elvis T-shirt - Elvis Is A Verb Classic - White
$19.99
This Elvis Is A Verb Classic adult white Elvis? t-shirt features two very intense heartfelt double images of a performing Elvis eyes closed clutching his mic scarf around his neck wearing many rings and his infamous white studded jumpsuit obviously performing during his Hawaiian Televised Concert with Elvis? name fading from blush to light green. This tee shirt is the epitome of Elvis? intense heartfelt energy and talents in action. This t shirt would most definitely makes a fantastic gift and or memento for any Elvis? fan. Available in Small, Medium, Large, XL and 2XL View our complete line of Elvis T-Shirts
Brand: Elvis Presley Shirt
Elvis T-shirt - Sun Records - Elvis On The Mic - Gold
$19.99
This Sun Records Elvis On The Mic adult gold Elvis t-shirt features a very young Elvis from the side holding a 50s style microphone recording records at Sun Records Studio in Memphis between 1953 and 1955, 20 in total, 2 of which were unfortunately lost. This tee shirt stunningly displays the Sun Records Label and the excitement of the initial recordings of the ultimate King of Rock and Roll. This t shirt makes an amazing gift for any Elvis fan as it captures this moment in time. Available in Small, Medium, Large, XL and 2XL View our complete line of Elvis T-Shirts
Brand: Elvis Presley Shirt
Elvis Presley Shirt 75 Year Birthday White T-Shirt
$19.99
Elvis Presley Shirt 75 Year Birthday White T-ShirtShow your love for The King of classic rock, Elvis Presley. Whether acting in a movie, writing a song that makes women scream, or serving his country; Elvis left a lasting impression in everything he did! Officially LicensedAvailable in Small, Medium, Large, XL, 2XL, 3XL, 4XL, & 5XL
Brand: Elvis Presley Shirt 75 Year Birthday White T-Shirt
Elvis Presley Shirt 75 Year Birthday Black T-Shirt
$19.99
Elvis Presley Shirt 75 Year Birthday Black T-ShirtShow your love for The King of classic rock, Elvis Presley. Whether acting in a movie, writing a song that makes women scream, or serving his country; Elvis left a lasting impression in everything he did! Officially LicensedAvailable in Small, Medium, Large, XL, 2XL, 3XL, 4XL, & 5XL
Brand: Elvis Presley Shirt 75 Year Birthday Black T-Shirt
Elvis Presley Shirt Slim Fit V-Neck Pink Rock Black T-Shirt
$21.99
Elvis Presley Shirt Slim Fit V-Neck Pink Rock Black T-ShirtShow your love for The King of classic rock, Elvis Presley. Whether acting in a movie, writing a song that makes women scream, or serving his country; Elvis left a lasting impression in everything he did. Officially LicensedAvailable in Small, Medium, Large, XL, 2XL
Brand: Elvis Presley Shirt Slim Fit V-Neck Pink Rock Black T-Shirt
Elvis Presley Shirt Slim Fit V-Neck Motorcycle Black T-Shirt
$21.99
Elvis Presley Shirt Slim Fit V-Neck Motorcycle Black T-ShirtShow your love for The King of classic rock, Elvis Presley. Whether acting in a movie, writing a song that makes women scream, or serving his country; Elvis left a lasting impression in everything he did. Officially LicensedAvailable in Small, Medium, Large, XL, 2XL
Brand: Elvis Presley Shirt Slim Fit V-Neck Motorcycle Black T-Shirt
Elvis Presley Shirt Slim Fit V-Neck Just Cool Black T-Shirt
$21.99
Elvis Presley Shirt Slim Fit V-Neck Just Cool Black T-ShirtShow your love for The King of classic rock, Elvis Presley. Whether acting in a movie, writing a song that makes women scream, or serving his country; Elvis left a lasting impression in everything he did. Officially LicensedAvailable in Small, Medium, Large, XL, 2XL
Brand: Elvis Presley Shirt Slim Fit V-Neck Just Cool Black T-Shirt
Elvis Presley Shirt Slim Fit V-Neck Neon Outline Black T-Shirt
$21.99
Elvis Presley Shirt Slim Fit V-Neck Neon Outline Black T-ShirtShow your love for The King of classic rock, Elvis Presley. Whether acting in a movie, writing a song that makes women scream, or serving his country; Elvis left a lasting impression in everything he did. Officially LicensedAvailable in Small, Medium, Large, XL, 2XL
Brand: Elvis Presley Shirt Slim Fit V-Neck Neon Outline Black T-Shirt