» Home
Specialty Shops
» Christmas Shop
» Thomas Kinkade Shop
» Jeweled Box Shop
» Music Box Shop
» The Vase Shop

Shop By Category
» Angels
» Betty Boop
» Boyds Bear
» Charming Tails
» Disney
» Elvis Presley
» Fairy / Fairies
» Gary Patterson
» Jasmine Becket-Griffith
» Lena Liu
» Lenox
» Gone With The Wind
» Jim Shore
» Marilyn Monroe
» Peanuts & Snoopy
» Precious Moments
» Really Woolly
» Tinker Bell
» Teddy Bears
» Wizard Of Oz

Shop By Animal or
Nature Theme
» Bear - All
» Bird
» Bunny / Rabbit
» Butterfly / Butterflies
» Cat
» Chipmunk
» Cow
» Deer
» Dog
» Dolphin
» Dragonfly
» Duck
» Eagle
» Elephant
» Flamingo
» Frog
» Giraffe
» Horse
» Hummingbird
» Ladybug
» Leopard
» Lion
» Kangaroo
» Moose
» Owl
» Panda Bear
» Peacock
» Penguin
» Pig
» Polar Bear
» Seal
» Squirrel
» Sunflower
» Tiger
» Toucan
» Turtle
» Wolf
» Zebra

More Collectibles & Decor
» Collectible Eggs
» Drink Coasters
» Perfume Bottles
» Suncatchers
» Candles
» Collectible Banks


Gone With The Wind Shop - Collectibles, Figurines & Merchandise
Select from a variety of Gone With The Wind Collectibles, Decor & Gifts
Feautures Gone With The Wind merchandise including t-shirts, figurines, pajamas, decor, tees, clothing, personal checks, toys, music boxes, shirts, address labels, coffee mugs, slippers, calendars,jewelry, collectibles and more.
We found 85 products for Gone With The Wind >>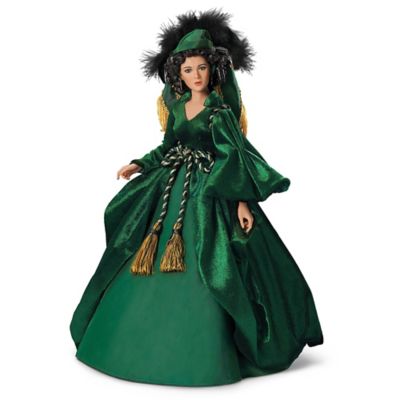 Gone With The Wind: Scarlett O'Hara Dressed Like A Queen Talking Portrait Doll
$129.99
In order to save Tara from ruin, Scarlett O'Hara™ knew that she must dress the part! Now, celebrate one of the most iconic dresses from "Gone with the Wind™" and the fiery heroine who wore it with the Scarlett, Dressed Like a Queen Portrait Doll. Officially licensed by Warner Bros and available exclusively from The Ashton-Drake Galleries, this beautiful Scarlett O'Hara fashion doll "talks" at the touch of a button - hear the determined conversation with Mammy to make a dress that would have her "looking like a queen!"Wearing a stunning recreation of her heavy green curtain dress, trimmed in gold fringe and feather accents, this Gone with the Wind talking doll is exquisitely handcrafted of artist's resin and meticulously hand-painted to recreate every realistic detail. Standing at an impressive 14" tall, Scarlett is even poseable for added allure. Strong demand is anticipated, so don't delay. Order now!
Brand: The Ashton-Drake Galleries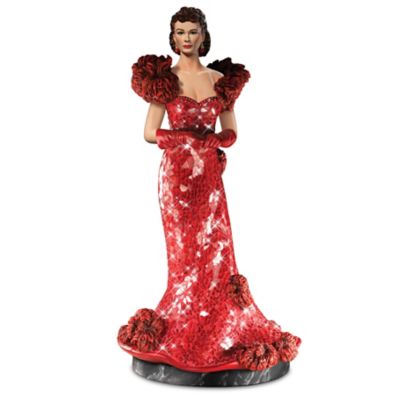 GONE WITH THE WIND SCARLETT O'HARA: Star Of The South Sculpture Collection
$99.95
Exuding elegance and glamor, SCARLETT O'HARA™ is one of the most recognizable and classically beautiful characters in film history. Her role in GONE WITH THE WIND™ helped create some of the most memorable scenes on the big screen. Now you can capture SCARLETT O'HARA's elegance with the SCARLETT O'HARA: Star Of The South Sculpture Collection, available in a limited edition exclusively from The Bradford Exchange. Starting with Issue One, Ravishing In Red, soon your collection will continue with Issue Two, and additional SCARLETT O'HARA GONE WITH THE WIND sculptures, each a separate issue to follow.‡If you are a fan of the movie GONE WITH THE WIND and you love SCARLETT O'HARA, this is the perfect collection for you! From the iconic ravishing red dress she wore at Ashley's dinner party, to the many other famous, iconic costumes, each 10" sculpture in this enchanting collection is fully sculpted and hand-cast, meticulously handcrafted of the finest artist's resin and hand-painted with incredible precision, capturing every nuance of expression, blush and beautiful costume from the 1939 masterpiece. No detail is overlooked, the dress in Issue One sparkles with individual hand placement of the shimmering glass mosaic tiles while the statue stands on top of the "marbleized" pedestal to create a one-of-a-kind presentation. Collector demand is expected to be high, so don't delay. Order now!
Brand: The Bradford Exchange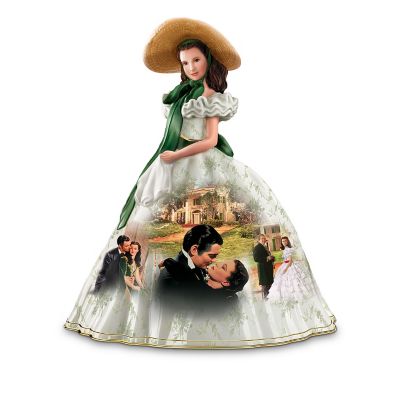 Gone With The Wind Figurine Collection
$39.99
The sweeping epic of Gone with the Wind™ is about to come alive in your own home! This first-ever, fully dimensional Gone with the Wind collectible porcelain figurine collection presents Scarlett O'Hara™ in iconic film costumes that showcase vivid scenes from the movie, starting with Issue One, Picnic Dress. Soon, you'll enjoy Scarlett's feminine prowess in Issue Two, The Green Velvet Dress. Later, your collection will become a stunning tribute to an unforgettable heroine as additional Gone with the Wind figurines arrive, each a separate issue.‡Just imagine the striking Gone with the Wind displays you can create, filled with all the romance and majesty of this timeless classic! This exclusive, limited-edition Gone with the Wind collectible porcelain figurine collection from The Bradford Editions is fully authorized by Turner Entertainment. Each figurine in this collection is expertly crafted of fine Heirloom Porcelain® and hand-painted, creating Gone with the Wind collectibles that are sure to have fans in a frenzy, so hurry! Don't think about this tomorrow - order now!
Brand: The Bradford Editions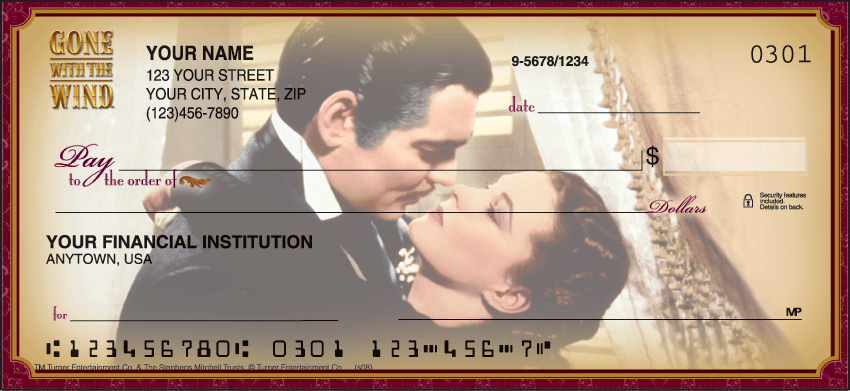 Gone with the Wind Warner Bros Personal Checks - 1 Box - Singles
$21.99
Relive the magic of the South with these nostalgic check scenes depicting memorable moments in the lives of Scarlett and Rhett, specially designed with 8 rotating scenes. Coordinating return address labels and checkbook cover are available.
Brand: Designer Checks