» Home
Specialty Shops
» Christmas Shop
» Thomas Kinkade Shop
» Jeweled Box Shop
» Music Box Shop
» The Vase Shop

Shop By Category
» Angels
» Betty Boop
» Boyds Bear
» Charming Tails
» Disney
» Elvis Presley
» Fairy / Fairies
» Gary Patterson
» Jasmine Becket-Griffith
» Lena Liu
» Lenox
» Gone With The Wind
» Jim Shore
» Marilyn Monroe
» Peanuts & Snoopy
» Precious Moments
» Really Woolly
» Tinker Bell
» Teddy Bears
» Wizard Of Oz

Shop By Animal or
Nature Theme
» Bear - All
» Bird
» Bunny / Rabbit
» Butterfly / Butterflies
» Cat
» Chipmunk
» Cow
» Deer
» Dog
» Dolphin
» Dragonfly
» Duck
» Eagle
» Elephant
» Flamingo
» Frog
» Giraffe
» Horse
» Hummingbird
» Ladybug
» Leopard
» Lion
» Kangaroo
» Moose
» Owl
» Panda Bear
» Peacock
» Penguin
» Pig
» Polar Bear
» Seal
» Squirrel
» Sunflower
» Tiger
» Toucan
» Turtle
» Wolf
» Zebra

More Collectibles & Decor
» Collectible Eggs
» Drink Coasters
» Perfume Bottles
» Suncatchers
» Candles
» Collectible Banks


Peanuts Shop - Collectibles, Figurines & Merchandise
Select from a variety of Peanuts Collectibles, Decor & Gifts
Feautures Peanuts merchandise including t-shirts, figurines, pajamas, decor, tees, clothing, personal checks, toys, music boxes, shirts, address labels, coffee mugs, slippers, calendars,jewelry, collectibles and more.
We found 282 products for Peanuts >>
Peanuts Christmas - Saviour, Christ the Lord - 18 Premium Christmas Boxed Cards, KJV"
$14.99
Bringing nostalgic Christmas cheer and the true meaning of Christmas, these inspirational, PeanutsChristmas greeting cards are a beautiful reminder to friends and family that Jesus"'Saviour, Christ the Lord"'is our reason for every Christmas celebration. Cover:1st Panel: Scripture: For unto you is born this day in the city of David a Saviour, which is Christ the Lord. And thisshall bea signunto you;Ye shall find the babe wrapped in swaddling clothes, lying in a manger. And suddenlythere waswith the angel amultitude of the heavenly host praising God, andsaying, Glory to God in thehighest, andon earth peace, good willtoward men. (Luke 2:11-14 KJV)Inside: Panel 2:That's what Christmas is all about, Charlie Brown. Panel 3:Through the years many things may change but the true meaning of Christmas remains the same! Product Details:18 cards and 19 coordinating envelopesKJV Scripture textCard features 3-panel fold and gloss finishPrinted on premium paperFolded card size: 5 1/8" x 7 3/4"
Brand: DaySpring
Peanuts - Medium Gift Bag with tissue
$2.99
This charming Peanuts gift bag is perfect for wrapping gifts, as well as sending an encouraging message to the recipient! Message on Gift Bag: It's time to happy dance! Scripture: Enjoy the blessing! Revel in the goodness! Psalm 128:2Product Details: Size: 9"H x 7 3/4"W x 4 3/4"D Specialty medium bag Sturdy rope handles Includes coordinating tissue and gift tag"
Brand: DaySpring
Peanuts Cartoon Personal Checks - 1 Box - Duplicates
$6.50
Snoopy Charlie Brown Lucy and Woodstock all dance on these Peanuts checks using artwork by Charles Schulz. Coordinating address labels and checkbook cover are available. Order your Peanuts checks today! We are now offering Peanuts Checks. Also enjoy a wide selection of more Cartoon Personal Checks.
Brand: Checks Unlimited
Jim Shore Peanuts Snoopy & Woodstock Hug Time
$35.00
The perfect gift for Jim Shore and Peanuts lovers collectors alike. Snoopy and Woodstock share a tender hug in friendship. Anytime is hug time. Designed by Jim Shore. Unique variations should be expected; hand painted. Stone Resin. Release Date: April 2014. Dimensions: H5xW2xL2.75.
Brand: Jim Shore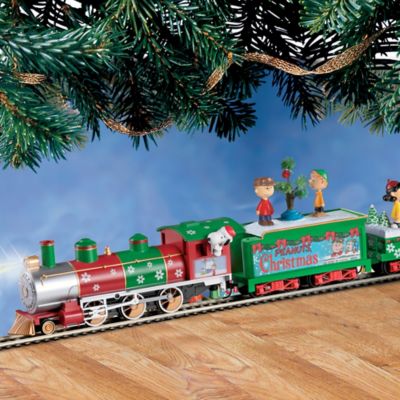 The PEANUTS Christmas Express Electric Train Collection
$79.99
No one captures the true spirit and joy of the Christmas season better than the PEANUTS Gang! Now you can join Charlie Brown, Snoopy, Lucy and the rest of your favorite characters aboard the PEANUTS train collection. Heartfelt memories from your favorite Christmas moments begin with Issue One, the Snoopy Steam Locomotive. Soon your collection will continue with Issue Two, the PEANUTS Christmas Coal Car with Charlie Brown and Linus figure, plus FREE 14-piece HO gauge track, power pack and speed controller, Issue Three, Caroling at the Tree Gondola Car with FREE track and additional PEANUTS collectible train cars, some with FREE track and/or figures, each a separate issue to follow.‡ Available exclusively from The Bradford Exchange, Hawthorne Village Division, this unique Charlie Brown collectible is a real working HO-scale train featuring heirloom-quality train cars. Each charming car in your PEANUTS train collection is highly detailed, many with hand-painted figures of the beloved PEANUTS characters, along with artwork showcasing beloved scenes from the PEANUTS Christmas special. And Snoopy leads the way on his festive locomotive, boasting a headlight that shines a merry beacon of light! This special PEANUTS collectible is a must for any fan, but strong demand is expected, so order now!
Brand: Hawthorne Village
Peanuts - Graduation - Let's Celebrate - 3 Premium Cards
$7.47
Celebrate your happy graduate's accomplishments with this Snoopy Graduation card. Cover: You've graduated! Inside: Let the celebrating begin! Scripture: Let's celebrate and be festive! Psalm 118:24 The MessageProductDetails:3 cards and 3 envelopesPrice per card 2.49Folded card size: 4 1/2" x 6 3/4"
Brand: DaySpring
PEANUTS & #174 House Hunting New Address Postcards
$9.99
Woodstock has a tough time picking his new home. Let this postcard help tell family and friends you have moved. 24 postcards per set: each postcard measuring approximately 5 1/4" x 4". Reverse side is a standard blank postcard with space to jot your own message. Specify 6 lines, up to 28 characters and spaces each ©2011 Peanuts Worldwide LLC
Peanuts Address Labels - Set of 210
$4.87
Peanuts Address Labels are sets of 210 sheeted, self-sticking address labels; size 2 1/2" x 7/8". They are designed to match the Peanuts check design.
Brand: Checks Unlimited
Eastland Lila Comfort Sandals - Peanut 6 M, Peanut
$64.99
These Eastland Lila sandals feature a leather upper, 1 1/2 heel for a little extra comfort and support, Active Memory Foam foot bed, and lightweight polyurethane outsole.
Brand: Eastland
Eastland Tahiti II Flip Flop Sandals - Peanut 6 M, Peanut
$49.99
These Eastland Tahiti II flip flop sandals feature a fully lined leather upper, adjustable strap and buckle closure, and memory foam lining for all day comfort and support. Also available in Wide Widths.
Brand: Eastland
Peanuts Christmas - Rejoice - Christmas Ornament Set, Set of 4"
$29.98
Reminding all of the true reason for celebrating Christmas, this charming Peanuts Christmas ornament set brings inspiring Scripture and nostalgic Christmas cheer into the heart of your home during the Christmas holidays. Set Includes:48861 - Peanuts Christmas - Nativity Christmas Ornament - Click Here to View48862 - Peanuts Christmas - Rejoice Christmas Ornament - Click Here to View48863 - Peanuts Christmas - Merry Christmas Christmas Ornament - Click Here to View48860 - Peanuts Christmas - For Unto You Is Born Christmas Ornament - Click Here to View"
Brand: DaySpring
Jeff Dunham Talking Peanut Bobblehead
$17.98
Press the button at the base of this highly detailed polyresin bobber for a bite-size bit of hilarity. Peanut™, with his tuft of green hair, speaks 7 phrases, like "Man, you're quick. It's like. you know." Approx. 7.5" tall. Includes replaceable button batteries. WARNING: Choking Hazard - small parts. Not for children under 3 yrs.
Peanuts Holiday Stamp Pint Glass
$34.98 $13.57
Set of 4 16-oz. glasses gets a stamp of approval from fans! With cheery holiday designs on the front and logo on the reverse, they make a great addition to your collection. Hand wash; not for microwave. US made. An adult collectible, not intended for use by children.
$9.99 $5.99
Everyone's favorite beagle (and his trusty sidekick) give a touch of fun and flair to your files at home or at the office! Set of letter-size file folders with staggered tabs includes 3 designs featuring cute sentiments. 9-1/2" x 11-3/4". Set of 12; 4 of each design © 2016 Peanuts Worldwide, LLC
Peanuts - The One Who Blesses Others - Reusable Party Cups, Set of 12"
$11.88
Children love parties, and every child will delight in having the fanciful image of Peanuts characters, Snoopy and Woodstock, displayed on their party cup! Whether celebrating special occasions or ordinary days, these reusable party cups add a fun, whimsical touch! A powerful way of bringing God's truth to the hearts and minds of young children! MessageScripture: The one who blesses others is abundantly blessed. Proverbs 11:25 The MessageProduct Details:12 reusable cupsHolds 16 ouncesDishwasher safe - top rackBPA freeMade in USA"
Brand: DaySpring
PEANUTS® Personalized Belongs To Labels (4 Designs)
$8.99
Identify kids "stuff" or make your messages stand out with attention-getting labels! 144 labels per set, each measuring approximately 1 1/2" x 1 3/4". ©2016 Peanuts Worldwide LLC Specify 1 line, up to 26 characters.
Girls Peanuts Watch - PNUTKD051, White/Pink
$14.99 $7.99
Girls Peanuts Snoopy LED watch with a hot pink bezel and a Snoopy stamped white band. Battery is included Style PNUTKD051. Limited Manufacturer's Warranty.
Peanuts - Christ the Lord - Large Christmas Gift Bag
$1.99
The Peanuts characters always bring a smile to our faces. Placing your Christmas gift in this bag is like giving two gifts. Everyone who receives it will enjoy the simple message. Message on Gift Bag: For unto you is born this day a Saviour. Christ the Lord. Luke 2:11Product Details: Size: 10" x 13" x 5 1/2"Large specialty gift bagCoordinating gift tissue includedGift tagRope cord fabric handlesScripture paraphrased"
Brand: DaySpring
Peanuts White Pink Pajamas for Toddler Girls
$18.99
Buy Peanuts White Pink Pajamas for Toddler Girls now for only $18.99 and save! See Peanuts White Pink Pajamas for Toddler Girls and more Girl's Sleepwear selection and our huge collection of fun sleepwear for the whole family. $5 flat rate shipping on orders up to $39.99. Free shipping over $40. Need help? We have world class customer support waiting to answer your questions.
Brand: Peanuts
Peanuts Pink Cotton 4 Piece Pajama for girls
$20.00
Buy Peanuts Pink Cotton 4 Piece Pajama for girls for only $20.00 at webundies.com. Free shipping over $100.
Brand: Peanuts