» Home
Specialty Shops
» Christmas Shop
» Thomas Kinkade Shop
» Jeweled Box Shop
» Music Box Shop
» The Vase Shop

Shop By Category
» Angels
» Betty Boop
» Boyds Bear
» Charming Tails
» Disney
» Elvis Presley
» Fairy / Fairies
» Gary Patterson
» Jasmine Becket-Griffith
» Lena Liu
» Lenox
» Gone With The Wind
» Jim Shore
» Marilyn Monroe
» Peanuts & Snoopy
» Precious Moments
» Really Woolly
» Tinker Bell
» Teddy Bears
» Wizard Of Oz

Shop By Animal or
Nature Theme
» Bear - All
» Bird
» Bunny / Rabbit
» Butterfly / Butterflies
» Cat
» Chipmunk
» Cow
» Deer
» Dog
» Dolphin
» Dragonfly
» Duck
» Eagle
» Elephant
» Flamingo
» Frog
» Giraffe
» Horse
» Hummingbird
» Ladybug
» Leopard
» Lion
» Kangaroo
» Moose
» Owl
» Panda Bear
» Peacock
» Penguin
» Pig
» Polar Bear
» Seal
» Squirrel
» Sunflower
» Tiger
» Toucan
» Turtle
» Wolf
» Zebra

More Collectibles & Decor
» Collectible Eggs
» Drink Coasters
» Perfume Bottles
» Suncatchers
» Candles
» Collectible Banks


Teddy Bear Shop - Collectibles, Figurines & Merchandise
Select from a variety of Teddy Bear Collectibles, Decor & Gifts
Feautures Teddy Bear merchandise including t-shirts, figurines, pajamas, decor, tees, clothing, personal checks, toys, music boxes, shirts, address labels, coffee mugs, slippers, calendars,jewelry, collectibles and more.
We found 51 products for Teddy Bear >>
Now I Lay Me Down to Sleep - Teddy Bear Prayer Plush
$23.00
This cuddly teddy bear plush, with its snuggly softness and inspiring message, will encourage young hearts in learning the classic children's prayer, Now I Lay Me Down to Sleep. Babies and young children, alike, will enjoy many fun-filled moments with this delightful teddy bear plush close by their side. Makes a wonderful gift! Message: Now I Lay Me Down To SleepNow I Lay Me Down To Sleep prayer is recited by child when pressing paws of bear togetherProduct Details: Size: Approx. 9"H Two 1.5V replaceable batteries, included Materials: Plush Turn battery pack on to activate sound Press paws of bear together to activate and deactivate reciting of prayer Velcro closing in back Product by His GEM"
Brand: DaySpring
Beverly Hills Teddy Bear Co. Plush Giraffe, Yellow
$19.99
Beverly Hills Teddy Bear Co. plush giraffe with soft material. Size: 31 inches. 100% Polyester. Spot clean only.
Brand: Beverly Hills Teddy Bear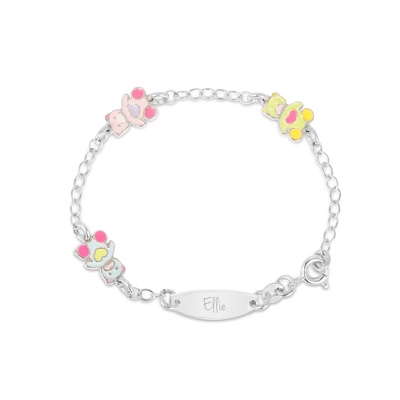 Girls Teddy Bear ID Charm Bracelet
$40.00 $28.00
This personalized girls bracelet has the cutest charms. With complimentary Classic Beveled Edge Round Keepsake Box. Our personalized Girl's ID Charm Bracelet is a cute accessory for your favorite little girl. Adorned with cute animals or flowers, personalize the bracelet with her name or a message-6.5" x 1.1" x 0.3" -Great gift for girl's birthday, daughter, niece or grandaughter, or just because!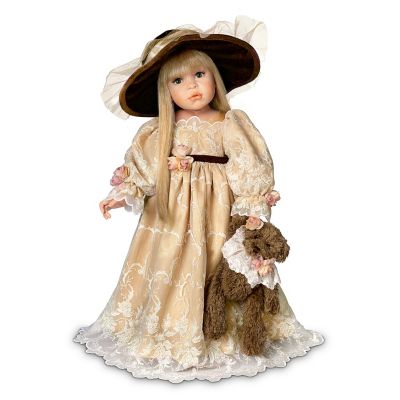 Linda Rick "Catherine" Victorian-Style Child Doll With Dressed Teddy Bear
$179.99
Catherine is dressed so beautifully herself, she just must have a teddy bear at her side who is well-dressed, too! This magnificent Linda Rick child doll cherishes her teddy companion and takes him everywhere. And what an impression they make! Created in doll artist Linda Rick's elegant Victorian doll style that is her signature look, Catherine is an Ashton-Drake Galleries exclusive. She's an impressive 24 inches tall and ready to charm you in her head-to-toe finery. This Linda Rick doll is crafted in hand-painted vinyl with a soft cloth body. You'll love her full-length outfit, beautifully tailored in silky satin and lace with fabric flower embellishments, plus frilly pantaloons and a festive "picture" hat. And of course, Catherine's teddy bear is as well-dressed as she is, with his own lacy collar and fabric flower trims. Because this doll is an elegant example of Linda Rick's best-loved Victorian doll designs, demand is likely to be high. Don't wait; order now!
Brand: The Ashton-Drake Galleries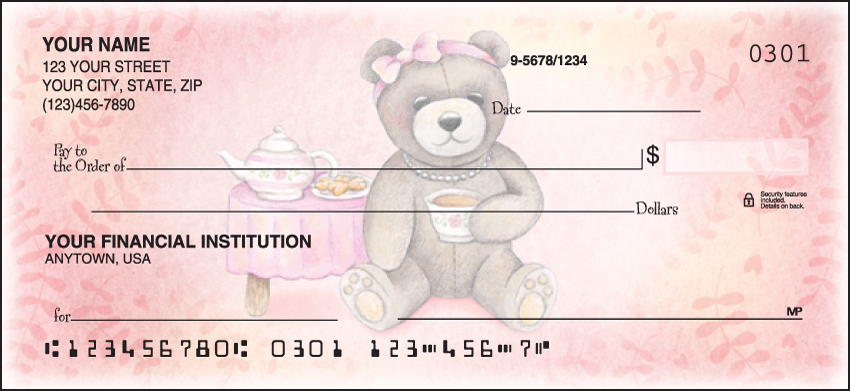 Teddy Bears Animal Personal Checks - 1 Box - Singles
$18.99 $5.50
These cute and cuddly teddy bear designs illustrate themes of friendship and kindness. We are now offering Teddy Bears Checks. Also enjoy a wide selection of more Animal Personal Checks.
Brand: Checks Unlimited