» Home
Specialty Shops
» Christmas Shop
» Thomas Kinkade Shop
» Jeweled Box Shop
» Music Box Shop
» The Vase Shop

Shop By Category
» Angels
» Betty Boop
» Boyds Bear
» Charming Tails
» Disney
» Elvis Presley
» Fairy / Fairies
» Gary Patterson
» Jasmine Becket-Griffith
» Lena Liu
» Lenox
» Gone With The Wind
» Jim Shore
» Marilyn Monroe
» Peanuts & Snoopy
» Precious Moments
» Really Woolly
» Tinker Bell
» Teddy Bears
» Wizard Of Oz

Shop By Animal or
Nature Theme
» Bear - All
» Bird
» Bunny / Rabbit
» Butterfly / Butterflies
» Cat
» Chipmunk
» Cow
» Deer
» Dog
» Dolphin
» Dragonfly
» Duck
» Eagle
» Elephant
» Flamingo
» Frog
» Giraffe
» Horse
» Hummingbird
» Ladybug
» Leopard
» Lion
» Kangaroo
» Moose
» Owl
» Panda Bear
» Peacock
» Penguin
» Pig
» Polar Bear
» Seal
» Squirrel
» Sunflower
» Tiger
» Toucan
» Turtle
» Wolf
» Zebra

More Collectibles & Decor
» Collectible Eggs
» Drink Coasters
» Perfume Bottles
» Suncatchers
» Candles
» Collectible Banks


Wizard Of Oz Shop - Collectibles, Figurines & Merchandise
Select from a variety of Wizard Of Oz Collectibles, Decor & Gifts
Feautures Wizard Of Oz merchandise including t-shirts, figurines, pajamas, decor, tees, clothing, personal checks, toys, music boxes, shirts, address labels, coffee mugs, slippers, calendars,jewelry, collectibles and more.
We found 68 products for Wizard Of Oz >>
$6.49
A fun Wizard of Oz magnet! Perfect for the fridge, the office, or any magnetic surface that needs some excitement Magnet is strong and won't slip
Brand: NMR Calendars
Adora Wizard of Oz Scarecrow 20in. Doll
$139.99
Adora ToddlerTime(tm) Wizard of Oz Scarecrow 20 inch Doll is full of life from the tip of his triangle painted nose to the tip of his boots with pointed toes. Costumed in a soft cotton pants set accented with frayed burlap details to simulate the look of straw, floppy brimmed black felt hat, faux suede booties and last, but not least, his diploma that proves he's always had a brain. For more than 75 years nothing has compared to the wonder and charm of the WIZARD OF OZ and its beloved characters.
Brand: Adora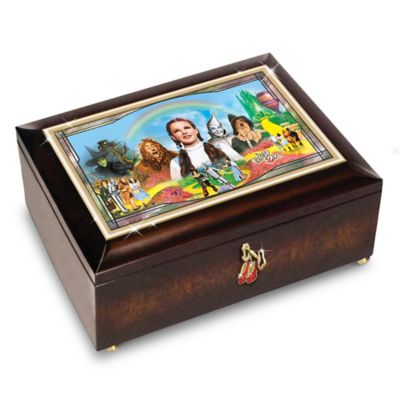 THE WIZARD OF OZ Illuminated Heirloom Music Box
$69.99
EMERALD CITY™, RUBY SLIPPERS™, YELLOW BRICK ROAD™. No other musical fantasy film before or since approaches the colorful spectacle that is the movie masterpiece, THE WIZARD OF OZ™. Today, LAND OF OZ™ is brighter than ever with this illuminated THE WIZARD OF OZ™ Music Box, exclusively from The Bradford Exchange. This officially licensed, expertly handcrafted music box lights up from beneath the glass lid, setting a fascinating montage of The WIZARD OF OZ™ scenes and characters aglow. DOROTHY™, COWARDLY LION™, TIN MAN™, SCARECROW™, and oh my, WICKED WITCH OF THE WEST™ are all featured in this breathtaking artwork. LED lights under the crystal-clear glass cover illuminate this magical vision and its stained glass-look border from behind. A golden frame, decorative golden key and dangling RUBY SLIPPERS™ charm add cinematic excitement to this mahogany-finished music box. Plus, switch it on to hear the wonderful melody "WE'RE OFF TO SEE THE WIZARD"™ fill the air. A dream come true for everyone who ever dreamed of joining DOROTHY™ in her adventures, this music box is expected to excite strong demand, so don't wait! Order now!
Brand: The Bradford Exchange
Adora Wizard of Oz Cowardly Lion 20in. Doll
$139.99
This Adora ToddlerTime(tm) Wizard of Oz Cowardly Lion 20 inch Doll wears a golden brown faux fur lion suit complete with tan faux fur collar and posable tail. An expressive face, golden curled locks of hair and badge of courage makes this one a favorite. For more than 75 years, nothing has compared to the wonder and charm of the WIZARD OF OZ and its beloved characters. Age 6+
Brand: Adora