» Home
Specialty Shops
» Christmas Shop
» Thomas Kinkade Shop
» Jeweled Box Shop
» Music Box Shop
» The Vase Shop

Shop By Category
» Angels
» Betty Boop
» Boyds Bear
» Charming Tails
» Disney
» Elvis Presley
» Fairy / Fairies
» Gary Patterson
» Jasmine Becket-Griffith
» Lena Liu
» Lenox
» Gone With The Wind
» Jim Shore
» Marilyn Monroe
» Peanuts & Snoopy
» Precious Moments
» Really Woolly
» Tinker Bell
» Teddy Bears
» Wizard Of Oz

Shop By Animal or
Nature Theme
» Bear - All
» Bird
» Bunny / Rabbit
» Butterfly / Butterflies
» Cat
» Chipmunk
» Cow
» Deer
» Dog
» Dolphin
» Dragonfly
» Duck
» Eagle
» Elephant
» Flamingo
» Frog
» Giraffe
» Horse
» Hummingbird
» Ladybug
» Leopard
» Lion
» Kangaroo
» Moose
» Owl
» Panda Bear
» Peacock
» Penguin
» Pig
» Polar Bear
» Seal
» Squirrel
» Sunflower
» Tiger
» Toucan
» Turtle
» Wolf
» Zebra

More Collectibles & Decor
» Collectible Eggs
» Drink Coasters
» Perfume Bottles
» Suncatchers
» Candles
» Collectible Banks


Wizard Of Oz Shop - Collectibles, Figurines & Merchandise
Select from a variety of Wizard Of Oz Collectibles, Decor & Gifts
Feautures Wizard Of Oz merchandise including t-shirts, figurines, pajamas, decor, tees, clothing, personal checks, toys, music boxes, shirts, address labels, coffee mugs, slippers, calendars,jewelry, collectibles and more.
We found 68 products for Wizard Of Oz >>
Doll: Wizard Of Oz Wicked Witch Of The West Portrait Doll
$129.99
From the moment she spots the Ruby Slippers™ on Dorothy's™ feet, the Wicked Witch of the West™ has just one goal in mind - to get them back at any cost. Now, you can hear her plot her revenge - just as she did in the movie - with the Wicked Witch of the West Portrait Doll, a collecting first Collector Edition doll officially licensed by Warner Bros and exclusively from The Ashton-Drake Galleries. At the push of a button, this authentically detailed The Wizard of Oz™ Wicked Witch of the West doll actually talks and plays soundtrack music! You'll hear "Miss Gulch's Theme" followed by her heated exchange with Glinda™. And you'll hear one of the most famous movie quotes of all time: "I'll get you, my pretty, and your little dog, too!". This Wicked Witch of the West talking doll even sneers and cackles. Expertly handcrafted in artist's resin and delicately hand-painted to capture every feature in lifelike detail, this incredible Wicked Witch of the West collectible marks the 75th anniversary of the classic film and is true to character, from the tip of her black hat to the bottom of her black gown. She's poseable, too. And her menacing expression is the perfect match for the things you'll hear her say! We expect high demand for this important collecting first. Therefore, you are urged to order now!
Brand: The Ashton-Drake Galleries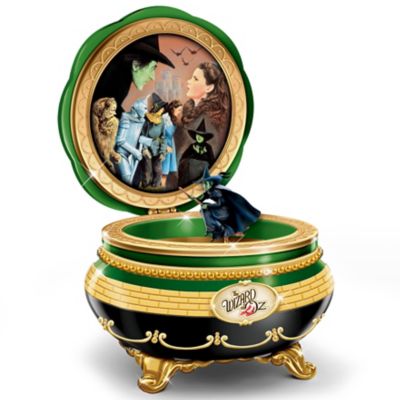 The Wizard Of Oz Wicked Witch Of The West Porcelain Music Box
$89.99
Only the Wicked Witch of the West™ could be so frightening and so adored all at the same time; maybe it's due to all of her "beautiful wickedness"! Now, the infamous villainess of beloved film "The Wizard of Oz™" inspires a spectacular music box that fans would give their Ruby Slippers™ to own, the Wicked Witch of the West Music Box, a Bradford Exchange exclusive that's perfect for celebrating the 75th anniversary of magical adventures with The Wizard of Oz. Expertly handcrafted of lustrous Heirloom Porcelain® this dazzling music box showcases an intricate, hand-sculpted Wicked Witch of the West figure that actually spins around on her broom to the melody of "We're Off to See the Wizard." Beneath the hinged lid an art montage of favorite characters from "The Wizard of Oz" shimmers under sparkling glass. Lavished with 22K gold, this stunning collectible music box is hand-painted in dramatic black and emerald green and enhanced with a Yellow Brick Road™ design around the exterior and spiraling around the top. Ornate, 22K gold-plated feet, a title medallion and an exquisite 22K gold-plated witch topper make it a treasure from over the rainbow. Strong demand is expected for this dazzling The Wizard of Oz 75th anniversary commemorative, so don't wait. Order now!
Brand: The Bradford Exchange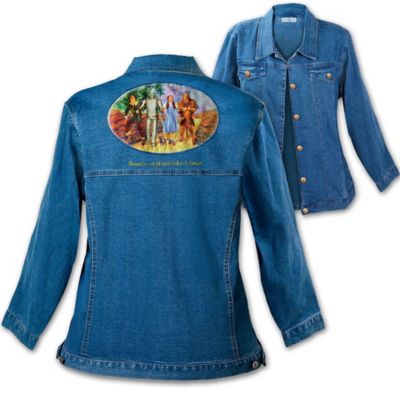 Wizard Of Oz Women's Denim Art Jacket
$119.00
Everyone can appreciate a classic - or even two! This Wizard of Oz jacket combines two classics for one great look! You'll love wearing this classic denim Wizard of Oz apparel. The back features full-color, authentic Wizard of Oz art showcasing Dorothy, Scarecrow, Tin Man, Cowardly Lion and Toto skipping down the Yellow Brick Road. The classic movie line, "There's no place like home!" is embroidered underneath the artwork. This exclusive Bradford Exchange fashion debut is custom designed in high-quality, vintage-wash, medium-weight denim that is both comfortable and figure flattering. The durable and versatile jacket features adjustable buttons on the sides, along with two front pockets and two convenient side seam pockets. The antique brass buttons feature ruby red slippers in tribute to Dorothy. High demand is expected from Wizard of Oz enthusiasts, so order now!
Brand: The Bradford Exchange

The Wizard of Oz Labels - Set of 210
$6.95
Sets of 210 sheeted, self-sticking labels; size 2-1/2" x 7/8".
Brand: Designer Checks