Christmas Music Boxes, Christmas Music Box & Holiday Music Boxes
Enjoy the sounds of Christmas with these Christmas music boxes and Holiday music boxes. These Christmas music boxes include Thomas Kinkade music boxes, Peanuts Music Box, Rudolph the Red Nosed Reindeer Music Box, Nutcracker Music Box as well as other Christmas themed boxes. So add a Christmas music box to your home this holiday season.
Please Note: I am an Associate for Amazon & other merchants & will earn a commission from qualifying purchases.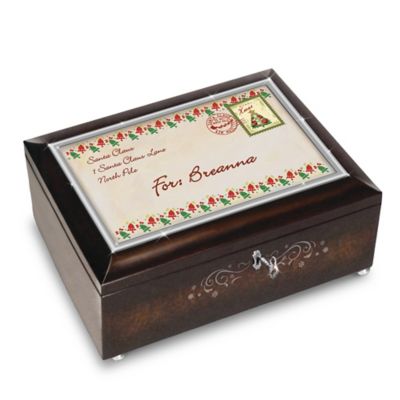 A Treasured Christmas Keepsake for Children: Kids will love this Christmas keepsake, a special personalized Letter from Santa and Christmas Music Box made just for them. This cute Christmas Music Box is personalized on the envelope lid with their name and the Santa Letter includes their name, age and city location. Children will enjoy adding all their favorite holiday treasures in this music box for safe keeping. Plays the Christmas carol, Jingle Bells. Measures 6 inches W x 2.5 inches H x 4 inches D.
---
Capturing the true meaning of Christmas, this fine porcelain Nativity Music Box depicts the Joseph, Mary and Baby Jesus. This Nativity music box plays the Christmas carol, Silent Night. It measure 5.5 inches High x W: 3.25 inches Wide x 3.63 inche Deep. Enjoy Free Shipping when you order this Christmas music box figure.
---
Affordably Priced: This unique hand cranked little Merry Christmas Music Box will add some Christmas cheer to the holiday. This hand crafted wood engrave Christmas Music Box is the perfect size for a nice Christmas Stocking Stuffer measuring 2.5 inches x 2 inches x 1.5 inches. Free Shipping.
---
Don't miss this great selection of Musical Christmas Water Globes and Snow Globes.
Visit The Music Box Shop for more beautiful music boxes.