More Christmas Collectibles,
Ornaments & Decoration
| | |
| --- | --- |
| » | |
| » | |
| » | |
| » | |
| » | |
| » | |
| » | |
| » | |
| » | |
| » | |
| » | |
| » | |
| » | |
| » | |
| » | |
| » | |
Misc. Christmas & Holiday Merchandise and Gift Ideas
Penny's Christmas Favorites - Collectibles, Ornaments and Decoration
Sometimes it's difficult to pick just one favorite or to choose which Christmas decoration to add to your Holiday collection. So as I find new items to add to my site. I place some of my favorites here. Perhaps your Christmas taste is similar to mine and you'll like some of my chooses. So enjoy looking through these Christmas and Holiday collectbles, ornament and decoration.
Thomas Kinkade Storytelling Santa Tabletop Figurine: 'Twas The Night Before Christmas
$125.00
Celebrate the beloved holiday tradition of "Twas the Night Before Christmas" with a magical Thomas Kinkade storytelling Santa, exclusively from The Bradford Editions. Hear the cherished tale like never before with this first-ever talking Santa that recites the poem in the voice of Thomas Kinkade! You'll love watching Santa come to life in this festive limited edition that features Old-World style handcraftsmanship, light and sound.Bring home tidings of joy with this unique collectible Santa decoration, hand-painted and detailed with rich fabrics and luxurious faux fur trim on his velvety red suit. He even has a snowy white beard, weathered and soft for lifelike realism. Look behind this talking Santa's chair and see Thomas Kinkade's beloved "Cobblestone Christmas" artwork with a frame that actually lights up next to a festive Christmas tree that is warmly lit and festively decorated. A mahogany-finish wooden base with title plaque makes this unique Santa decoration complete.
Brand: The Bradford Editions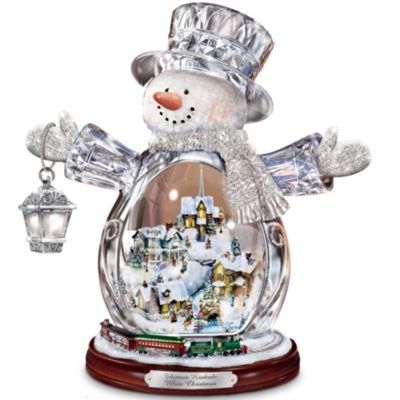 Collectible Thomas Kinkade Animated Snowman Figurine: Unique Christmas Decoration
$109.99
Market First Thomas Kinkade Collectible Snowman Figurine that Lights Up and features a moving Train! - When it comes to winter delights and Thomas Kinkade, what you see is what you get...and happily so! Never has a snowman been filled with more charming personality. With his beaming smile, carrot nose and rosy cheeks, he'll gladly share that joy with you. You're certain to be clearly enchanted by this Thomas Kinkade collectible snowman figurine featuring authentic cut crystal, an illuminated village and animated train!Discover three incredible treasures in one with this unique home decor, available exclusively from The Bradford Editions. This three-dimensional Thomas Kinkade collectible snowman figurine "houses" an illuminated 3D village with four buildings, a pond, bridge and 10 villagers. Just touch the switch to see the buildings light up and the tiny train circle the base!
Brand: The Bradford Editions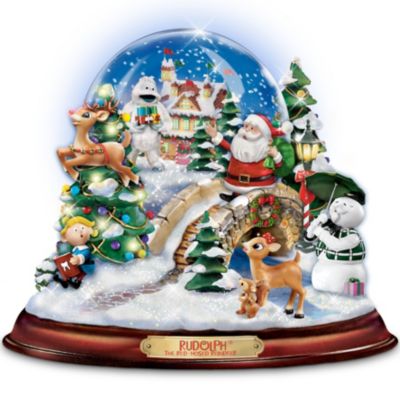 Rudolph The Red-Nosed Reindeer Illuminated And Musical Snowglobe
$99.99
Fun Rudolph The Red Nosed Reindeer Christmas Decoration - The longest-running holiday special in television history, Rudolph the Red-Nosed Reindeer has been a cherished part of holiday traditions since it first aired in 1964. Recapture the magic of this timeless holiday classic with the Rudolph the Red-Nosed Reindeer snowglobe figure, a first-ever exclusively from The Bradford Exchange.This Rudolph snowglobe features many of your favorite Rudolph the Red-Nosed Reindeer characters like Hermey, Bumble, Sam the Snowman, Clarice and more all masterfully hand-cast and hand-painted in vivid details and vibrant colors. Glittery snow continuously blows while Santa's castle, the lamppost and tree, even Rudolph's nose illuminate at the flip of a switch! Plus, the beloved melody of "Rudolph the Red-Nosed Reindeer" song plays at the volume of your choice.
Brand: The Bradford Exchange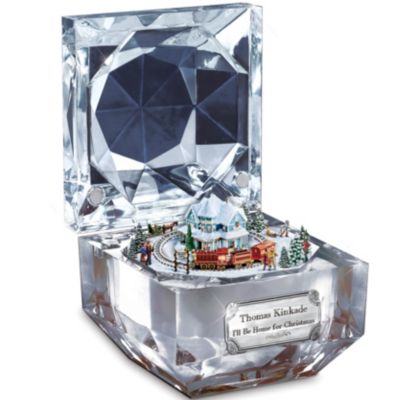 Thomas Kinkade I'll Be Home For Christmas Music Box
$49.99
No one captures the joy of simple holiday traditions - family gatherings, building a snowman, Christmas caroling - quite like the Painter of Light. Now you can treasure these memorable times with this limited edition "I'll be Home for Christmas" music box, exclusively from The Bradford Exchange. Exquisitely handcrafted in sparkling faceted crystalline, this Thomas Kinkade collectible music box features a fully-sculpted, hand-painted winter wonderland underneath its hinged lid. Kinkade's gracious, Victorian-era home, decked out for the holidays is surrounded by snowy landscaping, villagers, a miniature sleigh and more. Plus, with the turn of a key, this holiday treasure plays "I'll Be Home for Christmas" as an intricate holiday train circles around the scene.
Brand: The Bradford Exchange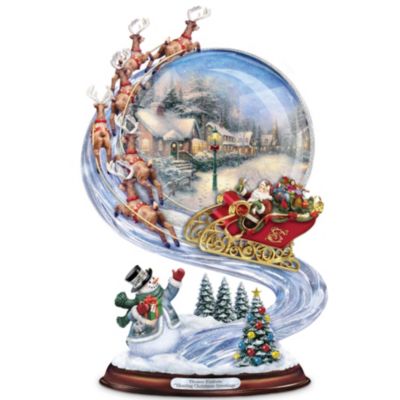 Sculpture: Thomas Kinkade Sharing Christmas Greetings Sculpture
$79.99
Thomas Kinkade's light-infused holiday imagery brings elegance and joy to our days, reminding us of the simple pleasures that make Christmas the most wondrous time of the year. Now, you can celebrate heartwarming moments of the holiday season with this never-before-revealed Thomas Kinkade Sharing Christmas Greetings sculpture, a first-ever limited edition exclusively from The Bradford Exchange. Adding to the delight, this illuminated musical sculpture plays a medley of eight caroling classics! Meticulously handcrafted and exquisitely hand-painted with glittery accents, this stunning collectible sculpture brings St. Nick's Christmas Eve ride to life with a sculptural Santa and his reindeer soaring though the sky as a swirling path of sparkling crystalline marks their sleigh ride route. Santa and his crew surround a clear glassy orb showcasing Thomas Kinkade's "Village Christmas" imagery. At the base of this magical sculpture a snowman watches in delight. For the perfect finishing touch, coordinated blue and white lights illuminate the crystalline swirl imparting an enchanting sense of motion. High demand is expected for this Thomas Kinkade holiday sculpture, so order now!
Brand: The Bradford Exchange
Thomas Kinkade Jingle Bells Illuminated Musical Christmas Snowglobe
$89.99
Nothing says Christmas like togetherness, music, snow - and Thomas Kinkade! Now you can capture those warm Christmas memories with this first-of-a-kind Thomas Kinkade musical snowglobe, exclusively from The Bradford Exchange. This sparkling Thomas Kinkade holiday decoration is exquisitely handcrafted, fully-sculpted and intricately hand-painted. Inside the Christmas snowglobe is a fully sculpted holiday home inspired by Mr. Kinkade's award-winning "Victorian Christmas" artwork. The foreground scene captures the essence of the beloved "Jingle Bells" with holiday trees, a cobblestone bridge and more. Plus, at the flip of a switch, both jolly scenes illuminate, a flurry of snow moves within the globe and the melody of "Jingle Bells" plays. High demand is expected for this limited edition. Order now!
Brand: The Bradford Exchange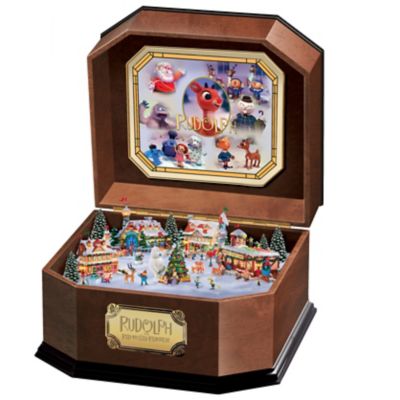 Rudolph The Red-Nosed Reindeer Music Box
$129.99
Rudolph The Red-Nosed Reindeer Holiday Music Box
Brand: The Bradford Exchange