The Doll Shop -
Collectible Dolls
Doll Categories
| | |
| --- | --- |
| » | Marie Osmond Dolls |
| - | |
| | |
| » | Ashton-Drake Dolls |
| - | |
| - | |
| - | |
| - | African American |
| - | |
| | |
| » | Madame Alexander Dolls |
| - | |
| | |
| » | Disney Character Dolls |
| - | |
| | |
| » | Unique Collectible Dolls |
| - | |
| - | |
| - | |
| | |
| » | Barbie Dolls |
| - | |
| | |
| » | Christmas & Holiday Dolls |
| - | |
| | |
| | |
| | |
| | |
| | |
Collectible Porcelain Dolls
Select from a variety of collectible porcelain dolls that feature stunning detail and craftmanship. These collectible dolls come in several themes and styles and will be cherished for years to come. Many of these porcelain dolls are unique and are limited edition dolls. Add one of these delighful and charming dolls to your doll collection or give one as a treasured gift.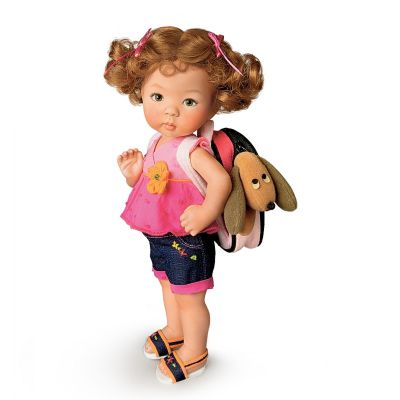 Porcelain Child Doll: Grandma's Love Is Like A Warm Puppy
$99.99
With non-stop playing and lots of hugs in store, this little sweetheart can't wait to visit grandma's house! Capture sweet memories with this adorable porcelain child doll by Master Doll Artist Dianna Effner, available exclusively from The Ashton-Drake Galleries. A perfect addition to your own collection or a sweet gift for grandma, this darling toddler is a full 12" of lovable charm! Capturing Dianna Effner's masterpiece sculpting in hand-painted fine porcelain, this precious little girl doll is amazingly lifelike with her soft auburn curls and beautiful green eyes. Fully poseable, she's dressed in her very best play clothes with a bright pink top, denim shorts and coordinating sandals, embellished with simulated gems and embroidery. She arrives with her plush floppy-eared puppy to keep her company and her "Going to Grandma's" backpack, both included FREE!
Brand: The Ashton-Drake Galleries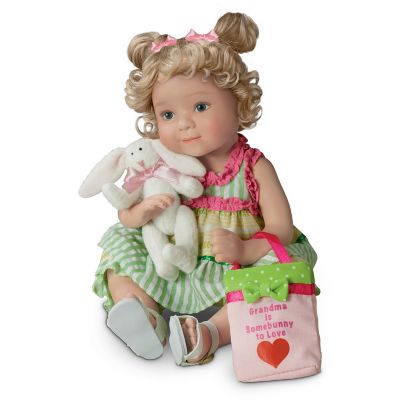 Granddaughter Child Doll: Grandma Is Somebunny To Love
$99.99
Let's see%u2026lots of ice cream, movies, baking cookies, and tons of hugs. No wonder this adorable granddaughter child doll is so excited about going to Grandma's house! Brought to life by award-winning doll artist Dianna Effner, this irresistible young lady is all ready to go, 'cause she knows Grandma can't wait to see her. Available exclusively from The Ashton-Drake Galleries, this beautiful granddaughter child doll is handcrafted in fine porcelain and fully poseable, perfectly capturing Ms. Effner's masterful original sculpt. Sitting 12 inches high in a pretty summer dress and sandals, the collectible girl doll is amazingly lifelike, with expressive hand-painted features and adorable blond curls. She even carries her very own plush bunny plus a special purse that says "Grandma Is Somebunny to Love," both included FREE! What a darling addition to your own doll collection, or a wonderful gift for grandma.
Brand: The Ashton-Drake Galleries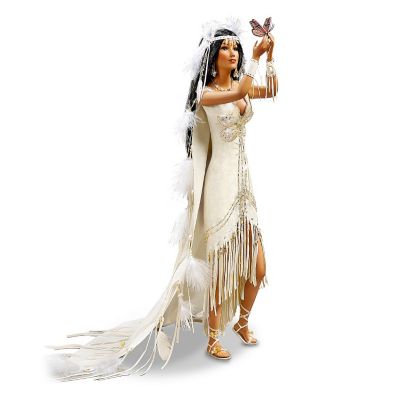 Fine Porcelain Bride Doll: Love Takes Wing
$199.99
Whispering her wish for a happy marriage to a delicate butterfly, this joyful bride then releases it to carry her message up to the Great Spirit. This stunning porcelain bride doll by acclaimed artist Sandra Bilotto interprets this romantic legend with elegance and exquisite detail! The Love Takes Wing porcelain bride doll is brought to you exclusively by The Ashton-Drake Galleries, and is destined to take your breath away the moment you see her.This collectible bride doll is handcrafted in hand-painted porcelain and stands an impressive 22 inches high. She is beautifully costumed in faux suede with deep fringe and snow-white feathers. The motif of the butterfly - captured in glittering beaded and golden accents - appears on her gown, her train, her jewelry and even her sandals, with more than 1, 500 hand-sewn beads in all.
Brand: The Ashton-Drake Galleries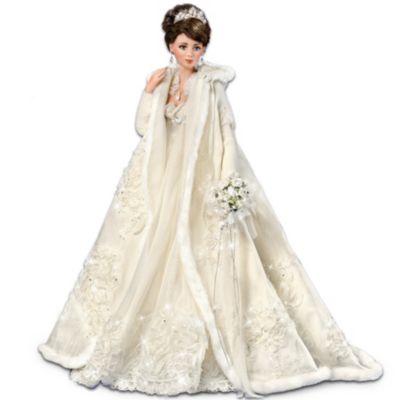 Touch Of Elegance: 21" Porcelain Bride Doll
$199.99
The new-fallen snow outside the little chapel sparkles in the bright winter sunlight. But nature's splendor cannot match the lovely bride standing at the altar. Introducing Touch of Elegance, an Ashton-Drake 25th Anniversary porcelain bride doll that is a beautiful marriage of warm winter romance and exquisite craftsmanship. This 21-inch bride doll is a 2011 DOTY™ award winner by world renowned Master Doll Artist Cindy McClure, and is available exclusively from The Ashton-Drake Galleries. Expertly handcrafted in fine porcelain for an unequalled classic look, this collectible bride doll's gown is highlighted with feathery lace trims that drift around the hemline and shoulders. Her silky undergown features detachable sleeves, and she arrives ready for winter in her "fur"-rimmed boots and "fur"-trimmed hooded wedding cape. Complete with a glistening rhinestone tiara, complimentary jewelry, "diamond" engagement ring, winter rose bouquet and a tiny frilly garter, this amazing 21-inch bride doll is the true epitome of doll art. Strong demand is expected, so don't wait. Order now!
Brand: The Ashton-Drake Galleries
| | | | |
| --- | --- | --- | --- |
| Unique Collectible Dolls: | Porcelain | | |