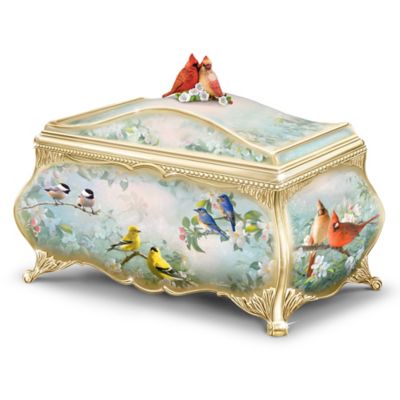 Decorative Songbird Bird Music Box
This porcelain Songbird Music Box is a bird lovers delight with stunning bird art that includes Northern Cardinals, Bluebirds, American Goldfinches and Chickadees. This 22 karat gold accented Bird Music Box is a wonderful art mixture of birds and floral by artist Joe Hautman. A pretty pair of Red Cardinals sit on top of the music box lid adding a delicate touch to the box. This Songbird Serenade music box plays The Wind Beneath My Wings and measures 2.5 inches W x 4.75 inches L x 3 inches H.
Price: $59.99 from The Bradford Exchange Online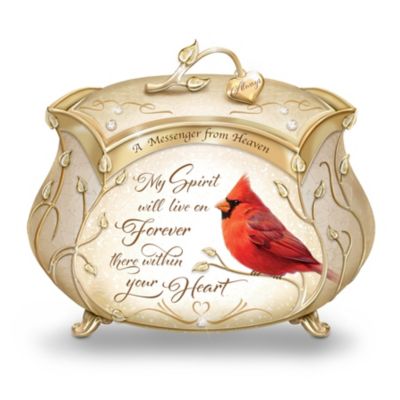 This beautiful porcelain bird music box features a Red Cardinal as a A Messenger From Heaven with the message, My Spirit will live on Forever there within your Heart. This jeweled Heaven music box has 22 karat gold accents, a heart shaped charm with word Always and plays the Always in My Heart. It makes a wonderful Sympathy or Memorial gift and include a poem card. Measures 4 inches H. Art by James Hautman.
---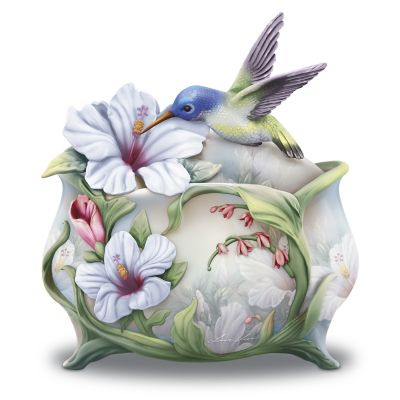 This porcelain Floral Hibiscus and Hummingbird Music Box isn't just beautiful but it also has an inspiring message to "Believe in the Beauty of Your Dreams". This floral bird music box has amazing colorful hibiscus flowers and a hovering hummingbird at the top of the music box. Any bird lover would love to add this to their collection or home decor. This Musical Hummingbird Trinket Box plays, The Wind Beneath My Wings. Music box art and design by Lena Liu. Measures 4 inches W x 4.25 inches H.
---