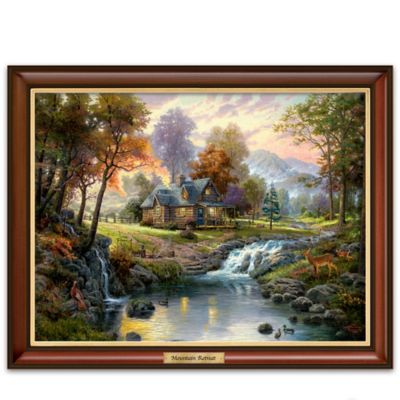 Lighted Thomas Kinkade Mountain Retreat Canvas Print Framed Art
Escape to a tranquil setting with this lighted Thomas Kinkade Framed Art features his peaceful painting Mountain Retreat. The Wood Frame measures 20 inches W x 15.75 inches H x 1.5 inches D. Batteries required.
Price: $149.99 from The Bradford Exchange Online
Please Note: I am an Associate for Amazon & other merchants & will earn a commission from qualifying purchases.
| Available From: | Collectibles, Decor or Product Name | Price | |
| --- | --- | --- | --- |
| | Lighted Thomas Kinkade Mountain Retreat Canvas Print Framed Art | $149.99 | |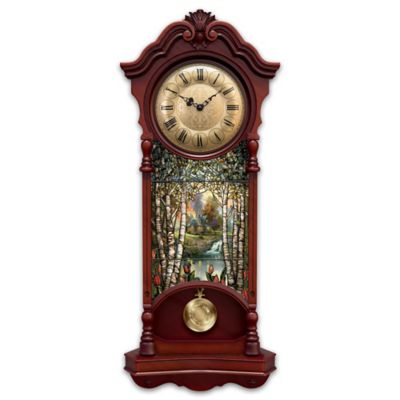 This tall Thomas Kinkade Clock features Thomas Kinkade's artwork on beautiful Tiffany style stained glass with a light that can be turned on or off. This large wall clock measures 24 inches in height and will certainly be the focal piece to any wall. Wooden clock cabinet with brass toned pendulum.
---
A Customer Favorite: You'll love adding this beautiful canvas print of Thomas Kinkade's enchanting Everett's Cottage art to your home. This wall art reminds us just how special Home is, Home is your haven, a loving retreat, be it ever so humble, There's no place so sweet. This Thomas Kinkade cottage art comes in a heart shaped frame and measures 8 inches wide.
---
This beautiful Thomas Kinkade Cuckoo Clock features two of his stunning paintings, A New Day Dawning and Everett's Cottage (clock face). Each hour a pretty bird Northern Cardinal comes out of the door and sings its happy little song. This handcrafted resin Thomas Kinkade Clock with brass pendulum measures 14 inches H x 3 inches D.
---